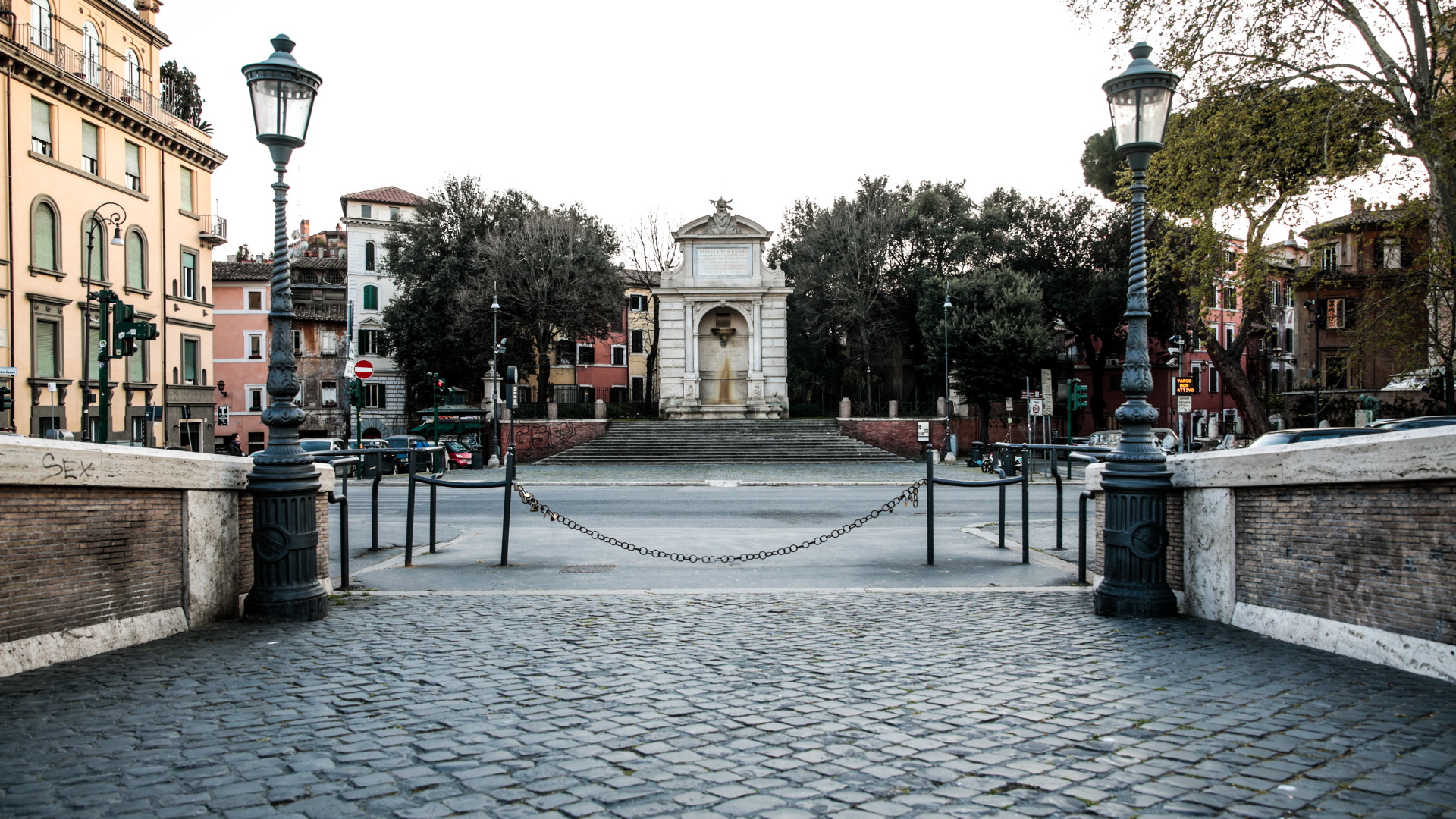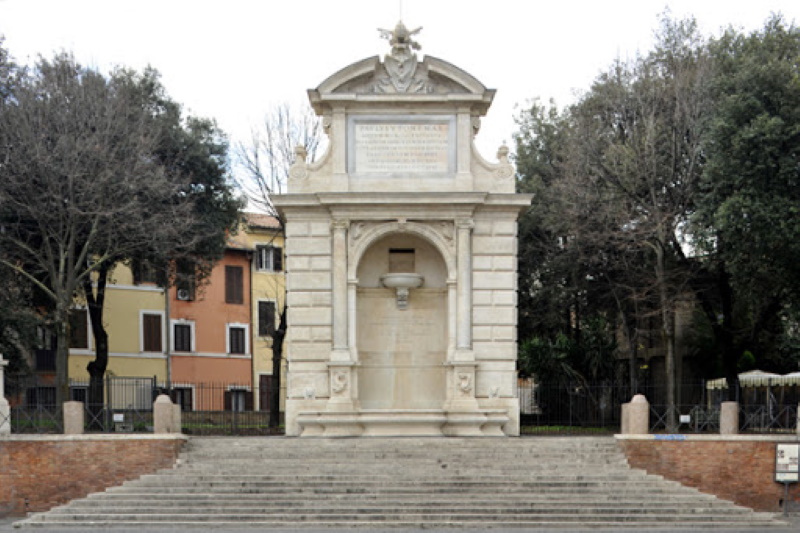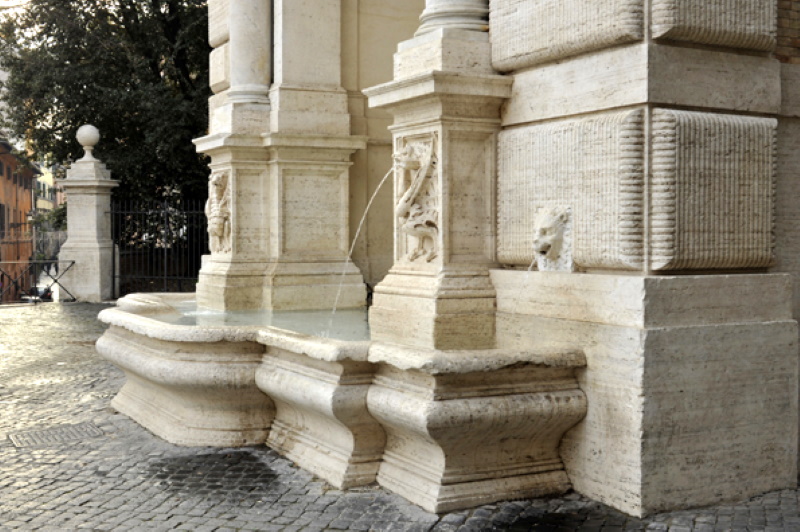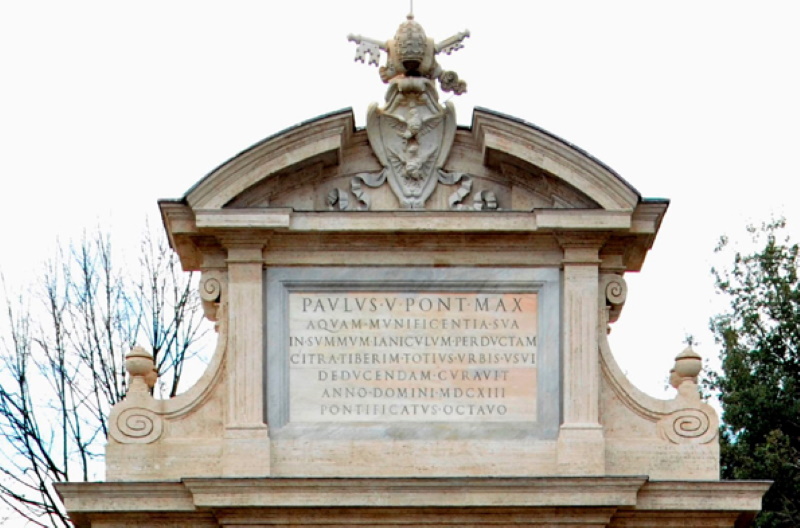 It is one of the most popular meeting places for young Romans and tourists, thanks to its clubs and welcoming atmosphere: located in the heart of Trastevere district, in front of Ponte Sisto, between Lungotevere della Farnesina and Lungotevere Raffaello Sanzio, this charming square is dedicated to the great Roman satirical poet Carlo Alberto Salustri, better known as Trilussa.
Here is located the beautiful fountain of Acqua Paola by the architects Van Santen, known as Vasanzio, and Giovanni Fontana. It was commissioned by Pope Paul V Borghese (1605-1620) in 1613, to feed the districts of Trastevere, Borgo, Regola, and Ponte. Conceived as a monumental arch with a central niche flanked by two Ionic columns, the fountain has a high attic holding the Borghese family coat of arms, with eagle and dragon, and a celebratory inscription dedicated to the pontiff, for having led the water on the left bank of the Tiber. Initially, it was located at the end of Via Giulia, close to the Hospice of Mendicants built by Pope Sixtus V Peretti (1585-1590). It took its water from the Traiano-Paolo aqueduct.
The fountain was dismantled in 1870 for the construction of the banks of the Tiber after a disastrous flood. Almost half of the pieces broke or were dispersed between the various municipal warehouses. When it was rebuilt in Piazza Trilussa in 1898, the architect Vescovali was able to use just what was left of it. The result was, however, remarkable: the fountain was reassembled in an elevated position on the top of a fifteen-steps flight, aligned with the Sisto bridge and in visual connection with the imposing Acqua Paola fountain located on the top of the Janiculum Hill.
On the square, there is also the monument that celebrates the great Roman poet who gives it its name. Born in Rome in 1871, where he died in 1950, Trilussa was famous for his ironic poems that beat up corrupt politicians, all fanaticism, and the intrigues of the dominants, among his favorite targets. Inaugurated on 21 December 1954, the bronze statue, depicting the poet intent on reciting his poems, was created by the sculptor Lorenzo Ferri. Next to the monument, you can read the verses in the Roman dialect of All'ombra, one of the poetic compositions that better represent the personality and disenchanted vision of the witty writer.
Information
Address
POINT (12.470139 41.891843)

Condividi
Location
Piazza Trilussa, Piazza Trilussa
41° 53' 30.6348" N, 12° 28' 12.5004" E
To find out about all accessibility services, visit the Rome accessible section.