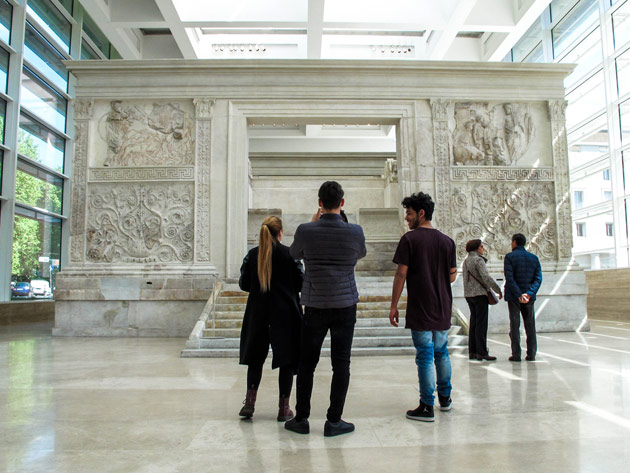 UNIVERSITIES
Today, thanks to the Erasmus+ Program and to international projects and agreements with prestigious foreign universities, it is possible to spend a period of study or training as an exchange student at a state university like Sapienza Università di Roma, Roma Tre or Università degli Studi "Tor Vergata" and Università degli Studi di Roma "Foro Italico", taking advantage of one of the most competitive learning programs in the world; non-state universities like Libera Università Internazionale degli Studi Sociali Guido Carli - LUISS, la Link Campus University, la Saint Camillus International University of Health and Medical Sciences - UniCamillus, l'Università Campus Bio-medico di Roma, l'Università degli Studi Internazionali di Roma - UNINT e l'Università Europea di Roma - UER, Catholic universities like the Libera Università Maria Santissima Assunta - LUMSA, Università Cattolica del Sacro Cuore, Pontificia Università Gregoriana, Pontificia Università Antonianum, Pontificia Università Urbaniana e Pontificia Università Lateranense, or follow an educational course at a foreign university such as John Cabot University or the American University of Rome.
ITALIAN LANGUAGE SCHOOLS
There are also many lovers of the Italian culture and language who spend short or long periods in the City to learn or deepen the knowledge of one of the most studied foreign idioms in one of the many institutes of the sector, such as the illustrious Dante Alighieri, an institution founded in 1889 that organizes Italian language courses for foreigners, and excellent cultural courses.
LIBRARIES
Rome hosts one of the most precious archives in the Country, the Biblioteca Nazionale Centrale where to consult books, newspapers and documents, and participate in training courses, seminars, internships and voluntary activities. There are also 39 Biblioteche di Roma (municipal libraries) spread throughout the city ​​area, which make available to users more than 900,000 books and magazines, and thousands of digital resources.
FACILITIES
The City provides the MIC Card (5 Euros) which offers unlimited access for 12 months in the Musei Civici System (Civic Museums) and in the historical and artistic sites of the Sovrintendenza to Italian and foreign students of public and private universities in Rome who hold a temporary domicile for at least 4 months and are applying for the registration in the Schedario della Popolazione Temporanea (SPT) (Temporary Population Schedule) for a maximum of 8 additional months.
Students of the European Union can also take advantage of reduced admission, up to the age of 25, in State and Civic museums, while those belonging to the European Union, enrolled in universities and institutes with a historical, artistic, archaeological and architectural orientation, enjoy complete gratuitousness.
WHERE TO SLEEP
Housing opportunities for foreign or off-campus students are numerous:
residences provided by the institutions or universities in the Capital, which periodically stipulate agreements on advantageous conditions with agencies and individuals; rooms or beds in rented apartments with search through ads on websites or specialized publications, to share with other students; hostels and holiday homes for shorter stays.
NIGHTLIFE
Rome is not only synonymous with culture, but it is also a welcoming, lively and always moving place presenting exhibitions, shows, concerts, happenings, shopping, wine and lounge bars, typical restaurants and creative cuisine, in the sparkling districts of Trastevere and Testaccio, Monti, Pigneto and San Lorenzo, or in the historic Piazza Campo de' Fiori and Piazza Navona, not to mention the summer events on the coast of Ostia. Many proposals for leisure and free time that give students the experience of the true Roman lifestyle with an international touch, in a legendary scenario.