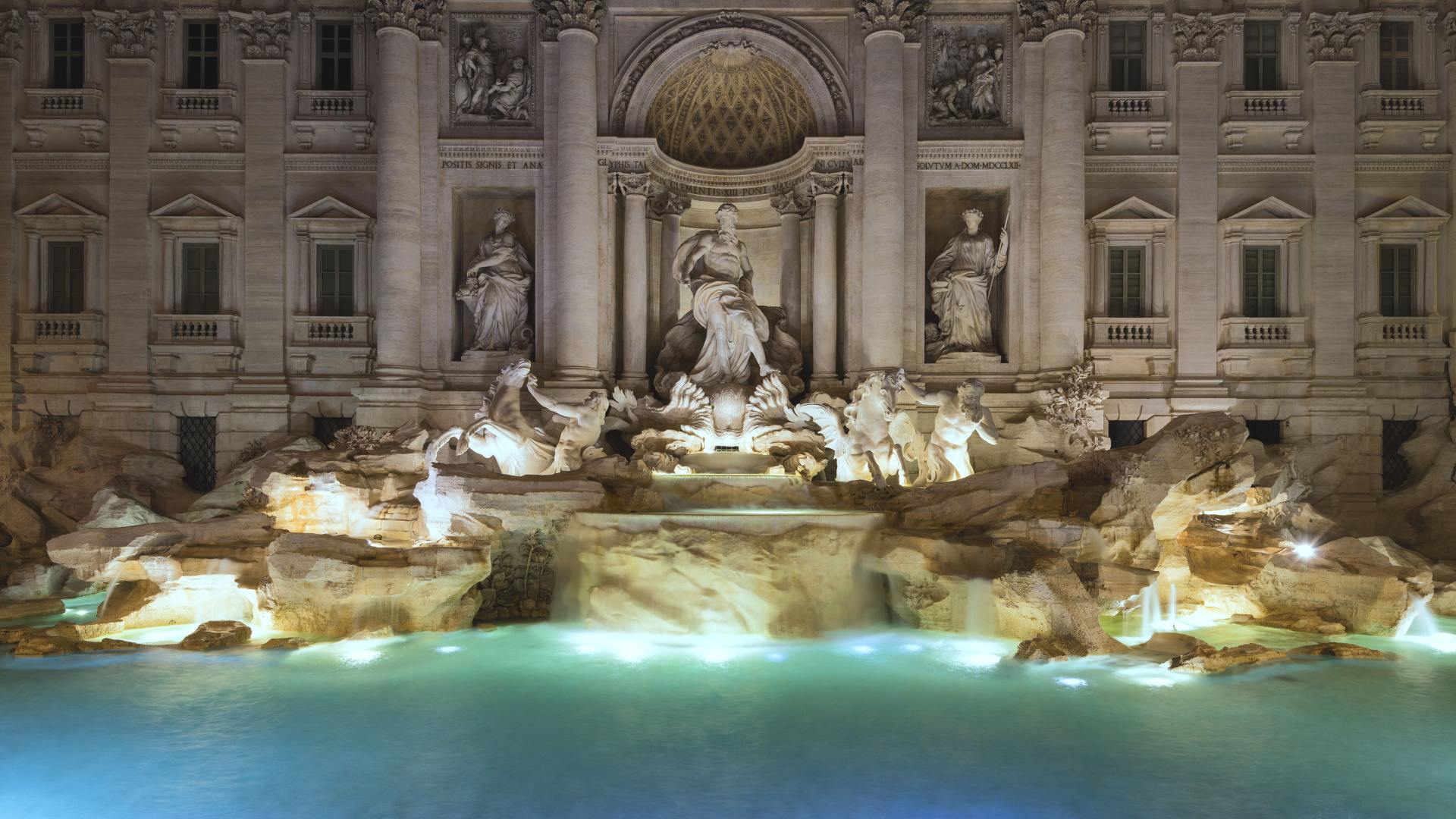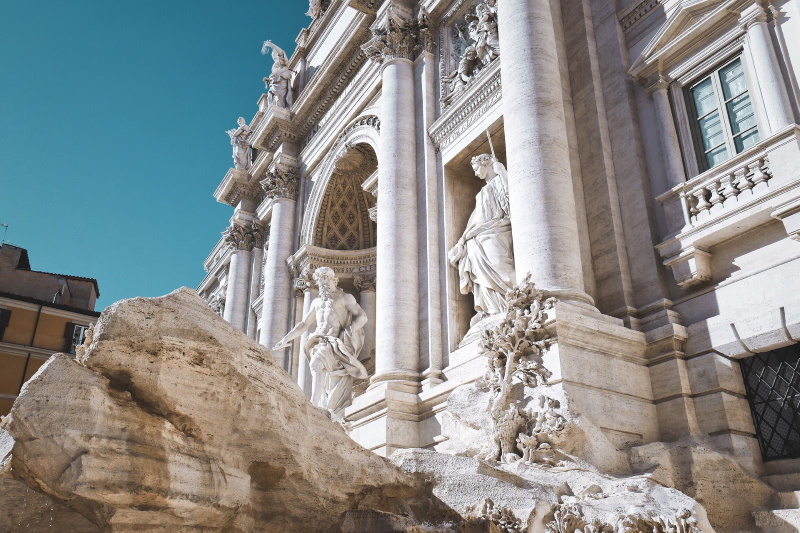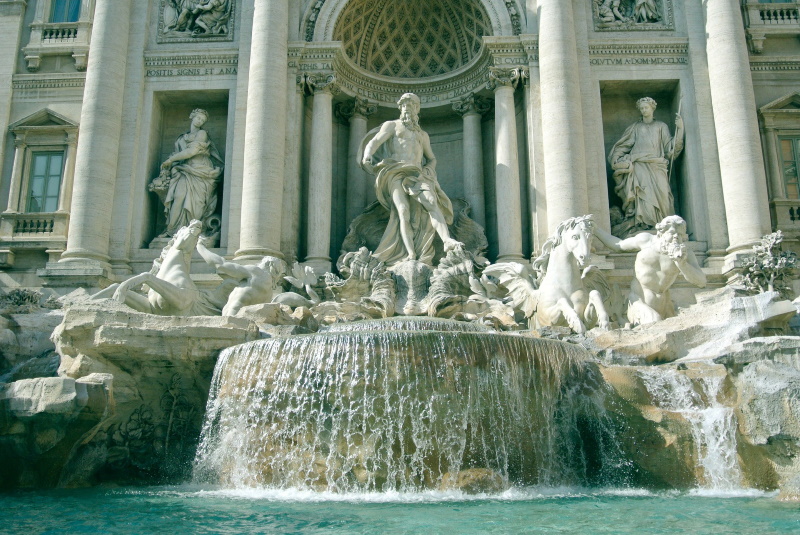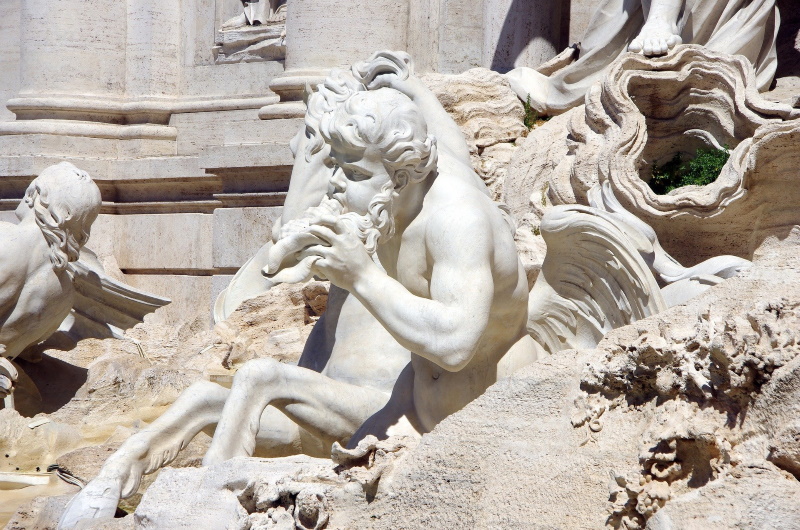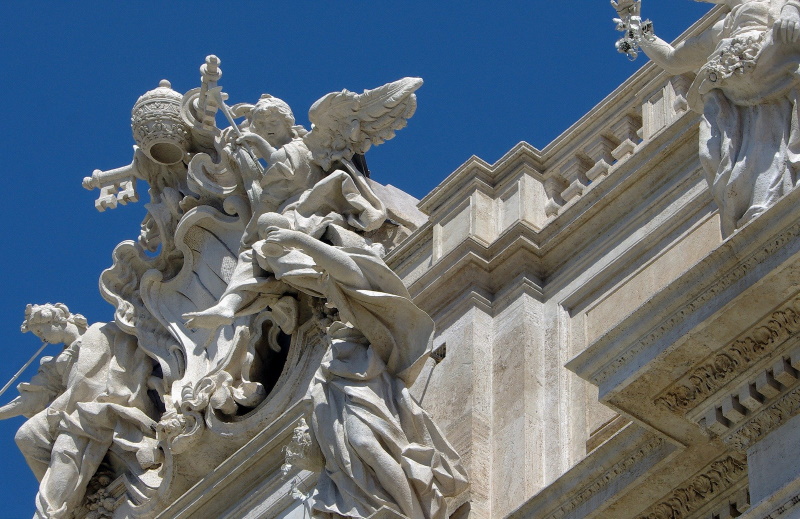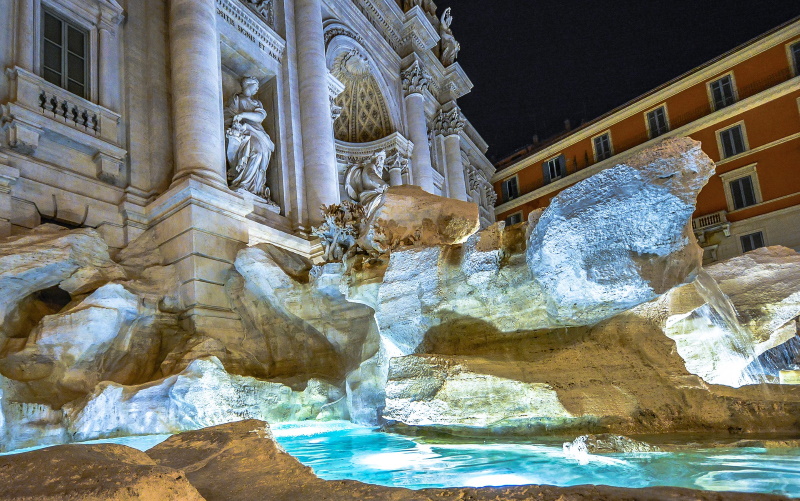 The most famous of the Roman fountains: a jewel of water and stone
The terminal part of the Vergine aqueduct, the only one of the ancient aqueducts continuously in use to this day, the Trevi Fountain it is the best known of the Roman fountains.
Its name derives from a toponym in use in the area since the mid-20th century, Regio Trivii, referring to the confluence of three streets in the square, or from the triple outlet of the water of the original fountain.
The construction of the current Trevi fountain is due to Pope Clement XII who, in 1732, launched a competition in which the major artists of the time participated. Among the various projects presented, that of the architect Nicola Salvi was chosen.
Leaning against Palazzo Poli, the fountain is divided into a wide basin with a large cliff enlivened by the sculptural representation of numerous plants and the spectacular flow of water. In the center dominates the statue of god Ocean driving the shell-shaped chariot, pulled by the angry horse and the placid horse, both held back by two tritons.
In the façade, articulated like a triumphal arch, there are two reliefs that allude to the legend of the source and the history of the aqueduct: on the right, the virgin indicating the source to the Roman soldiers and, on the left, Agrippa who orders the start construction of the aqueduct. The decorative apparatus is completed by two allegorical figures that enhance the beneficial effects of water, Healthiness, and Abundance, placed in the side niches.
The construction was completed by Giuseppe Pannini who partially modified the cliff by regularizing the central basins. After a restoration operation in the years 1989-1991, the last major restoration took place in 2014, thanks to the financial contribution of the Maison Fendi.
Before leaving, do not forget to throw a coin into the fountain, you will definitely return to Rome, as the custom says. If, on the other hand, you are looking for a bit of romance, perhaps even an Italian love, you will have to toss a second and a third coin to make sure that the wedding bells will ring soon.
The Trevi Fountain was the splendid setting for the most famous scene of the film La Dolce Vita by director Federico Fellini; a provocative Anita Ekberg wrapped in a long black evening dress calls Marcello Mastroianni: "Marcello, come here!", while sinuously plunges into the sparkling waters of the fountain.
You may also be interested in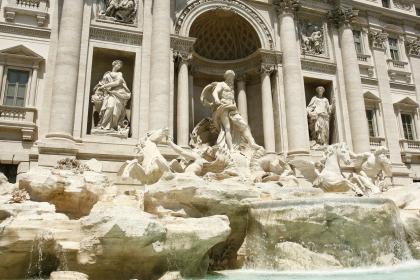 Poli Palace - Trevi fountain

Condividi
Luxury and glamour in Rome during the economic boom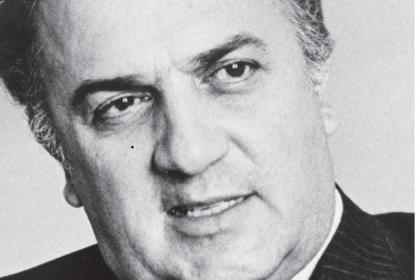 Roma. The eternal city as a unique set for art films

Condividi
Information
Address
POINT (12.483238 41.900765)
Contacts
Web site:
www.sovraintendenzaroma.it/i_luoghi/roma_medioevale_e_moderna/fontane/fontana_di_trevi_mostra_dell_acqua_vergine

Condividi
Location
Fontana di Trevi, Piazza di Trevi
41° 54' 2.754" N, 12° 28' 59.6568" E
To find out about all accessibility services, visit the Rome accessible section.