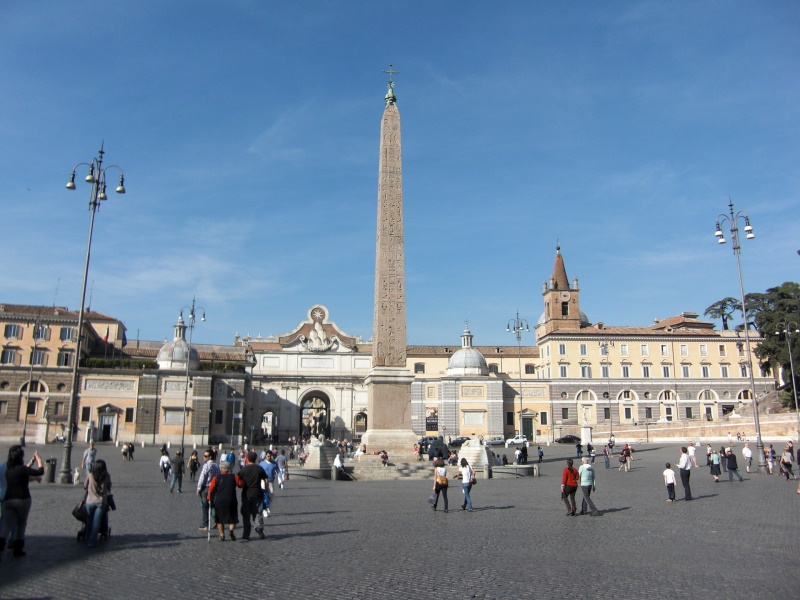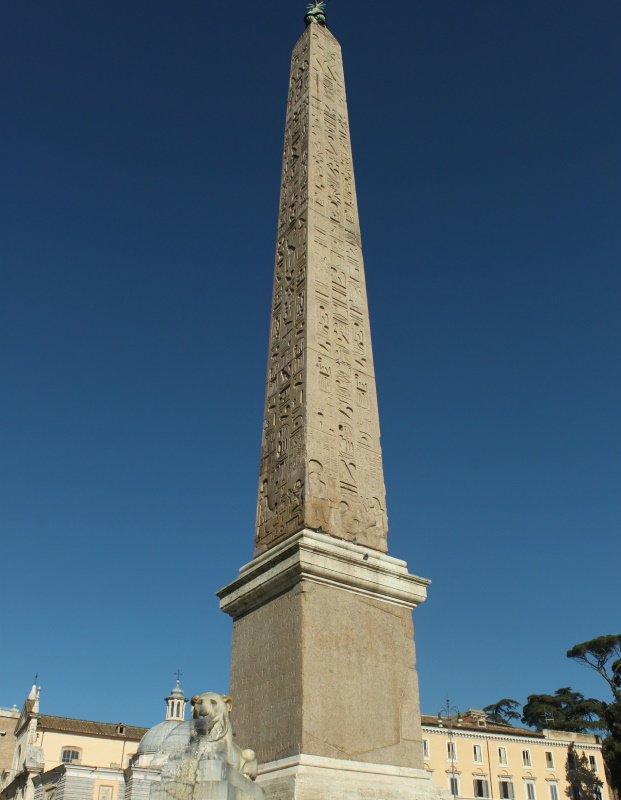 Located right in the center of the famous Piazza del Popolo, the Flaminian Obelisk is one of the most significant obelisks in the city and the first to be brought from Egypt to Rome. The operation was so grand that, for years, the public could admire the ship used to transport it.
Built around 1300 BC for the temple of the Sun, or Ra, in Heliopolis in Egypt, it has a height of 25.90 meters and, with the base and the cross, reaches 36.50 meters. The obelisk is a single block of red granite, and its sides were decorated with hieroglyphs by order of the pharaohs Seti I and his son Ramses II.
In 10 BC, together with the Campense Obelisk, located in Piazza di Monte Citorio, it was on the spine of the Circus Maximus to commemorate the conquest of Egypt by Octavian Augustus. Three centuries later, the Lateran Obelisk followed.
In the 4th century, it was still standing; later, it was forgotten for about a millennium. Some fragments appeared in the 16th century, but it was only during the pontificate of Pope Sixtus V that a deep search and excavation campaign began for its recovery.
After the unsuccessful attempt to give the obelisk to the abbot of the Papal Basilica of St. Paul Outside the Walls to adorn the basilica and the unsuccessful project to use it to decorate the Basilica of Santa Croce in Gerusalemme, Piazza del Popolo was chosen to be its last destination. It was raised in 1589.
Its rebuilding underlined the great importance of the square, the monumental access to the city from the North. Shortly after, Pope Sixtus V established, with a Papal Bull, that the Basilica of Santa Maria del Popolo was one of the "seven churches" that pilgrims had to visit in Rome. It replaced the Basilica of San Sebastiano outside the Walls, which was considered too out of the way.
Until 1589, the only ornament of the square was the fountain commissioned by Pope Gregory XIII. Over the centuries, the space underwent various modifications, assuming its current structure only in the 18th and 19th centuries. Consequently, the arrangement of the obelisk also changed; in 1823, by order of Pope Leo XII, the great architect Giuseppe Valadier endowed it with a raised base with Egyptian-style lion-shaped fountains at its feet.
Today, the obelisk is the crowning glory of the three streets that converge on the square from the south - the so-called "Trident" - and the general layout constitutes one of the most splendid arrangements of an obelisk in the world.
You may also be interested in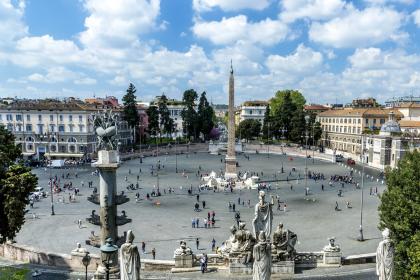 Condividi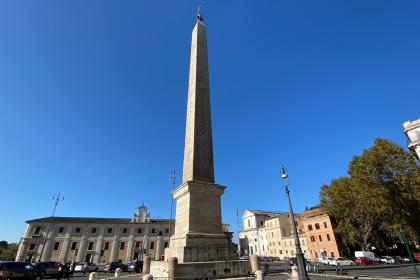 Condividi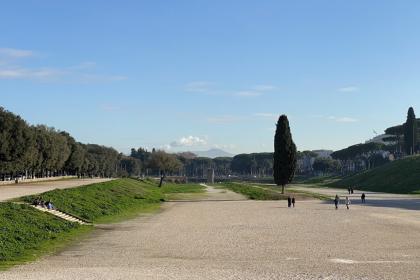 Condividi
Information
Address
POINT (12.476451 41.910285)

Condividi
Location
Obelisco Flaminio, Piazza del Popolo
41° 54' 37.026" N, 12° 28' 35.2236" E
To find out about all accessibility services, visit the Rome accessible section.