The Museum of Palazzo Venezia is located in the famous palace that was the residence of the Venetian Pietro Barbo, the future Pope Paul the Second (1464-71), and housed the Embassy of the Republic of Venice (hence the name) and the Austro-Hungarian diplomatic delegation.
From 1929 to 1943, it was chosen by Mussolini as the residence of the Head of Government and of the Grand Council of Fascism. The Museum was founded in 1921 and gradually defined its character of Museum of Applied Arts.
The first core of Medieval and Renaissance works (small bronzes, enamels, marbles, and Italian ceramics) coming from Castel Sant'Angelo, the National Gallery of Ancient Art, and the dismantled Kircherian Museum, developed between 1919 and 1922.
Entire sets of ceramics, furniture, silverware, jewelry, and sacred paraments, confiscated from the religious orders suppressed at the end of the past century or coming from buildings destroyed in Abruzzo by the earthquake in 1915 were added to the initial core between 1924 and 1926.
Of the many donations received by the Museum, the following deserve particular attention: the rich Wurtz collection in 1933 with a vast selection of sixteenth and seventeenth century ceramics of the Italian school of Savona, Montelupo, Deruta, and Castelli; the Ruffo collection of prints, paintings, and furniture, in addition to a vast collection of eighteenth and nineteenth century porcelains; the collection of Venetian Renaissance bronzes and small bronzes of the Barsanti and Auriti collections; the valuable collection of fifteenth century terracotta sketches, belonging to the opera singer Evan Gorga (1865-1957); the collection of Tuscan and Center-northern paintings on panels mainly of the fourteenth century gathered by Giulio Sterbini.
The collection includes also a considerable collection of ancient arms and armors and a large section of fabrics with tapestries, carpets, Coptic fabrics, modern fabrics for sacred and profane use.
You may also be interested in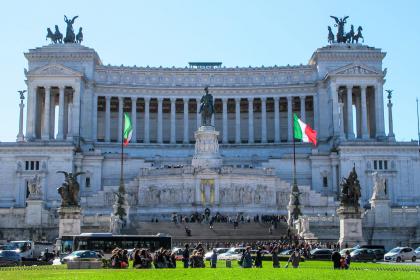 Condividi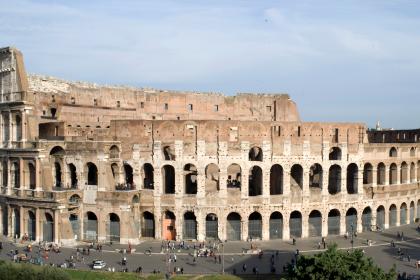 The Flavian Amphitheatre (The Colosseum)

Condividi
Information
Address
POINT (12.48103 41.89642)
POINT (12.481825 41.896298)
Timetables
Open every day from 9.30 am to 18.30
Contacts
Email:
vi-ve@beniculturali.it
Facebook:
www.facebook.com/VIVEVittorianoPalazzoVenezia
Instagram:
www.instagram.com/vivevittorianopalazzovenezia
Telephone:
06 69994284 (segreteria) - biglietteria: 06 6780131
Telephone booking:
06 32810
Twitter:
https://twitter.com/IstitutoViVe
Web site:
https://vive.beniculturali.it/it/palazzo-venezia

Condividi
Locations
Museo Nazionale del Palazzo di Venezia, Via del Plebiscito, 118
41° 53' 47.112" N, 12° 28' 51.708" E
Museo Nazionale del Palazzo di Venezia, Piazza Venezia, 3
41° 53' 46.6728" N, 12° 28' 54.57" E
To find out about all accessibility services, visit the Rome accessible section.