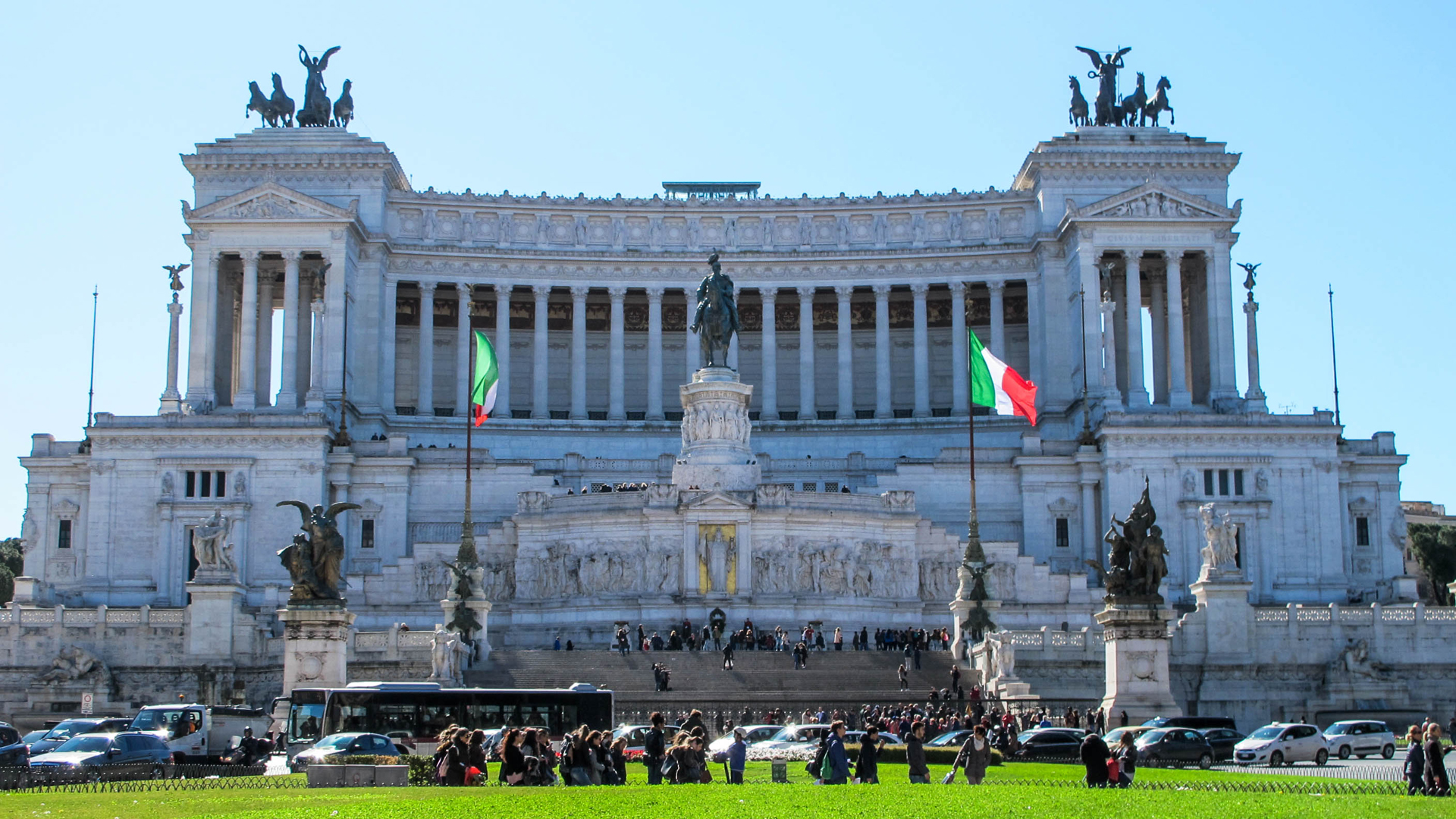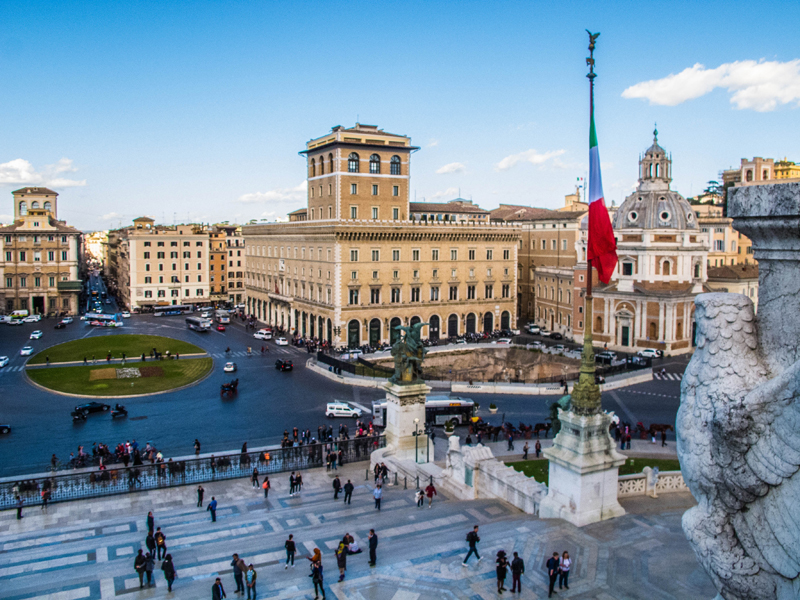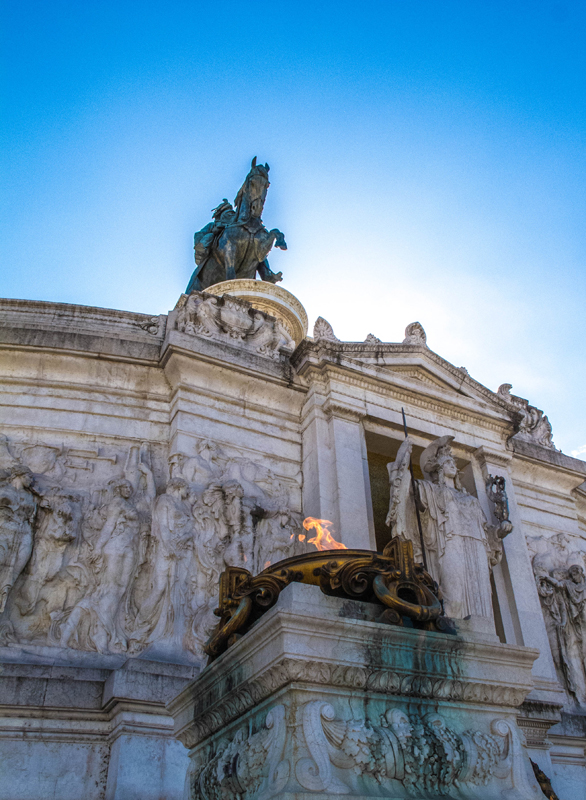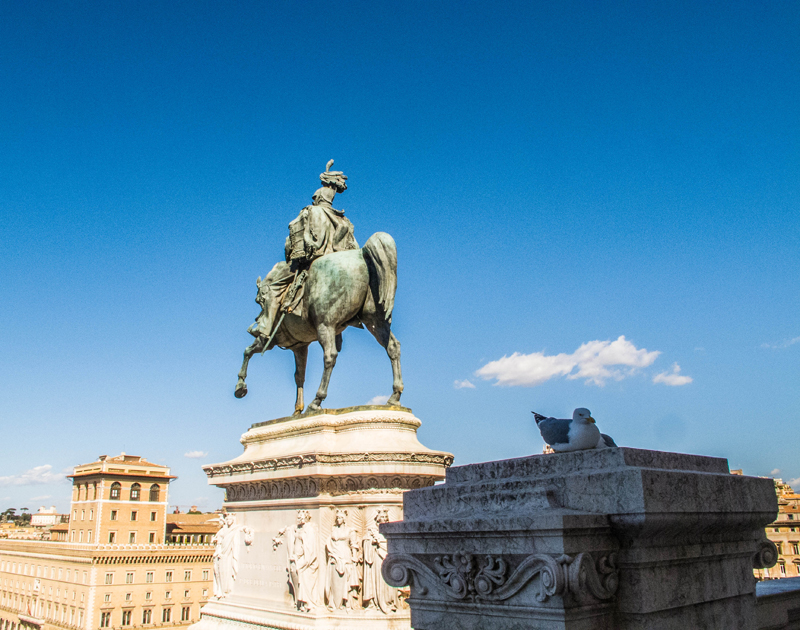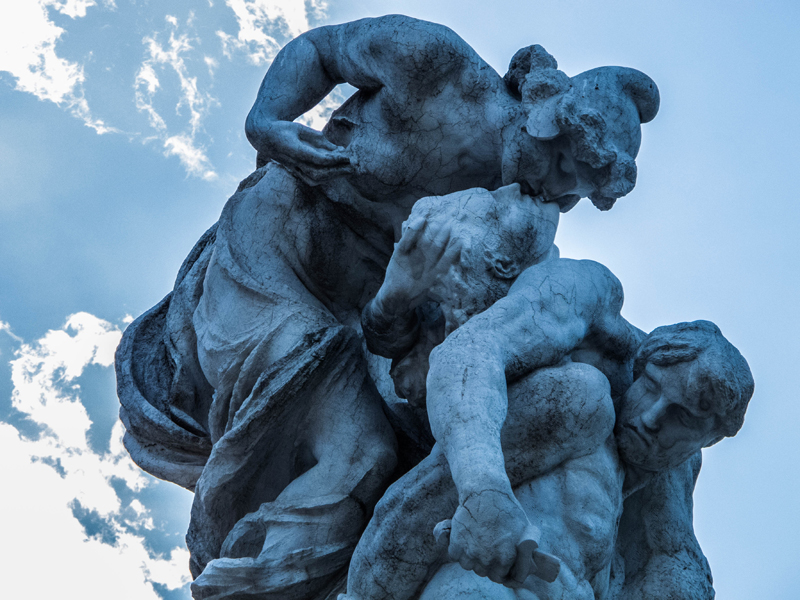 Located between Via del Corso and Via dei Fori Imperiali, Piazza Venezia derives its shape from the remaking of the area, which took place at the turn of the 19th and 20th centuries, for the construction of the Monumento a Vittorio Emanuele II.
Also known as Altare della Patria, the huge monument was started in 1885 by Giuseppe Sacconi and finished by Gaetano Koch, Manfredo Manfredi and Pio Piacentini in 1911. Its architectural structure represents an ideal ascending path that, through stairways and terraces enriched by sculptural groups and bas-reliefs, rises up to the imposing colonnaded portico surmounted by bronze chariots, allegories of the Unity of the Homeland and Freedom.
In 1921, in the crypt designed by Armando Brasini, the body of the Unknown Soldier was buried.
The square takes its name from Palazzo Venezia, the 15th-century Palace built by Cardinal Pietro Barbo, then donated in 1560 by Pius IV to the Republic of Venice to make it the seat of the embassy.
Since the proclamation of Rome as the Capital of Italy and during the following decades, the whole area was affected by the new urban planning that saw the demolition of the existing medieval and Renaissance quarters. The part called Palazzetto San Marco was demolished to allow the view of the Vittoriano from Via del Corso and rebuilt in its current position on Piazza San Marco.
Between 1929 and 1943, Palazzo Venezia was the seat of the Head of Government and the Great Council of Fascism: from its historic balcony, Mussolini made his famous speeches. Part of the building incorporates the Basilica of San Marco. In the corner between the Palace and the Palazzetto is placed the bust of "Madama Lucrezia," one of the famous Roman talking statues.
In the palace, you can see the National Institute of Archaeology and History of Art and the Museo Nazionale di Palazzo Venezia, which preserves works of various kinds and periods.
In addition to Palazzo Venezia, on the square you can admire Palazzo Bonaparte, where Letizia Ramolino, Napoleon's mother, lived from 1818 until her death.
You may also be interested in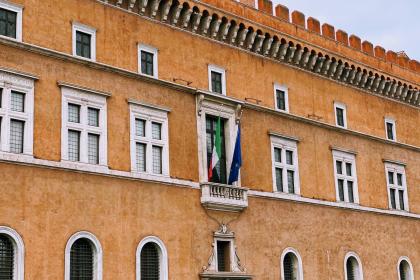 Museo Nazionale di Palazzo Venezia

Condividi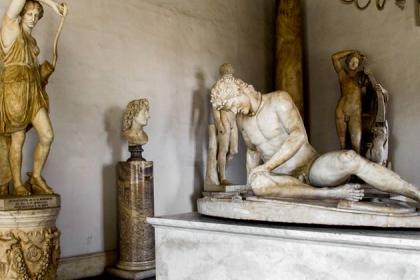 Discovering the museums around piazza Venezia

Condividi

Condividi
Information
Address
POINT (12.482468 41.896043)

Condividi
Location
Piazza Venezia, Piazza Venezia
41° 53' 45.7548" N, 12° 28' 56.8848" E
To find out about all accessibility services, visit the Rome accessible section.