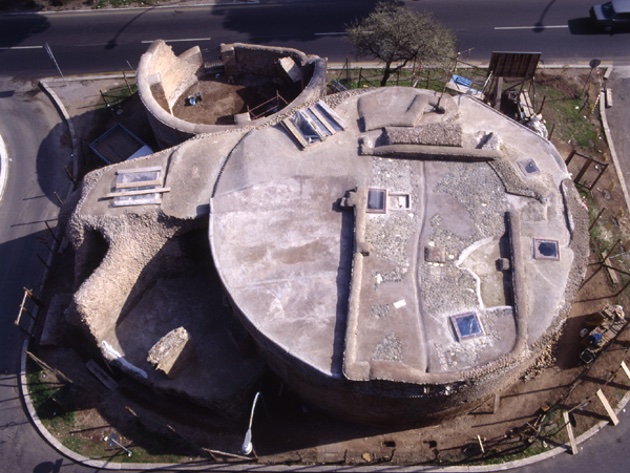 The monument was discovered around the 1940s, under a farmhouse that was demolished during the excavations carried out to build the via Imperiale, now via Cristoforo Colombo. In 1991-92 a conservative restoration and enhancement intervention was carried out.
It is a large circular cistern from the early 2nd century AD. next to which there are the remains of another structure leaning against it, always circular in shape, but smaller in size and of uncertain function. The water conservancy inside has a trapezoidal vestibule that leads into a vaulted annular corridor divided into ten communicating rooms; through a rather low entrance there is a central room which has a diameter of almost 3 meters and is closed by a dome.
Built in reticulated work, the entire cistern was internally lined with signino that the Romans used to waterproof the walls and floors in contact with water. Over the centuries, the aqueduct that was supposed to supply its water has probably disappeared, while a drainage duct starting from the vestibule and reaching the outside, near the modern access staircase to the monument, has been preserved.
In the area there was also a burial ground from the II-IV century AD, evidenced by the presence of a fragment of a sarcophagus reused in the cover of the cistern and other fragments of funerary epigraphs found inside the monument.
Photo: Sovrintendenza Capitolina
You may also be interested in

Condividi

Condividi

Condividi
Information
Address
POINT (12.412409 41.786111)
Contacts
Telephone booking:
060608 tutti i giorni ore 9.00-19.00
Web site:
www.sovraintendenzaroma.it/i_luoghi/roma_antica/monumenti/cisterna_della_via_colombo

Condividi
Location
CHIUSO - Cisterna romana di via Cristoforo Colombo, Via Cristoforo Colombo, s.n.c.
Via Cristoforo Colombo, s.n.c.
41° 47' 9.9996" N, 12° 24' 44.6724" E
To find out about all accessibility services, visit the Rome accessible section.