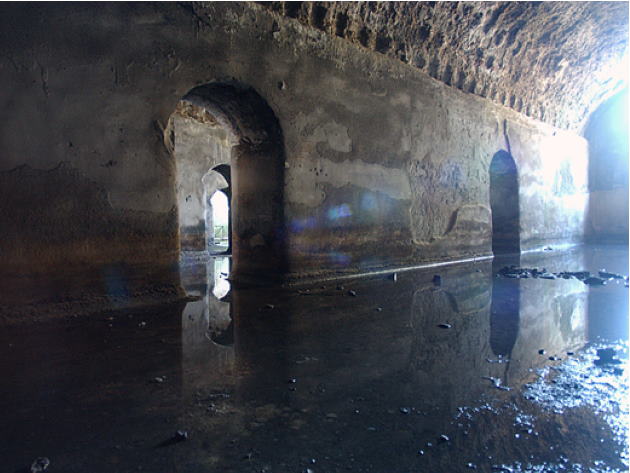 It is one of the largest water tanks from antiquity and since the Middle Ages this monumental complex gained the name Sette Sale (Seven Halls), although in reality there were nine rooms, nine large corridors placed and designed to contain millions of liters of water (more than eight). Preserved almost perfectly and located on the edge of the Parco del Colle Oppio, it has long been considered pertinent to the Domus Aurea but the many stamps found on the bricks of its walls have allowed to correctly date it at the beginning of the 2nd century AD, that is under emperor Trajan's reign, for whose Baths it was conceived and built with such an architectural grandeur and perfection.
At the time, the most common construction method was the opus latericium or brick work, which allowed for the construction of strong and resistant structures in a short time and which for this reason was exported throughout the whole Empire. Also in this case, concrete walls are thus covered with brick. Floors and walls were then covered of cocciopesto, a mortar made with crushed bricks, a process still used today that helps to make the surfaces waterproof. The rooms, over five meters wide and varying in length from 30 to 40 meters, communicate with each other through a system of openings arranged on diagonal axes, to avoid whirlpools in the water, and were built above a basement level in order to place them at such a height as to guarantee water enough pressure for it to supply the Baths.
The complex has always remained visible over the centuries even after it ceased its function in the 5th century AD, and one of its rooms was used in the Middle Ages as a burial place, as evidenced by more than a thousand skeletons found there. On the terrace of the Sette Sale, in a wonderful spot overlooking Rome from atop, the excavations of the sixties and seventies have also brought to light a domus that was most probably used by the official in charge of the maintenance of the Baths.
Information
Address
POINT (12.4989805 41.8921949)
Contacts
Telephone booking:
060608 tutti i giorni ore 9.00-19.00
Web site:
https://sovraintendenzaroma.it/content/cisterna-delle-sette-sale

Condividi
Location
Cisterna romana delle Sette Sale, Via delle Terme di Traiano, 5b
Via delle Terme di Traiano, 5b
41° 53' 31.902" N, 12° 29' 56.3316" E
To find out about all accessibility services, visit the Rome accessible section.