In front of the splendid Basilica of Santa Maria Maggiore, in the centre of the square of the same name, stands the imposing column called "della Pace" (Column of Peace). It is the only one survived of the eight columns that adorned the grandiose central vault of the Basilica of Maxentius, mistakenly identified with the Temple of Peace during the Middle Ages.
It was built in 1614 by Carlo Maderno, nephew of Domenico Fontana, commissioned by Pope Paul V Borghese. The large fluted Corinthian marble column is more than 14 meters high and stands on a refined marble and travertine base, the work by Maderno, with the upper part decorated with bronze winged eagles and dragons, references to the noble coat of arms of the Borghese family.
On top, by the will of the pontiff, is a bronze statue of the Virgin and Child, made by the sculptor Guillaume Berthélot and cast by Orazio Censore.
At the foot of the column is a beautiful fountain, realized by Maderno the following year, facing the basilica and fed by the Felice Aqueduct.
You may also be interested in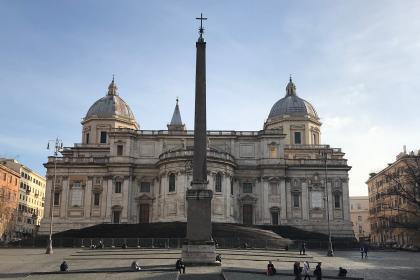 The Basilica of Santa Maria Maggiore

Condividi
The Basilica of San Pietro in Vincoli

Condividi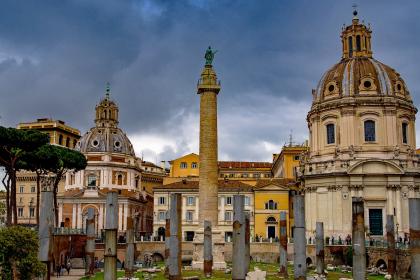 Condividi
Information
Address
POINT (12.49894 41.896952)

Condividi
Location
Colonna della Pace, Piazza di Santa Maria Maggiore
Piazza di Santa Maria Maggiore
41° 53' 49.0272" N, 12° 29' 56.184" E
To find out about all accessibility services, visit the Rome accessible section.