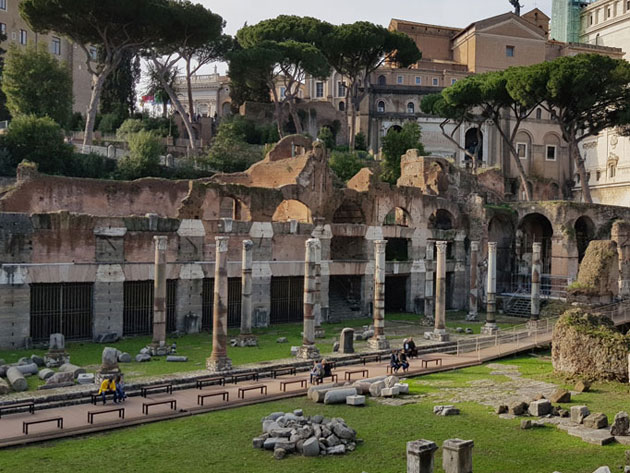 From 26 April, the Civic Museums System of Rome reopens its museums, exhibitions, and archaeological areas to the public, even on weekends and holidays (excluding 1 May).
You can visit the Capitoline Museums, the Trajan's Markets - Museum of the Imperial Fora, the Ara Pacis Museum, the Imperial Fora (entrance from the Trajan's Column and exit from the Forum of Caesar on Via dei Fori Imperiali, from 08.30 to 19.15, last admission 18.10) as well as the Mausoleum of Augustus. The pedestrian path of the archaeological area of ​​the Theater of Marcellus can be used again, from 9 to 19.
Also, from Tuesday 27 April, the other museums of the circuit will reopen. Centrale Montemartini, the Museum of Rome, the Museum of Rome in Trastevere, the Gallery of Modern Art, the Museums of Villa Torlonia, the Civic Museum of Zoology, the Giovanni Barracco Museum of Ancient Sculpture, the Napoleonic Museum, the Pietro Canonica Museum in Villa Borghese, the Museum of the Roman Republic and Garibaldi remembrance, the Museum of Casal de 'Pazzi, the Museum of the Walls and the Villa of Maxentius return to welcome visitors with the masterpieces of the permanent collections, the numerous extended exhibitions, and some significant novelties.
You can also visit the Archaeological area of ​​the Circus Maximus, open every day, including Saturdays and Sundays, from 9.30 to 19.00 (last admission at 17.50). Inside, from Thursday to Saturday, from 5 to 8 pm, the Circo Maximo Experience, the immersive visit in an augmented and virtual reality of the largest building for the spectacle of antiquity, awaits you.

Condividi
You may also be interested in