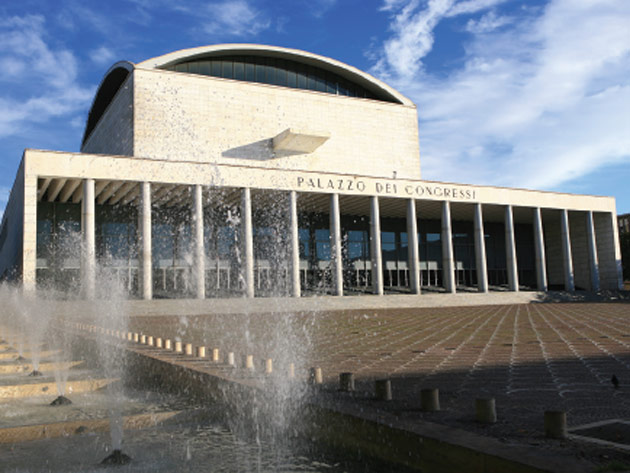 Located in the EUR district and designed in the late 1930s by the architect Adalberto Libera, the Palazzo dei Congressi represents a significant example of rationalist architecture influenced by a monumental neo-classical taste
Within its spaces there are works of art by important Italian artists of the 20th century: particularly significant, among these, we point out the decorative panels with an agricultural theme on the back wall of the Arte atrium made in 1953 by Gino Severini, one of the greatest exponents of Futurism.
The Palace, with its large and articulated exhibition spaces, is an ideal place for organizing fairs, congresses, conferences, exhibitions, because it offers a wide range of services available to event organizers. It is also well connected to the historic center thanks to an extensive public transport system - bus, subway, taxi - whose stations are easily reachable on foot.
Its spaces are divided as follows:
The Culture Hall: 1,550 square meters covered by a vaulted dome with two large colonnades: exhibition area, gala dinners, product presentation;
The Capitalis Auditorium: 800 seats (Theater Style); equipped with modern equipment and systems with two screens of different sizes (4x3 and 12x7 meters);
The Foyer Kennedy and Foyer Arte: about 800 square meters each; spacious and adjacent to the main rooms: registration areas, exhibition spaces,
catering and elegant gala dinners;
The First floor: a space of 2,500 square meters that can be divided into modular walls according to needs;
The Terrace: a spectacular space of over 2,500 square meters, overlooking the Eur and Rome, is ideal for gala dinners, music and theater performances.
DISTANCE TO THE CITY CENTER: 10 KM
DISTANCE TO AIRPORT LEONARDO DA VINCI: 20 KM
MAIN MEETING ROOM: SALONE DELLA CULTURA 1500 PAX
AUDITORIUM CAPITALIS 800 PAX
OTHER MEETING ROOMS: FROM 10 TO 250 PAX
RESTAURANT: BAR INSIDE THE VENUE
Informations
Address
POINT (12.47336 41.83478)
Timetables
Open only during cultural events.
Contacts
Email:
info@romaconventiongroup.it
Web site:
www.romaconventiongroup.it

Condividi
Location
Palazzo dei Congressi | Roma Convention Group, Piazza John Kennedy, 1
41° 50' 5.208" N, 12° 28' 24.096" E
Per conoscere tutti servizi sull'accessibilità visita la sezione Roma accessibile.