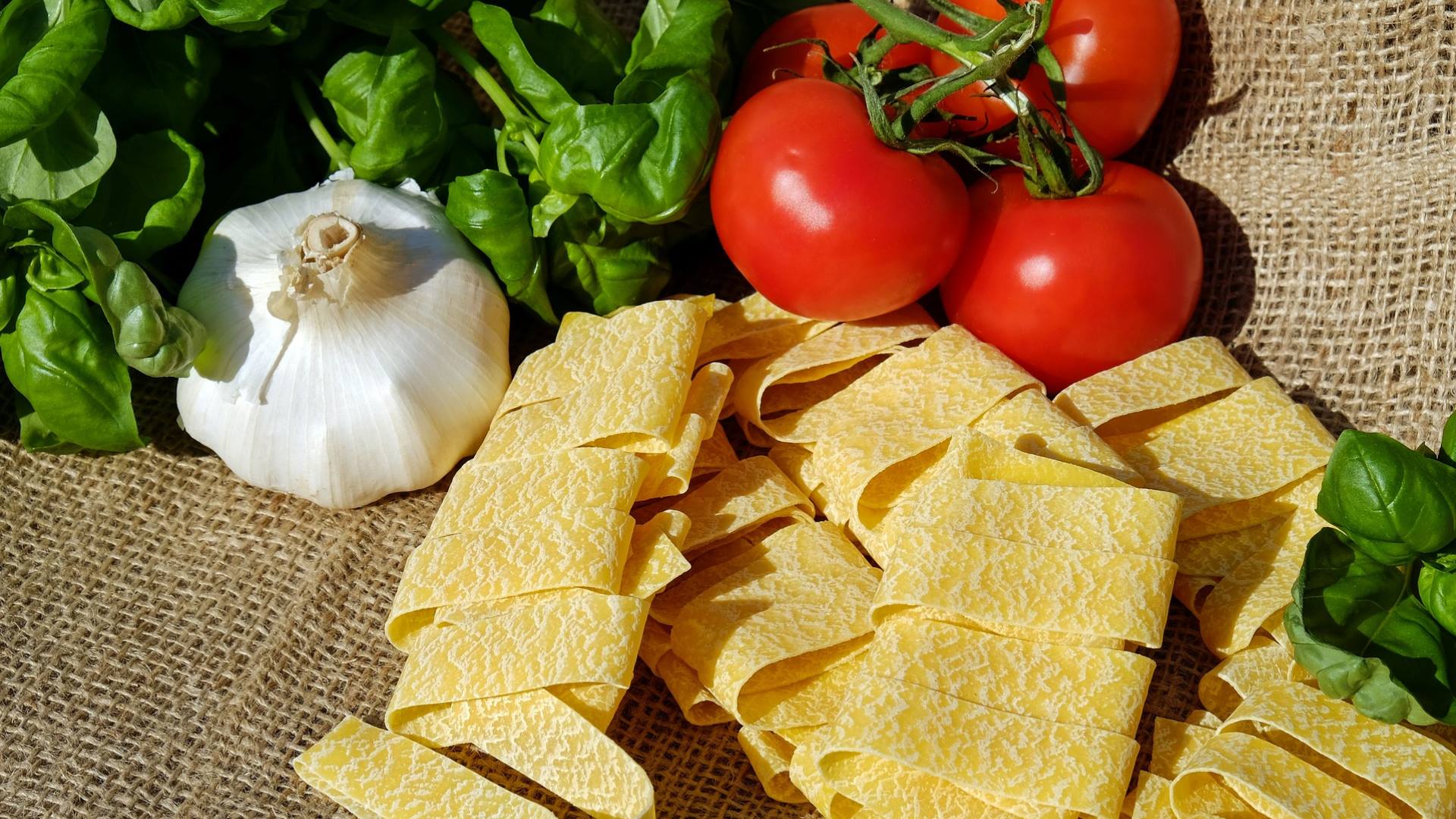 Our food trails wind their way through "working-class" neighbourhoods, where the tradition is still alive. Districts like Trastevere and Testaccio, quite central, and Garbatella, San Lorenzo, and Ostiense, slightly further out, teem with trattorias. In the evening, they become a popular destination to find historic inns and restaurants that rarely give in to the fashion of re-inventing traditional dishes. Here, the smell of food merges with suggestions from the past when Carbonari, artisans, and commoners fought to survive - within spitting distance of some of Rome's finest villas and palaces.
The fifth quarter; the place of honour in Roman cuisine
Then, this is Rome – a mixture of refined nobility and genuine people accustomed to surviving with their real condition and the evocative power of a city for centuries the capital of the world. People who have maintained their most authentic identity even in the transmission of culinary tradition. It's not by chance that the place of honour, amongst genuine and traditional Roman dishes, belongs to the so-called fifth quarter, the offal and less valuable parts of beef and lamb/mutton – never selected for the tables of the wealthiest classes. We're talking about tripe, kidneys, heart, livers, spleen, sweetbreads and backs (spinal cord), brains, tongue and tail, or coratella – liver, lungs, and heart cooked together.
These simple ingredients give life to extraordinary dishes in taste and delicacy that caress the palate despite their humble origins. Rigatoni with pajata (pasta with intestines of unweaned calves) or kidneys, coratella with artichokes or onions, Roman-style tripe, Coda alla vaccinara (oxtail), stufatino alla romana (stew), and saltimbocca are just some of the delicacies of the Capitoline cuisine.  Two age-old local dishes you still find in Roman trattorias both use cheap cuts of beef: the stewed spleen, flavoured with sage, garlic, vinegar, anchovies, and pepper, and kidneys cooked with tomatoes, onion sauce, parsley, white wine, and pepper.
A true rarity, even if it is not an offal-based dish, is the "garofolato".  It is a beef roast round steak (girello), stuffed with bits of lard, cloves (chiodo di garofano in Italian, hence the name) and sliced garlic, slowly cooked - for a couple of hours- in a pan with onion, oil and butter with celery and tomato. This sauce was also used to season the tripe alla trasteverina, then passed into the oven enriched with grated pecorino cheese and a mince mint.
Testaccio district working-class origins are almost unchanged. People still remember how, years ago, butchers working in the slaughterhouse were paid partly in money, partly with the scraps of the slaughter - the fifth quarter.
Last but not least are the snails, a must of French gastronomy.  In Rome, they are a homemade dish, but no less tasty. Snails Roman-style, are also known locally as di "San Giovanni" (St. John's). In the night between 23 and 24 June, the innkeepers prepared and served snails during a celebration in honour of the saint in the square in front of the basilica.
The tradition has its origin from an ancient anniversary in honour of the goddess Ceres, to get luck and abundance and chase away hostile deities. Later dedicated to St. John, it maintained its propitiatory function: the horns of snails symbolize the devil, therefore evil. In the 19th century, 24 June also became a peace festival; in this period, it was a custom to serve snails during the numerous banquets organized, the so-called banquets of concord or peace.
The distant origins of soups and pasta with 0 km ingredients
In a simple but succulent cuisine like the Roman one, described above all in the 19th century by artists, poets and writers who aimed to depict scenes of working-class life, soups and pasta dishes are also protagonists. Like everything in Rome, they have distant origins. Spelt polentas, broad beans, barley, pultes were the soups of the ancients; already in the first century BC, Cicero and Horace loved laganum, a thin sheet of dough made of water and flour, flattened with a rolling pin.
Nowadays, in Spring, broad beans are the protagonists of the vignarola, a first course of the Roman peasant culture based on fresh broad beans, peas, artichokes, lettuce, bacon, onion. Stracciatella, brodetto di Pasqua (both enriched by beaten egg), and cappelletti in brodo (stuffed hat-shaped pasta) are excellent soups also served during holidays. All the city restaurants propose them, together with the famous local pasta dishes, that only a few can faithfully reproduce.
What lies behind the success of Roman cuisine is the use of local ingredients and flavourings. The magnificent vegetables, such as broccoli, chicory, artichokes, tomatoes, and broad beans; the variety of tasty and wholesome dairy products; the tender, exquisite meat, mainly from the Roman countryside, the fertile area surrounding the city. Guanciale, pancetta (bacon), vegetables, and legumes give us dishes that have become legendary: "pasta and fagioli con le cotiche", pasta with broccoli, spaghetti alla carbonara, bucatini all'amatriciana, the gricia.
Fettuccine alla romana, fettuccine alla papalina, and ravioli with ricotta are other delicious pasta recipes – all usually served with a sprinkling of pecorino romano. Penne all'arrabbiata is another popular dish; olive oil, garlic, tomato, and lots and lots of chilli pepper: "arrabbiatta" (angry) stands for very spicy. Then, the list of spaghetti is as long as your arm. Let's name a few: alla carrettiera, alla puttanesca, alla checca, alla bersagliera. Are you hungry?
Food in Rome is an everyday celebration throughout the city, but tasting a "gricia" or a "carbonara" in Trastevere, Borgo − in the shadow of the Dome − or in Monti - the oldest district - is in a league all of its own.
You may also be interested in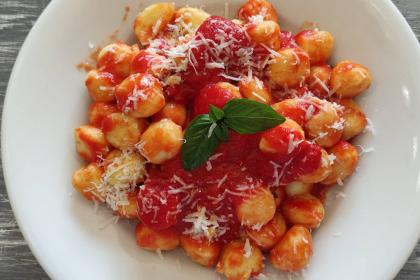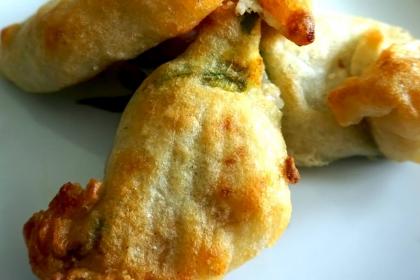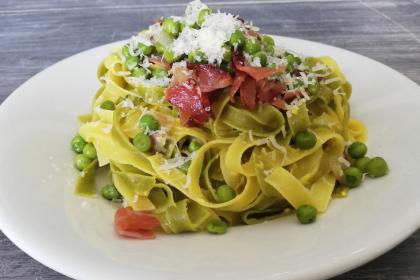 "Fettuccine alla Papalina", a delicious and aristocratic pasta recipe
Rome's cuisine: intense and genuine flavors and a strong identity