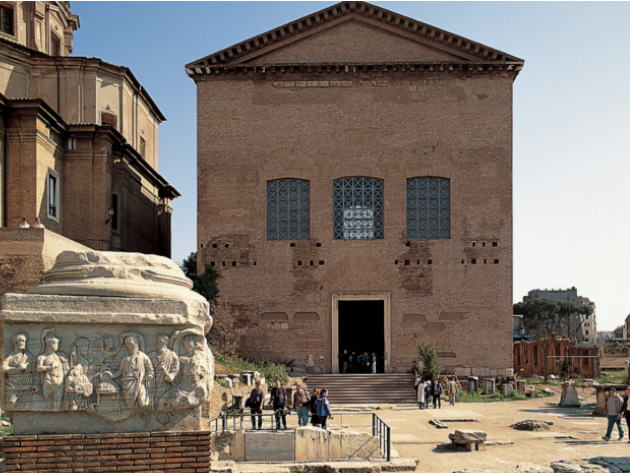 The imposing and severe brick building on the edge of the Roman Forum owes its name to the assemblies of the "curiates", the citizens selected on the basis of the census, which originally took place at the Comitium. According to tradition, it was founded by the third king of Rome Tullus Hostilius but it was Caesar who moved it to the place where it still stands today, annexing it to his personal Forum and giving it his name. Inaugurated by Augustus and restored by Domitian, it was rebuilt for the last time by Diocletian in the last quarter of the third century AD: the splendid opus sectile floor and the wall decoration with polychrome marble slabs date back to this period.
In 630 Pope Honorius I transformed it into a church, dedicating it to Saint Adrian but leaving it with its original role as a hall for senatorial assemblies, which it kept until 1143, when the Senate moved to the Palazzo Senatorio on the Capitol Hill. The importance of the church was such that at the beginning of the 13th century the bodies of the martyrs Nereus and Achilleus were brought there. The church, decorated with Byzantine frescoes still partially visible and equipped with a bell tower, changed its skin again in the mid-17th century, with the reconstruction in Baroque style by Martino Longhi the Younger. In 1930-1936, during the excavation campaign in the Roman Forum, it was decided to restore the building to its original appearance: the church was deconsecrated and deprived of all additions subsequent to the Diocletian era.
The large interior space respected the proportions recommended by Vitruvius: the height was therefore about half the sum of length and width. The front façade, characterized by a tympanum-shaped ending, has three large windows and a monumental entrance portal: its bronze door is a copy of the original brought to San Giovanni in Laterano in the 17th century. A series of square holes are visible, traces of insertion of the beams of a portico, while on the sides of the portal, the rectangular footprints were left by burials inserted in the Middle Ages.
Information
Address
POINT (12.484859 41.891424)
Timetables
1-26 March and 1-29 October > Saturday, Sunday and Monday 9.30-16.30 (last admission at 16.15)
27 March - 30 September > Saturday, Sunday and Monday 9.30-18.15 (last admission at 18)
30 October - 28 February > Saturday, Sunday and Monday 9.30-15.30 (last admission at 15.15)
Contacts
Telephone:
06 39967700 Coopculture (tutti i giorni dalle 10.00 alle 15.00)
Web site:
https://parcocolosseo.it/mirabilia/curia-iulia/
Web site:
https://parcocolosseo.it/super

Condividi
Location
Curia Iulia (Chiesa di Sant'Adriano al Foro), Foro Romano
41° 53' 29.1264" N, 12° 29' 5.4924" E
To find out about all accessibility services, visit the Rome accessible section.