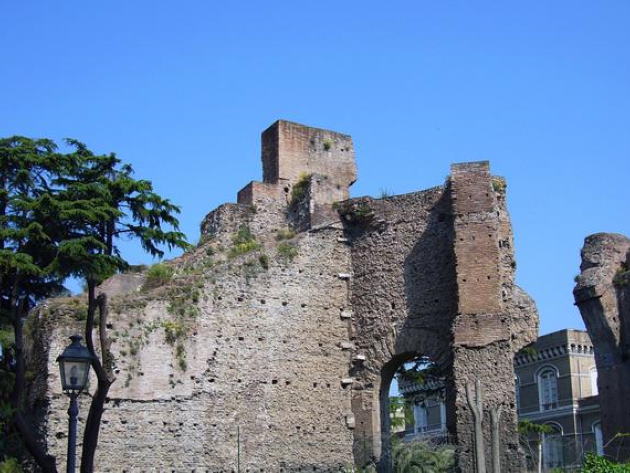 At the time of Augustus the whole area around the church was a residential quarter, with large villae and domus of the wealthiest families of the time. It then became part of the imperial domains with the Severan dynasty: at the beginning of the third century AD Sextus Varius Avitus Bassianus, who reigned under the name of Elagabalus, built here a new imperial residence that included also the Amphitheatrum Castrense and the Circus Varianus. 
The construction of the circus was probably begun by Caracalla (212-217 AD), particularly fond of chariot racing: its original length was greater than that of the Circus Maximus but was then reduced by Elagabalus. Today only a few rooms are visible near the Cloister of Santa Croce in Gerusalemme. Constructed entirely of brickwork, the amphitheater is the only one preserved in Rome besides the Colosseum and could seat about 3,500 spectators. The Aurelian Walls, built between 271 and 275, incorporated the amphitheater in their circuit and turned its use into one of a defensive stronghold, while other buildings, such as the circus, were cut by the new defensive work.
Under Constantine (306-337 AD), however, the area experienced a new phase of splendor: the layout of the 3d-century villa was enriched with public and private structures and the complex, significantly altered, continued to function still as an imperial residence under the name of Sessorian Palace. Inside, a room was transformed into a palace chapel dedicated to the cult of the cross of Christ, according to the wishes of Empress Helena.
The parts of the palace, the Sessorium of the Christian sources, still extant are the hall readapted as a chapel destined to hold the relics of the Holy Cross, the stately apsidal hall erroneously called "Temple of Venus and Cupid" and considerable remains of domus (houses) with frescoes and mosaics.
Information
Address
POINT (12.514556 41.888671)
Timetables
Open with guided tours of the archaeological area with Coopculture
2nd and 4th Sunday of the month
Admission for individuals at 10.00.
Admission for groups at 11.30 for a maximum of 20 people per visit plus guide
Accessibility
Not accessible for people with walking difficulties.
Contacts
Online purchase:
www.coopculture.it/it/poi/comprensorio-archeologico-di-santa-croce-in-gerusalemme
Web site:
www.soprintendenzaspecialeroma.it/schede/comprensorio-archeologico-di-santa-croce-in-gerusalemme_3034

Condividi
Location
Complesso archeologico del Sessorio - Santa Croce in Gerusalemme, Piazza di Santa Croce in Gerusalemme
Piazza di Santa Croce in Gerusalemme
41° 53' 19.2156" N, 12° 30' 52.4016" E
To find out about all accessibility services, visit the Rome accessible section.