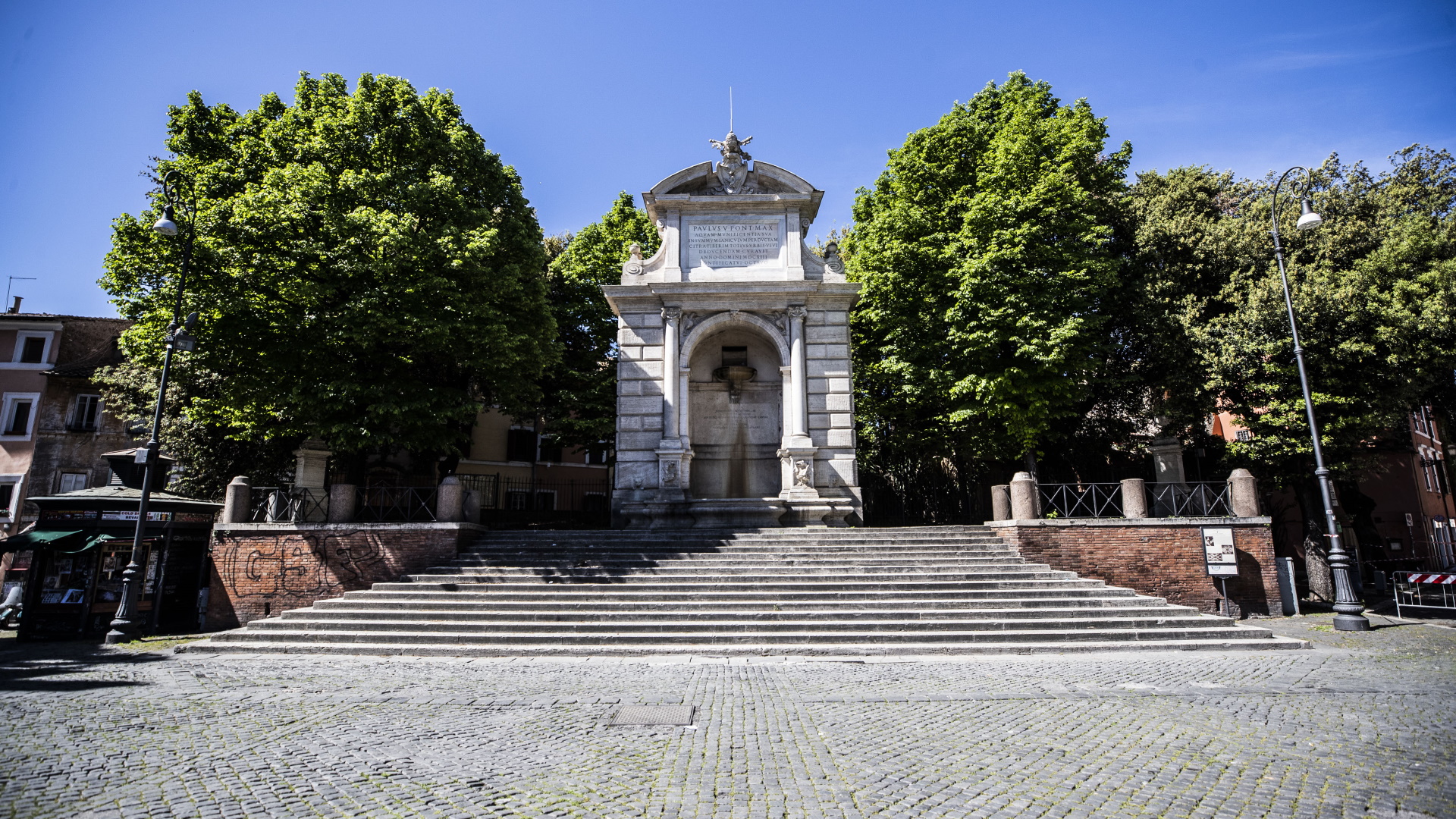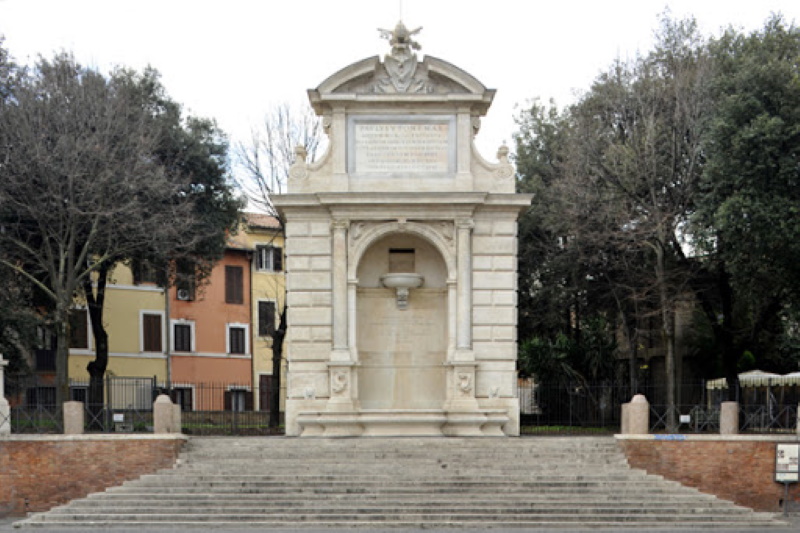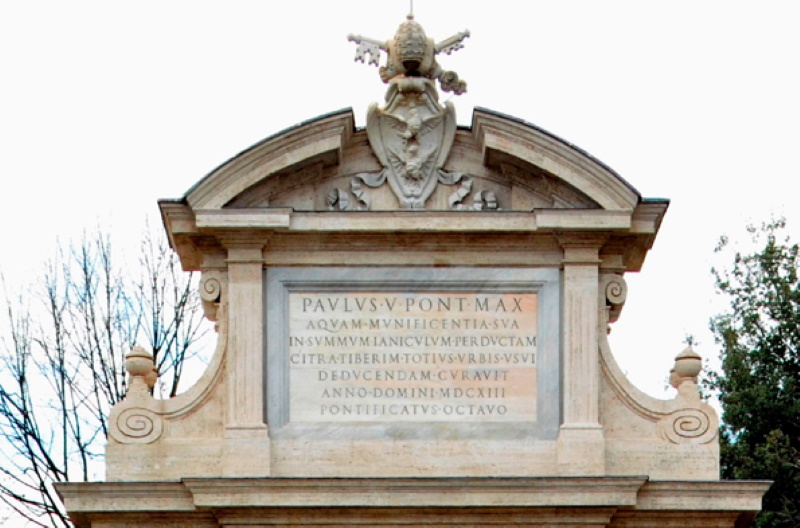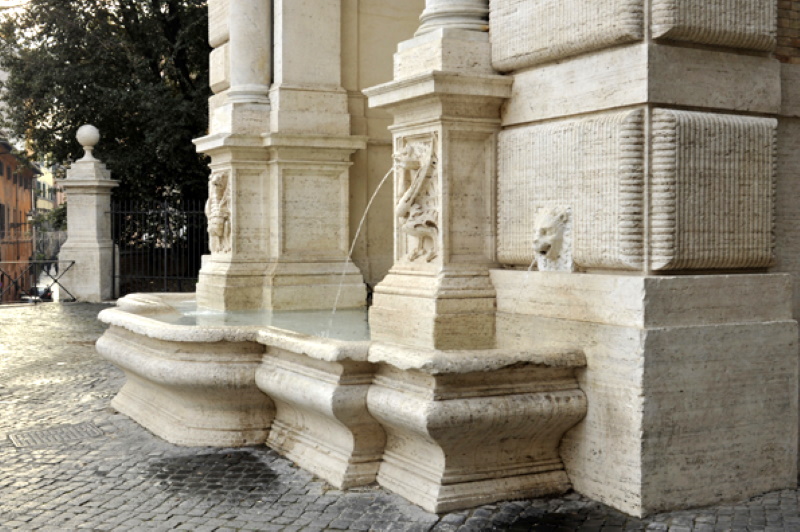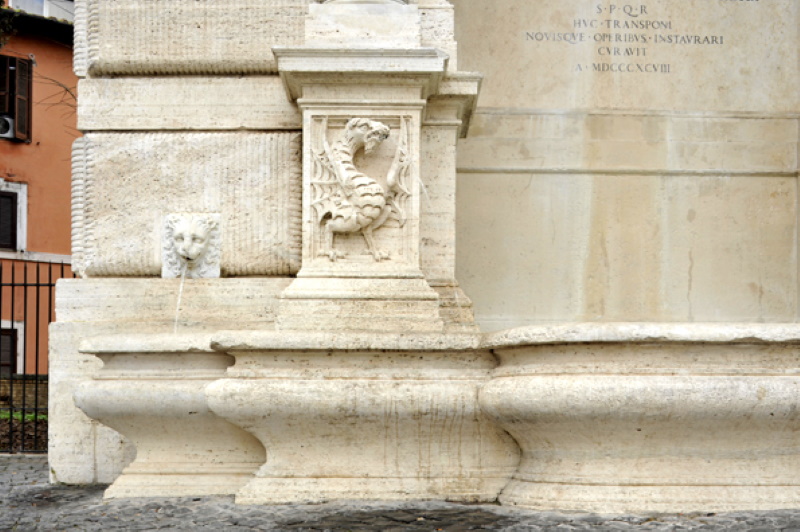 In Piazza Trilussa, you can find the beautiful fountain of Acqua Paola, also known as "fontanone di Ponte Sisto" (large fountain of Ponte Sisto), by the architects Van Santen, known as Vasanzio, and Giovanni Fontana. It was commissioned by Pope Paul V Borghese (1605-1620) in 1613, to feed the districts of Trastevere, Borgo, Regola, and Ponte.
Conceived as a monumental arch with a central niche flanked by two Ionic columns, the fountain has a high attic holding the Borghese family coat of arms, with eagle and dragon, and a celebratory inscription dedicated to the pontiff, for having led the water on the left bank of the Tiber. Initially, it was located at the end of Via Giulia, which explains the apparent inconsistency of the Latin epigraph on the attic that commemorates that the water brought to the Janiculum Hill was extended in 1613 beyond the Tiber river to be used by the entire City, thanks to the munificence of Paul V. It took its water from the Traiano-Paolo aqueduct.
The fountain was dismantled in 1870 for the construction of the banks of the Tiber after a disastrous flood. Almost half of the pieces broke or were dispersed between the various municipal warehouses. When it was rebuilt in Piazza Trilussa in 1898, as commemorated by another inscription on the wall at the back of the large niche, the architect Vescovali was able to use just what was left of it. The result was, however, remarkable: the fountain was reassembled in an elevated position on the top of a fifteen-steps flight, aligned with the Sisto bridge and in visual connection with the imposing Acqua Paola fountain located on the top of the Janiculum hill.
Looking at it from the left bank of the Tiber river, the fountain is in a straight line with Via dei Pettinari - Ponte Sisto and is almost exactly on the vertical line of the "fontanone del Gianicolo" with which it constitutes a spectacular pair of fountains linked to the name of Paul V Borghese.
Information
Address
POINT (12.470052 41.891667)
Contacts
Web site:
www.sovraintendenzaroma.it/i_luoghi/roma_medioevale_e_moderna/fontane/fontana_dell_acqua_paola_in_piazza_trilussa

Condividi
Location
Fontana dell'Acqua Paola, Piazza Trilussa
41° 53' 30.0012" N, 12° 28' 12.1872" E
To find out about all accessibility services, visit the Rome accessible section.