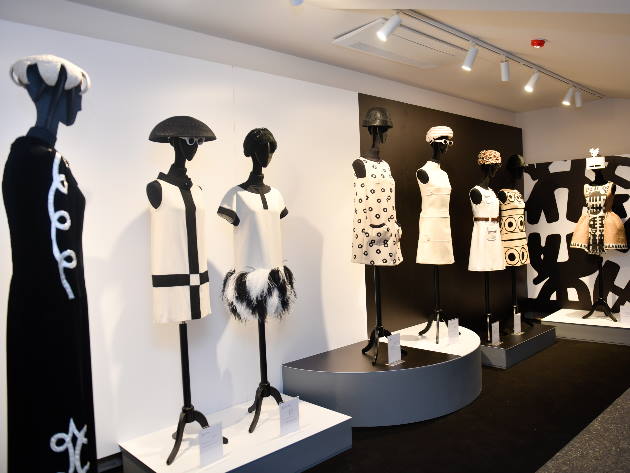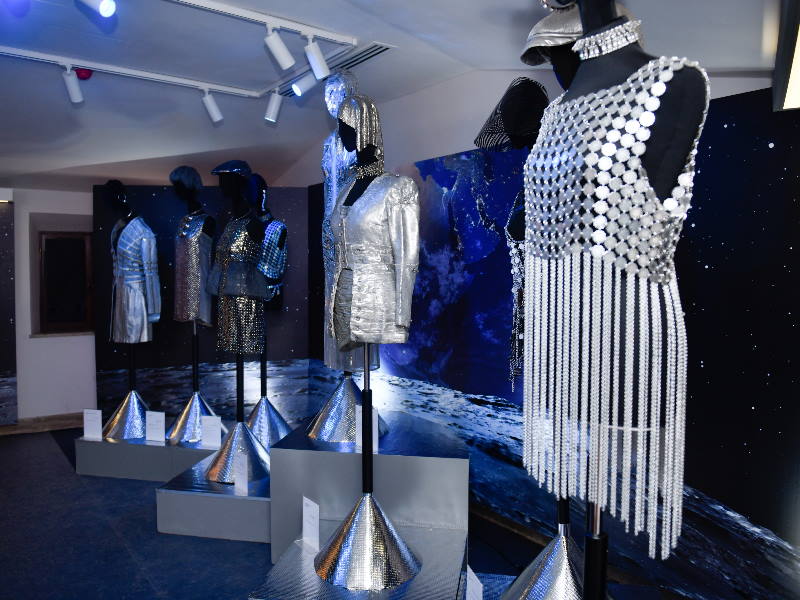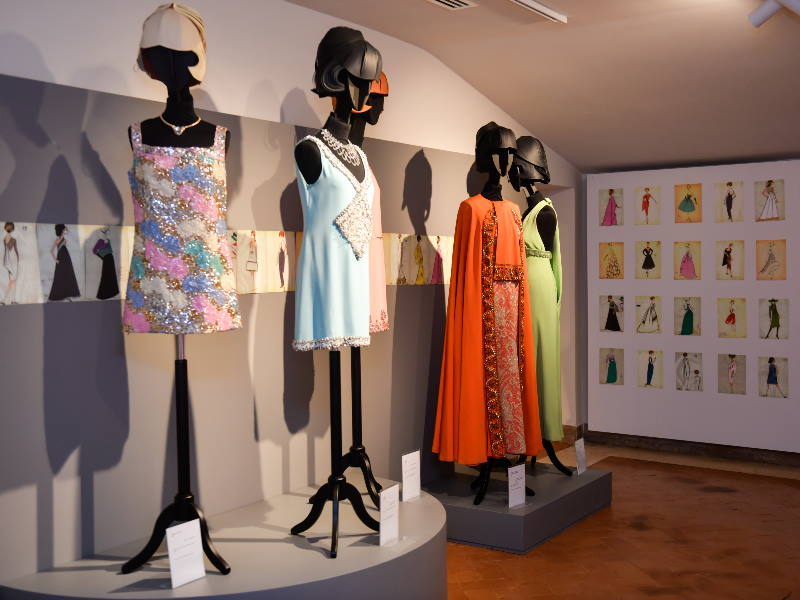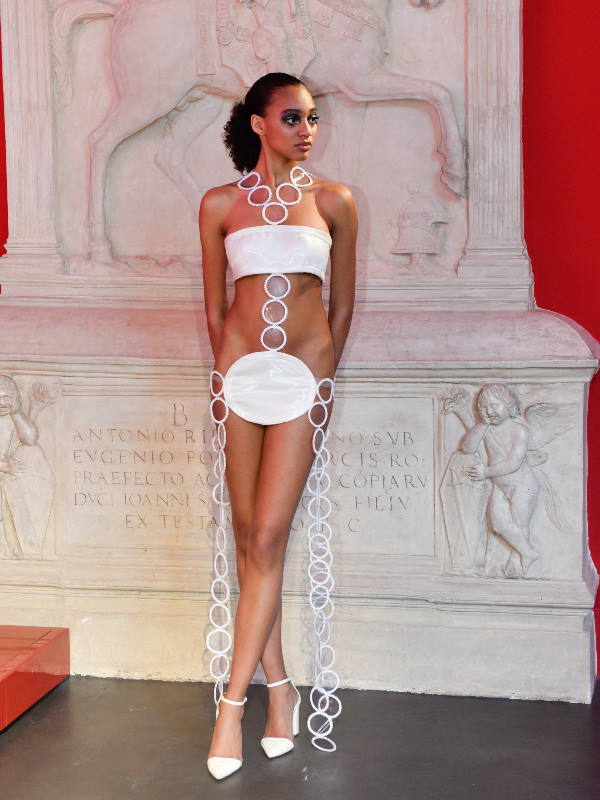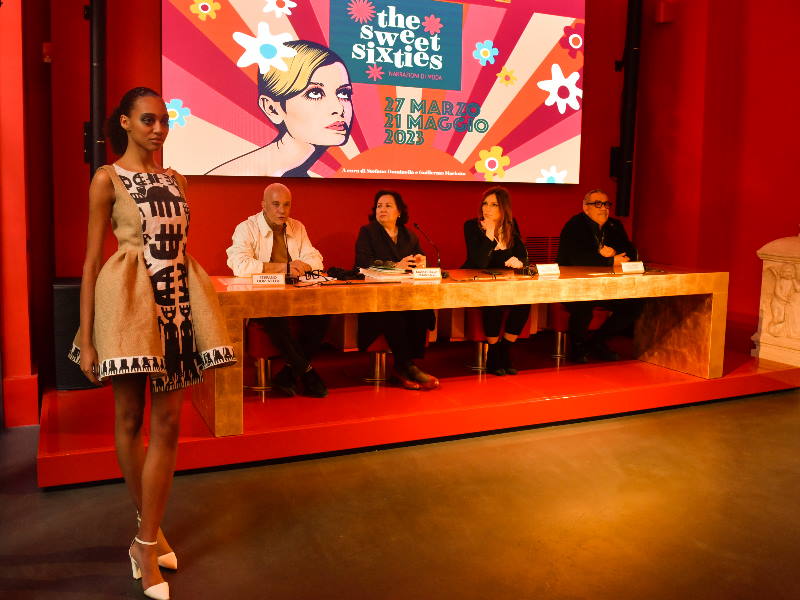 The Armerie Superiori of the National Museum of Castel Sant'Angelo host the irresistible exhibition-performance dedicated to the sparkling Sixties, curated by Stefano Dominella and Guillermo Mariotto with sets by Virginia Vianello.
The Sweet Sixties. Narrazioni di Moda is a time travel through the age that indelibly marked the lifestyle, leaving the fashion world with an extraordinary legacy of inspiration to draw from.
A cultural and social revolution that has its origins in the "Swinging London", as Time defined the British capital in 1966, creating icons and reimagining the style of an entire generation to the rhythm of the Beatles: clothes, shoes and accessories that shone in the colourful windows of Carnaby Street, including Mary Quant's miniskirts, or in the elegant King's Road, like Ossie Clark's sensual creations, while pantyhose and bob hair were all the rage. Italy was pleasantly overwhelmed by the brilliant Elio Fiorucci, who created and launched on the market the idea of ​​a lifestyle made of jeans and delicious t-shirts with little angels and hearts, giving life to a real international subculture between rides in Vespa and Lambretta and nights dancing in clubs.
The exhibition path winds along five rooms and fifty looks, which tell the atmosphere of a light and dreamy period through visual contaminations and upcycling that combine historical suits with clothes and accessories from flea markets and vintage shops.
In the first room, Carnaby Street, two looks by Guillermo Mariotto dominate the centre, accompanied by passers-by dressed as young women during a shopping day in London's cult boutiques.The second chapter reflects on free associations between naturalistic and luxuriant prints, including the colourful plumage of the "fashion gardener" Ken Scott and the pop references of denim and little angels by Fiorucci.
The third room evokes the lunar atmospheres of Courrèges, Pierre Cardin, Paco Rabanne, and Valentino Garavani, rediscovered in metal, PVC and helmet-like hats. Then, on display is the glamour of the fourth room: bold hues, colours, embroideries and sequins of the marvellous creations with which high fashion dressed the bourgeois for special occasions, remembered with a selection of archive dresses, including those by Sartoria Battilocchi, Jole Veneziani, Gattinoni, Lancetti, Mila Schön and Carosa.
Finally, in the Optical Room are the intriguing geometries of black and white, the two colours-non-colours par excellence, dominate, to then conclude the exhibition with the celebration of art through Giuseppe Capogrossi's creative legacy and the Cursed Painters of Rome's work, recalling fashion's extraordinary evocative power and infinite possibilities.
Cover Image: The Sweet Sixties, Optical Room
Informations
When
from 27 March 2023
to 21 May 2023
POINT (12.4663838 41.9025166)
Contacts
Email:
Informazioni e prenotazioni per gruppi: info@tosc.it
Facebook:
www.facebook.com/MuseoCastelSantAngelo
Facebook:
www.facebook.com/DirezioneMuseiStatalidellaCittadiRoma
Online purchase:
www.gebart.it/musei/museo-nazionale-di-castel-santangelo
Telephone booking:
06 32810 – attivo dal lunedì al venerdì dalle 9.30 alle 18.00
Web site:
http://castelsantangelo.beniculturali.it
Web site:
www.direzionemuseistataliroma.beniculturali.it/istituti/museo-nazionale-di-castel-santangelo-2
Timetables
Dal 27 marzo al 21 maggio 2023
da martedì a domenica, ore 9.00–19.30 (ultimo ingresso ore 18.30)
Chiuso il lunedì

Condividi
Location
The Sweet Sixties: Narrazioni di Moda, Lungotevere Castello, 50
41° 54' 9.0612" N, 12° 27' 58.9824" E