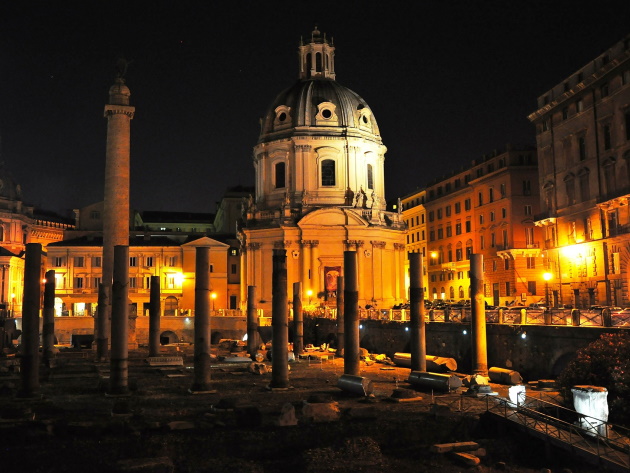 Every evening from 18.30 to 21.50, the time of the last entry, we await you for an evening walk in one of the most evocative archaeological areas of Rome.
The tour starts from the multimedia museum under Palazzo Valentini, where you can watch a film curated by Piero Angela and Paco Lanciano, with the virtual reconstruction of the Trajan's Column. The video, lasting about 13 minutes, tells the deeds of Emperor Trajan at the time of the conquest of Dacia (Romania) and is a unique opportunity to see up close the bas-reliefs and the military campaign they tell. The extraordinary tale ends with the death of King Decebalus and the triumph of the emperor.
The visit continues in the Forum of Caesar, to which you can access from the passage that, from the Forum of Trajan, passes under Via dei Fori Imperiali.
Access to the visit is from the ticket office of the Imperial Fora near the Trajan's Column; the exit is from Via Bonella, on Via dei Fori Imperiali, near Largo Corrado Ricci / Via della Salara Vecchia.
The visit lasts about 1 hour and 30 minutes, is itinerant, and conducted by guides in Italian.
In compliance with the anti-Covid-19 prevention measures, the entry to the area is contingent (max nine people every 20 minutes), your body temperature will be measured (you cannot access with a temperature equal to or higher than 37.5 °), and you must keep interpersonal distancing. The use of a mask is mandatory.
The visit is included in the ticket of the Imperial Fora. We recommend the online pre-purchase on the website www.sovraintendenzaroma.it or at the contact center 060608 (active every day from 9 to 19.00). Tickets can also be purchased on-site at the ticket office located near Trajan's Column. If you have the MIC card, admission and visit are free, with reservations recommended at 060608.
Informations
When
from 24 June 2021
to 26 September 2021
Contacts
Online purchase:
https://museiincomuneroma.vivaticket.it/it/tour/passeggiata-serale-nei-fori-imperiali/2516
Web site:
www.sovraintendenzaroma.it/content/passeggiate-serali-nell%E2%80%99area-archeologica-dei-fori-imperiali
Timetables
dal 24 giugno al 26 settembre, tutte le sere dalle 18.30 alle 21.50 (ultimo ingresso)
Chiuso l' 11 luglio
Entrata ogni 20 minuti, max 9 persone a turno. Durata della visita: 1 ora e 30 minuti circa
Ingresso dalla biglietteria del Foro di Traiano, in prossimità della Colonna Traiana (Piazza Madonna di Loreto). Uscita da via Bonella.

Condividi
Location
Passeggiate serali nell'area archeologica dei Fori Imperiali, Via dei Fori Imperiali
41° 53' 35.9772" N, 12° 29' 13.2" E