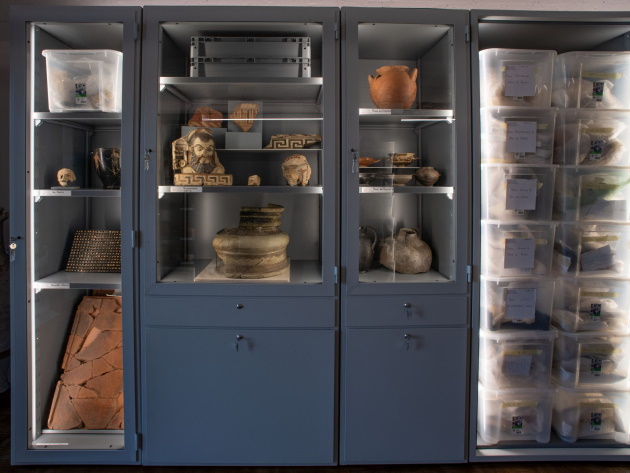 The Colosseum Archaeological Park presents Deposits on display, a new program of guided tours which, every Friday until the month of July, allows the public to discover the precious and rich heritage kept in the deposits on via Nova, exceptionally open for the occasion. with archaeological finds that hadn't been exhibited for over 30 years.
The initiative, coordinated by the archaeologist Roberta Alteri, allows for the first time visitors of the PArCo to access the rooms of the tabernae belonging to the Domus Tiberiana complex, which have been the subject of an important redevelopment and arrangement work. The exhibition project, based on a thematic and chronological criterion, reconstructs the different contexts of the artifacts belonging to the historical collection of the Antiquarium, referable to different contexts of the area. To provide visitors with an overview of the historical and cultural context of the complex the guided tours, supervised by the internal staff of the PArCo, continue at the Museum of the Roman Forum, located on the ground floor of the Cloister of Santa Maria Nova, with an exhibition itinerary that especially enhances the contexts excavated by the archaeologist and architect Giacomo Boni.
Three visits are available for each Friday - 3.30 pm; 4.30pm; 17:30 - subject to availability (8 places per shift), for a duration of about an hour and a half. Access is free upon purchase of one of the entrance tickets to the Colosseum Archaeological Park and for holders of the Membership Card.
Photo credits: courtesy of the Colosseum Archaeological Park official site
Informations
When
from 14 April 2023
to 30 June 2023
POINT (12.4900753 41.8875179)
POINT (12.486949174174 41.892586289925)
POINT (12.49020861444 41.890248098303)
Contacts
Web site:
https://parcocolosseo.it/evento/depositi-in-mostra/
Timetables
Ogni venerdì dal 14 aprile al 30 giugno 2023
Museo del Foro Romano, Taberne della Via Nova
Per ciascuna giornata sono disponibili tre turni di visita fino a esaurimento posti:
15.30 – 17.00
16.30 – 18.00
17.30 – 19.00
Ogni turno di visita ha la durata di un'ora e mezza circa.

Condividi
Locations
Depositi in mostra, Via di San Gregorio, 30
41° 53' 15.0648" N, 12° 29' 24.27" E
Depositi in mostra, Via della Salara Vecchia, 5/6
Via della Salara Vecchia, 5/6
41° 53' 33.3096" N, 12° 29' 13.0164" E
Depositi in mostra, Via Sacra
41° 53' 24.8928" N, 12° 29' 24.7524" E