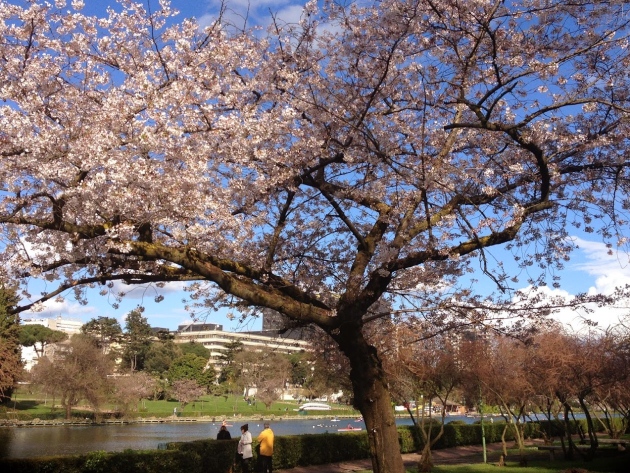 Part of the Eur Central Park, the artificial lake was projected by Marcello Piacentini and planned by the original project of the 1942 Universal Exposition.
It was completed only after the war, on the occasion of the 1960 Rome Olympics, giving the area a new and surprising decorative element: a kilometre in length for a width ranging from 60 to 130 meters, a total area of ​​85,120 square meters, with a depth oscillating between 2 and 4 meters.
The area is rich in oaks, poplars, magnolias, olive trees and maples, and some rare specimens of cherry laurel, ligustrum, pittosporum and conifers belonging to the most important species and varieties.
Not to be missed a walk along Passeggiata del Giappone (Japan Promenade), designed by Raffaele de Vico. The Sakura, the cherry trees donated by the city of Tokyo, make it suggestive, especially during the Hanami, the cherry blossoms between mid-March and early April.
A Real landscape highlight is the waterfall garden, Giardino delle Cascate, (42,000 square meters), probably the most valuable and evocative green space. Designed by the same de Vico, it was inaugurated on 29 June 1961. It is a harmonious intertwining of falls and jets of water, cliffs, natural stones and plants of different species that make it unique among the urban parks of Rome. The structure recalls the Italian tradition, characterized by classic symmetry.
On the central waterfall is the Hashi pedestrian bridge, with a glass flooring, connecting the different sides and making the garden integrate with the lake and its beautiful walks. The function of the waterfalls is not purely aesthetic: with their water movements, they contribute to the oxygenation of the lake's waters. After extensive renovation work, the beautiful garden, occasionally used as a film set, was reopened to the public in May 2017.
Information
Address
POINT (12.466024 41.828447)
Services
Area gioco attrezzata per bambini
Pista ciclabile

Condividi
Location
Parco Centrale del Lago - Laghetto dell'EUR, Passeggiata del Giappone
41° 49' 42.4092" N, 12° 27' 57.6864" E
To find out about all accessibility services, visit the Rome accessible section.