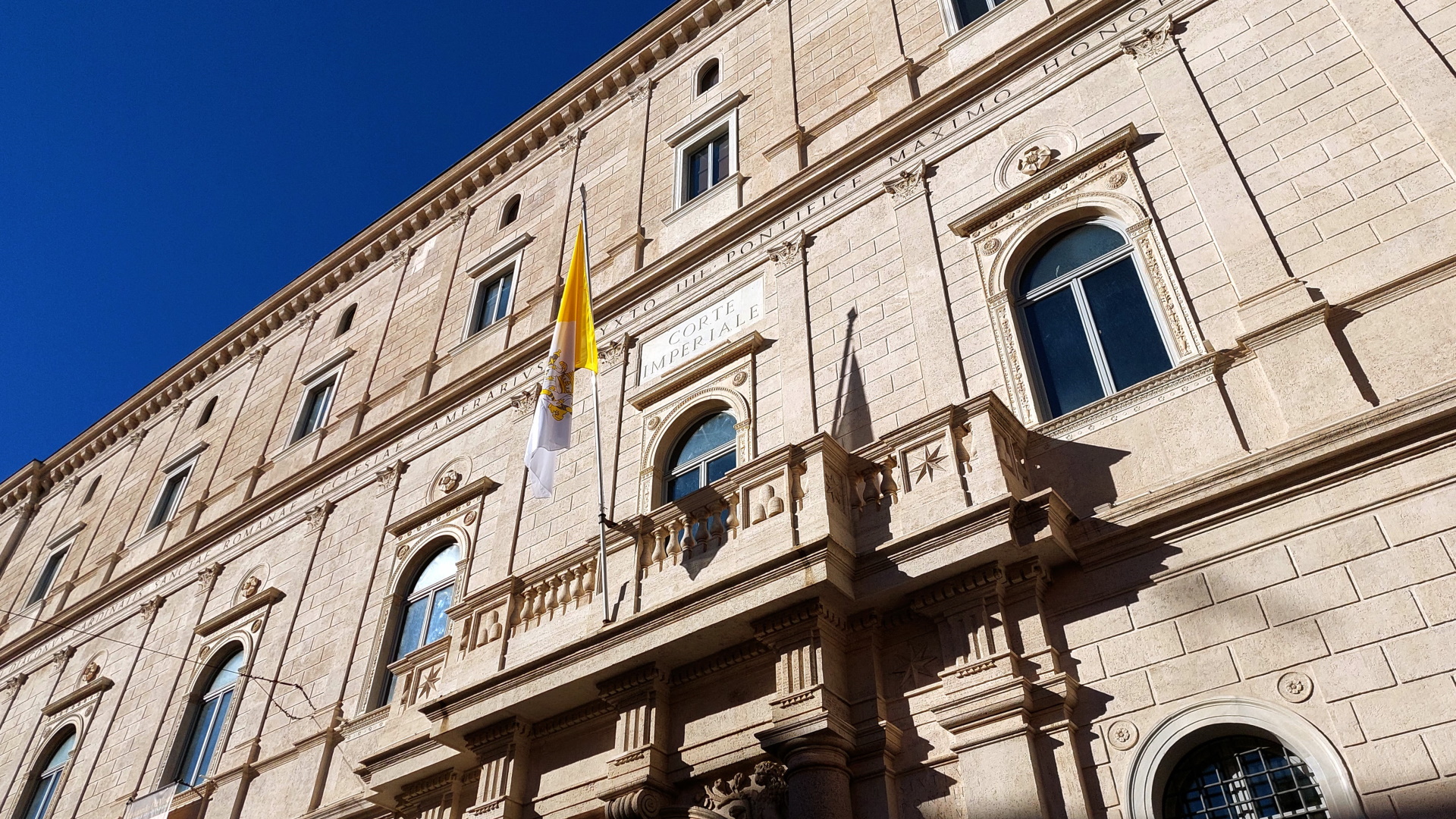 The imposing palace between Campo de' Fiori and Corso Vittorio Emanuele II was built for Cardinal Raffaele Riario, nephew of Pope Sixtus IV, who lavished every resource on it – according to rumors, even gambling winnings – transforming it into an elegant Renaissance residence. Construction works began in 1485 and were completed under the pontificate of Julius II Della Rovere, involving the destruction of the ancient church of San Lorenzo in Damaso. The church was then rebuilt and incorporated into the new building. A few years later, when the cardinal was accused of participating in a conspiracy against Pope Leo X, the palace was confiscated and became the new seat of the Apostolic Chancery. The palace is still Vatican property and nowadays houses various Church offices, including the Roman Rota.
The bone-colored travertine of the Palazzo was spolia from ancient Roman ruins, including the Colosseum and the nearby Theatre of Pompey. The long façade towards Campo de' Fiori and Via del Pellegrino is embellished with a finely sculpted balcony, possibly by Andrea Bregno. The grand portal, added in the 16th century by Domenico Fontana, gives access to an elegant three-tiered courtyard, today unanimously attributed at least for its design to Donato Bramante. A grand staircase leads to the palace's main floor with lavish halls, salons and rooms, such as the Salone d'Onore frescoed by Giorgio Vasari and assistants in only 100 days, to meet the client's requests, and for this reason called the Salone dei Cento Giorni, Hall of the Hundred Days.
In the basement of the building, reachable through the rooms on the ground floor that house the permanent exhibition dedicated to Leonardo da Vinci, it is possible to see the tomb of the Roman consul Aulio Irzio, completely immersed in the water of a small lake that was formed following the obstruction of the Euripus, the canal that in ancient times crossed the Campo Marzio to then flow into the Tiber.
Information
Address
POINT (12.472088 41.896538)
Timetables
Weekdays: from 7.30 to 20.00 . 
Sundays and public holidays: from 9.30 to 19.00.
Contacts
Email:
economato@apsa.va (prenotazione visita)

Condividi
Location
Palazzo della Cancelleria, Piazza della Cancelleria, 1
Piazza della Cancelleria, 1
41° 53' 47.5368" N, 12° 28' 19.5168" E
To find out about all accessibility services, visit the Rome accessible section.