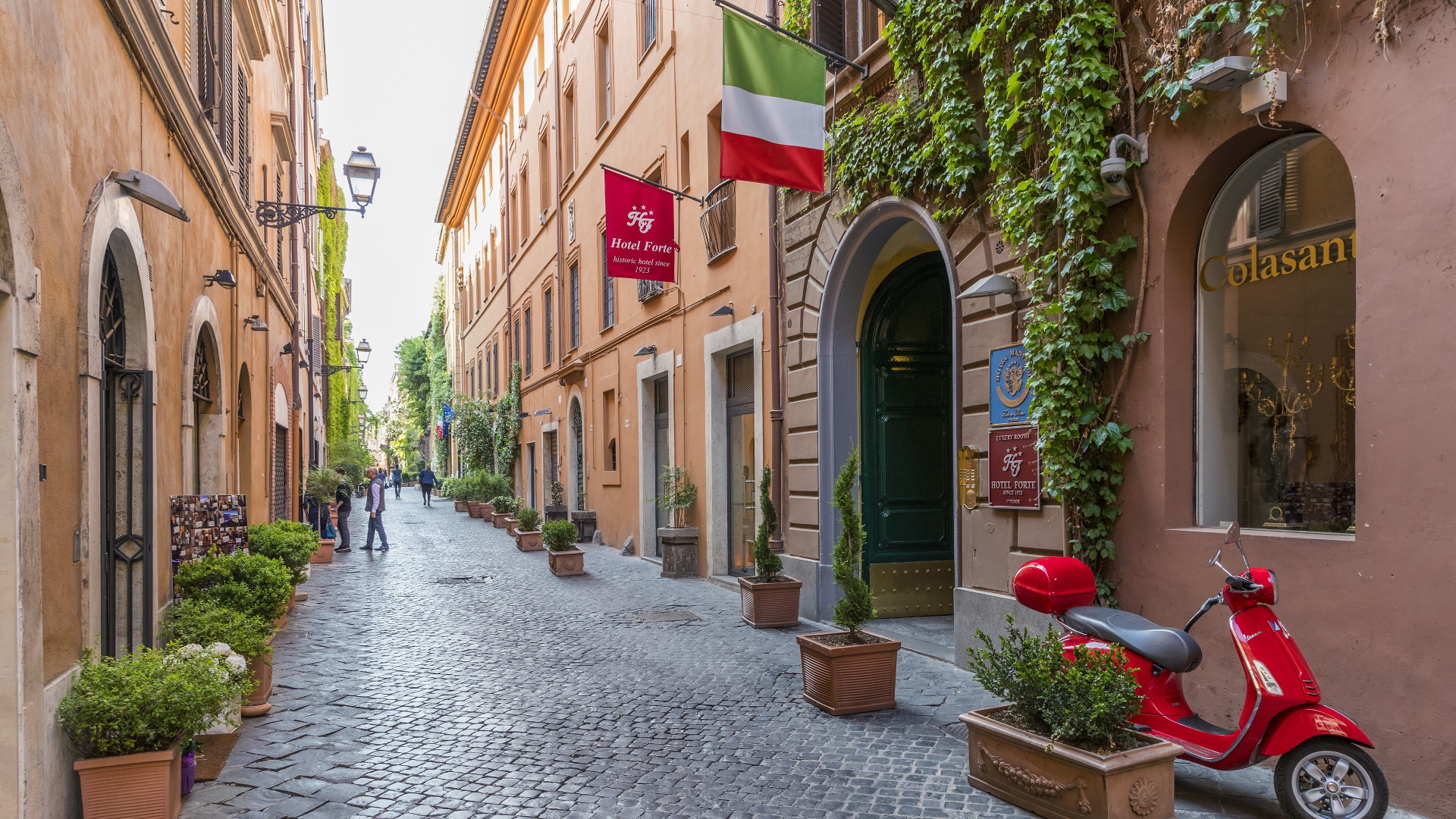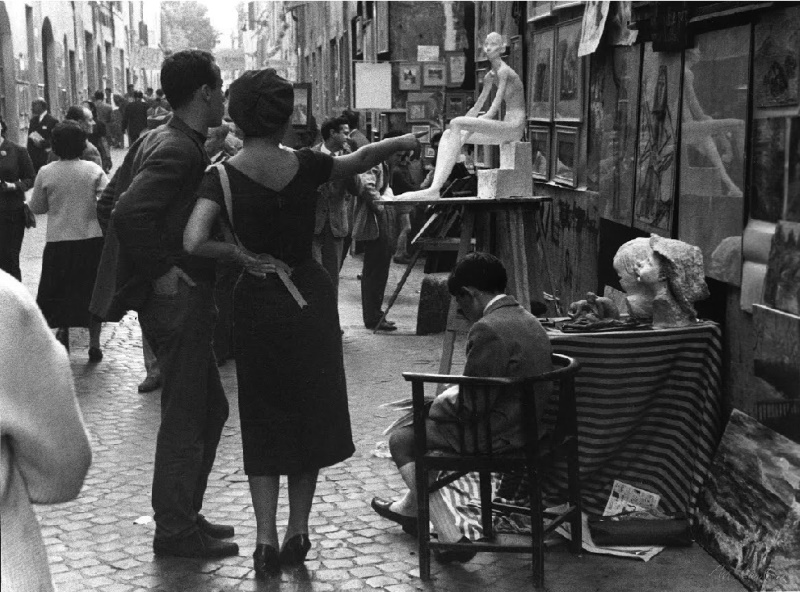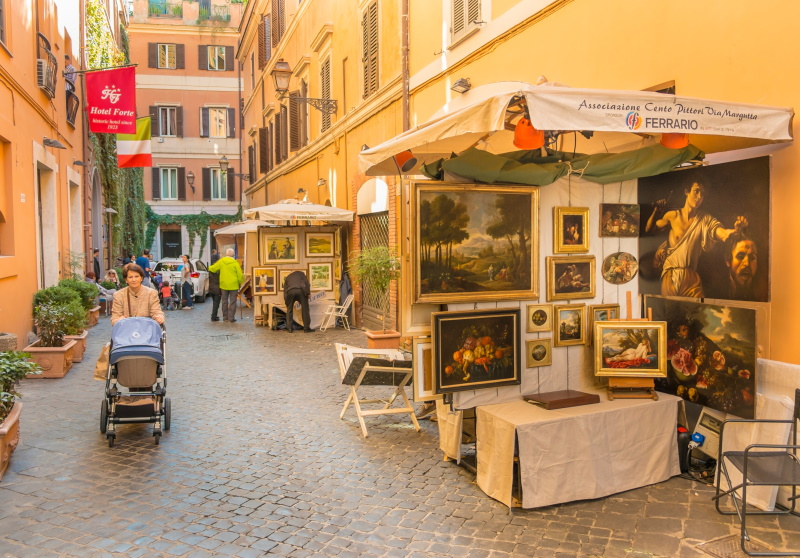 "Noble simplicity and quiet grandeur": this is how the great art historian Johann Joachim Winkelmann (1717-1768) described this small street in the center of Rome.
Located in Rione Campo Marzio, on the slopes of Mount Pincio between Piazza del Popolo and Piazza di Spagna, Via Margutta is a magical refuge if you want to stroll in peace, away from the chaos of the Trident.
Here, you can literally immerse yourself into another dimension. Ivy and creepers cover the facades of the ancient buildings, the big stores in the historic center give way to art and antique galleries, craft and restoration shops, and elegant restaurants.
Formerly, however, via Margutta was just a minor road on the back of the noble houses of via del Babuino. It hosted their depots and stables, the homes of the grooms, masons, marble workers, and coachmen, who carried out their activities here.
It began to be known as the street of artists in the Middle Ages when an unknown craftsman opened his first workshop in which he made portraits, fountains, and railings. It gave way to a thriving industry that attracted artists from all over Italy and Europe, especially from Britain, Flanders, and Germany. Slowly the shacks, stables, and gardens were replaced by their homes, by pretty gardens, and by new workshops.
Until 1600, it was called via dei Nari, from the name of a family owning houses and land in this area. Its current denomination, however, has uncertain origins.
According to some sources, it derived from Margutte, the derogatory nickname of the barber Giovanni, of big build, of notable ugliness, and of no particular intelligence, who had his shop here. According to others, however, Giovanni's surname was Margut, as would appear from the registry records of 15th-century Rome, which report a family with this name. Or perhaps, its toponym derives from the vulgar contraction of Marisgutia, or Goccia di Mare: an understatement to designate the stinking brook that came down from the villa of the Pincii, crossing it, and eventually flowing into the Tiber.
In the 19th century, a young monsignor of Belgian origin, Francesco Saverio de Merode (1820-1874), purchased the area, installed sewers, and arranged the town plan of the alley. It converted into a real road, becoming the artists' privileged residence and the seat of their ateliers. Thanks to them, it has since been characterized by a lively and cosmopolitan atmosphere.
The greatest protagonists of the 20th century passed from here or lived here. Among these, we can mention painters such as Picasso and Guttuso, Giorgio de Chirico and Novella Parigini, musicians like Wagner, Liszt, Puccini, and Mascagni, writers such as Emile Zola, Gabriele d'Annunzio, Jean Paul Sartre and Simone de Beauvoir, Elsa Morante, Moravia, and Sibilla Aleramo.
Made famous in the 50s by the film Roman Holidays, starring Audrey Hepburn and Gregory Peck, Via Margutta also housed the protagonists of the Dolce Vita. Established directors like Federico Fellini, and famous actresses such as Anna Magnani and Giulietta Masina, Fellini's wife, lived here.
Fellini described it as follows: "Stairs, ladders, hallways that opened between the gardens, then other stairs and ladders. A vertical landscape submerged in greenery, right down to Viale di Trinità dei Monti".
Every year, since 1953, Via Margutta has hosted "100 Pittori", the event which for a few days transforms this street into an open-air art gallery. Artists from different countries of the world give life and color to this enchanted place suspended in time, celebrating its ancient vocation.
Information
Address
POINT (12.479561 41.908617)

Condividi
Location
Via Margutta, Via Margutta
41° 54' 31.0212" N, 12° 28' 46.4196" E
To find out about all accessibility services, visit the Rome accessible section.