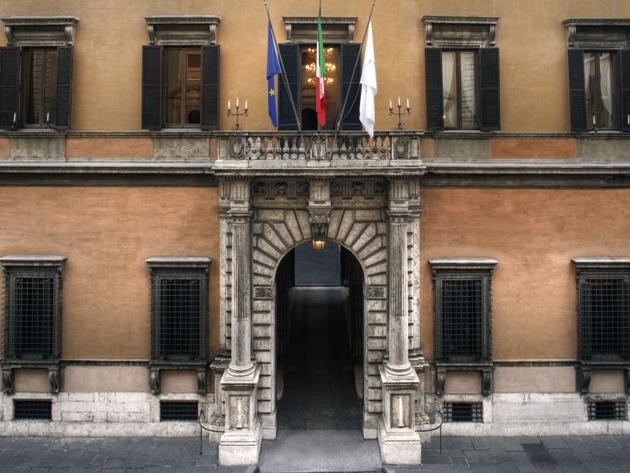 Built in the 16th century by the family of the same name, Palazzo Sciarra, which overlooks via del Corso, is an important space for exhibitions that also houses the permanent collection owned by the Foundation. In the palace there are works from the fifteenth to the twentieth century, including paintings, sculptures, ceramics and a collection of papal medals.
In the seventeenth century the architect Orazio Torrioni built the austere facade marked by three rows of windows with corbels. The entrance is characterized by a monumental ashlar arch, with two columns supporting the balcony on the first floor.
In the eighteenth century, at the behest of Cardinal Prospero Colonna, the building was adapted to the style of the time. The architectural and pictorial renewal was entrusted to Luigi Vanvitelli, a friend of the Cardinal. The domestic library, the small Gallery, the Cabinet of Mirrors, with their pictorial decorations, are the result of these interventions, which enriched the artistic value of the building.
The building was reduced in size at the end of the nineteenth century, when Prince Maffeo Sciarra rearranged the area with the opening of the adjacent Via Minghetti, the construction of the Quirino theater and the Sciarra Gallery behind it.
Information
Address
POINT (12.4809793 41.8997519)
Timetables
Museums and cultural sites are subject at the COVID containment measures
For the opening times and guidelines please check the official website
Contacts
Email:
info@fondazioneroma.it
Web site:
www.fondazioneroma.it

Condividi
Location
Fondazione Roma Museo (Museo del Corso) - sede di Palazzo Sciarra, Via Marco Minghetti, 22
41° 53' 59.1072" N, 12° 28' 51.5244" E
To find out about all accessibility services, visit the Rome accessible section.