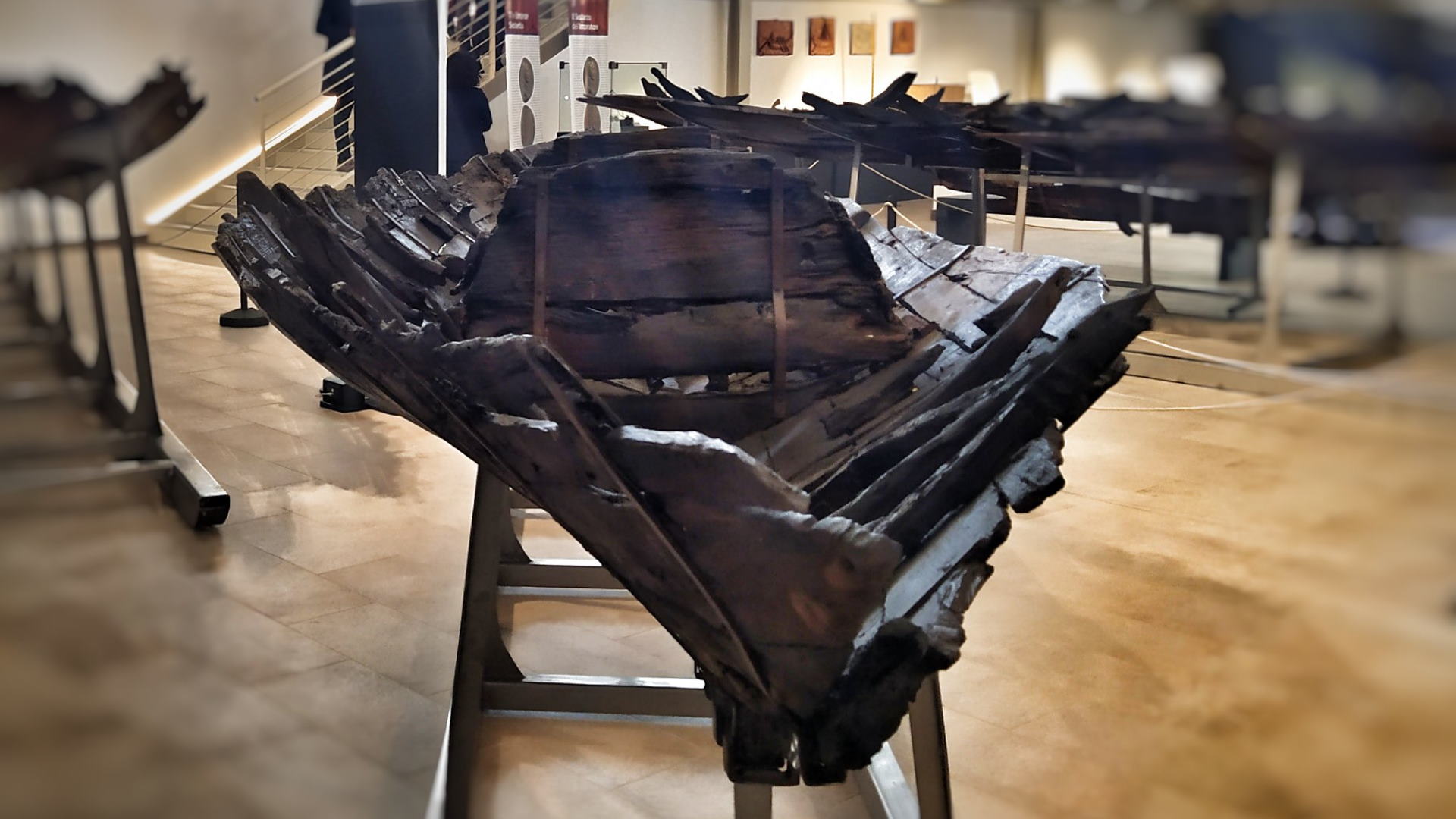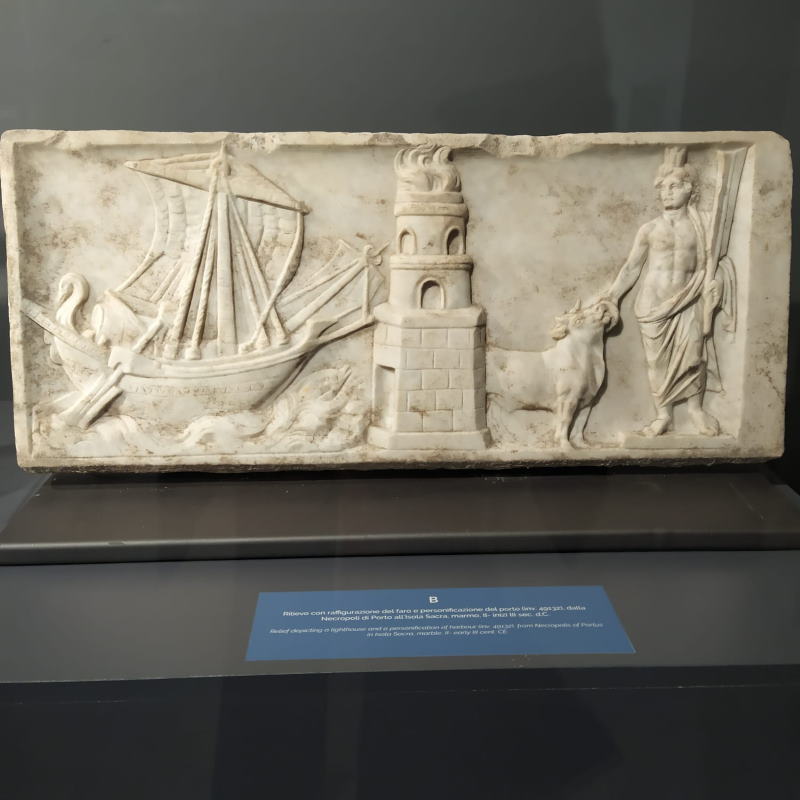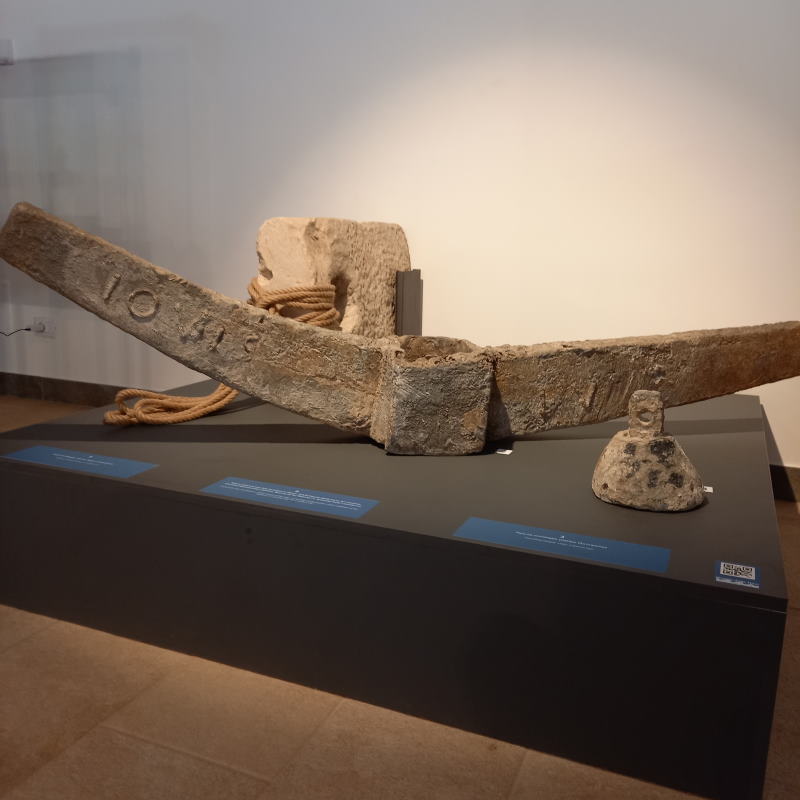 The museum houses one of the most important collections of Roman ships in the Mediterranean and it was built in the same place where some hulls of Roman ships, sealed by silt and sand deposits, were unearthed between 1958 and 1965, during the construction of the Leonardo Da Vinci international airport. In fact, the modern airport hub rests right on the largest port of the Roman Empire, the ancient port basin of Claudius and Trajan.
Five wrecks are displayed, namely three river boats for the transport of goods along the Tiber, a sea transport ship and the so-called "fisherman's boat", a rare fishing boat that is just 6 meters long. The peculiarity of the latter is the small wooden tank on the deck: it was filled with sea water and was used as a fish farm, to keep the fish alive to be brought ashore. The ships lay in a marginal area of ​​the large port basin where they were abandoned after the end of their useful life: a sort of "cemetery" where the ships slowly sank and disappeared on the seabed.
Inaugurated in 1979 with a decidedly advanced layout for the time and then closed in 2002 for restoration and reclamation work, the museum reopened in October 2021 with a new layout and a new multimedia information system. The museum has no architectural barriers and is accessible to all. The visit path is on two levels. On the ground floor it's possible to admire the outer shell, the hull and the keels of the vessels; from the walkway along the walls and between the two large river ships in the center of the room, visitors can see the wrecks at different heights, from the submerged parts to the internal planking. Artifacts recovered during the excavation or related to the great port of Rome are also displayed, including reliefs with maritime scenes, an anchor, a mosaic with a marine subject, amphorae, marble and ceramic and bronze objects.
A multimedia room provides audio-video content on the themes of ancient navigation and the port.
Photo Parco Archeologico di Ostia Antica Official Facebook Page
Information
Timetables
From Tuesday to Sunday from 10.00 to 16.00 (last entrance 15.30)
Closed on Mondays, 25th December

Contacts
Online purchase:
www.coopculture.it/it/prodotti/biglietto-museo-delle-navi-di-fiumicino/#55
Web site:
www.ostiaantica.beniculturali.it/it/aree-archeologiche-e-monumentali/museo-delle-navi-di-fiumicino/

Condividi
To find out about all accessibility services, visit the Rome accessible section.