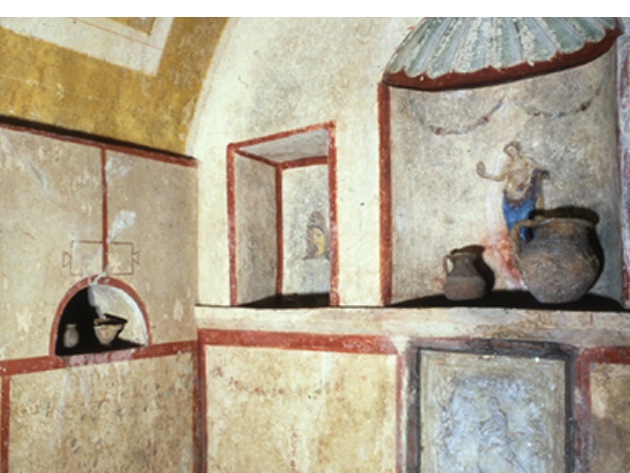 The two sepulchres are spread over an area crossed by the via Latina and via Labicana, an agricultural area characterized by the presence of the Claudian aqueduct.
Both discovered by chance in 1932, they are modest-sized single-room buildings with a gable façade, barrel vault, travertine walls and clay floor. The niches in which the cinerary urns were placed - from whose similarity with the shelters for doves derives the term "columbarium" - are limited in number in both cases.
The First Columbarium, dating back to a period between the end of the 1st century AD. and the first decades of the II, it is built in reticulated work with well-preserved frescoes, depicting gilded amphorae on which, from above, festoons tied with bandages hang, to which horns and cymbals are hung. The vault is decorated with squares with a rose twig with flowers in the center, while in the corners there are vine shoots and pomegranate branches.
The Second Columbarium, datable to around the 2nd century AD. The sepulchral slab placed according to custom above the entrance is missing, but the epigraphic evidence shows that the tomb belonged to a family of Greek origin. Ten small niches are present on the walls; on the back wall there is a major apsidal niche that must have housed an urn perhaps in marble: the basin is decorated with a shell and on the bottom is the goddess Tyche, that is the Fortune goddess, a female figure with the symbol of the wheel. Below the niche, there is a relief depicting a child on horseback who, holding the reins, proceeds towards a tree with cut branches, around which a snake coils; below there is a dedicatory inscription in Greek recalling the dead child Veneriano, invoked as a tutelary deity interceding with the gods for the living. In addition to this, there are four other graffiti inscriptions on the plaster.
On the vault of the Columbarium, decorated with alternating hexagons and circles, a veiled female figure is painted in the center, symbolizing the soul of the deceased. In the hexagons, on the other hand, there is a sparrow on a red field above a flowering twig, and in the circles figures of Eros and Psyche on a blue background, which are linked to the myth of the union of the soul with the divinity. Three burials were also found inside the tomb.
Information
Address
POINT (12.5228621 41.8826523)
Timetables
At the present time not open at the visitors
Contacts
Web site:
www.sovraintendenzaroma.it/i_luoghi/roma_antica/monumenti/colombari_di_via_taranto

Condividi
Location
Colombari di via Taranto (detto anche di via Pescara), Via Pescara, 2
41° 52' 57.5472" N, 12° 31' 22.3032" E
To find out about all accessibility services, visit the Rome accessible section.