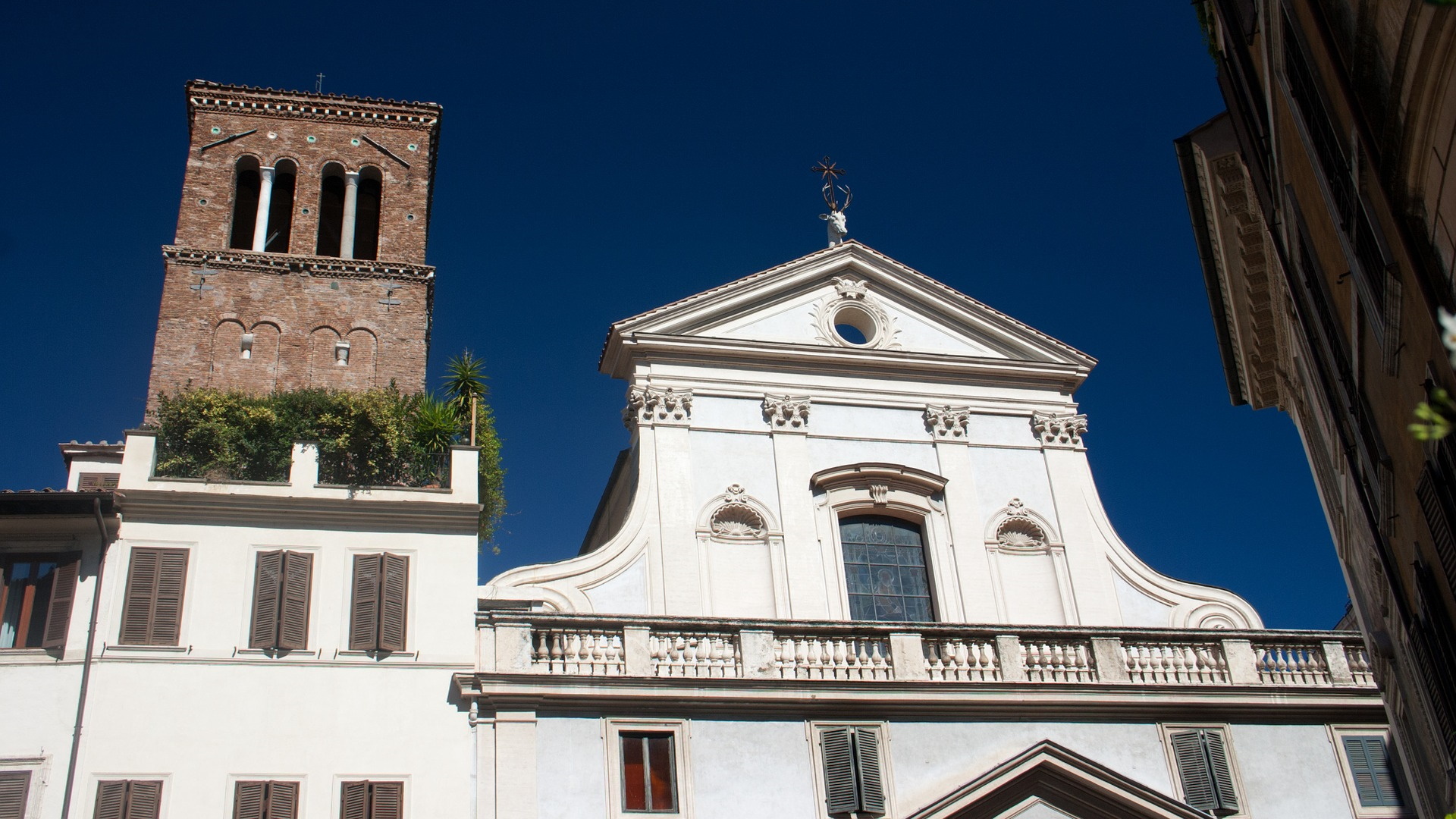 The Basilica stands above the ruins of Terme Neroniane and, as reported by some documents dating back to the 10th and 11th centuries, it is also called in platana, according to the ancient tradition that refers to a plane tree, planted in the garden of the house of the martyr Eustachio. There, the emperor Constantine would have erected an oratory on the place where the saint suffered martyrdom. Over time, the building has undergone major transformation works. In 1195-1196, it was completely rebuilt and enlarged, with the addition of the Romanesque bell tower. Between the 17th and 18th centuries, due to the flooding of the Tiber and to the excessive humidity, the medieval structures were demolished, except for the bell tower which is still visible today, and the basilica was rebuilt in the definitive 18th century form. A medieval legend is linked to the head of a deer with a cross between the horns on the top of the facade: it is said that Placido, commander of the Roman army, converted to Christianity and changed his name to Eustachio, after seeing a deer with a cross and the image of Christ between the horns, during a hunting near Tivoli.
The interiors of the basilica, by Cesare Corvara and Antonio Canevari, have  a single nave and three chapels on each side, decorated with 18th century paintings. On the counter-façade, there is the stained-glass window depicting the penitent Magdalene, made in the last decade of the 800 by Gabriel and Louis Gesta from Toulouse, and the 18th century majestic barrel organ. The main altar, rich in polychrome marbles and bronzes, was created by Nicola Salvi (1739).  Above it, there is a canopy by Ferdinando Fuga. The altar painting is by Francesco Ferdinandi and represents the martyrdom of the Saint, while the altar table, on a red porphyry urn, contains the remains.
Information
Address
POINT (12.4759311 41.8984587)
Timetables
For the timetable of the masses and visiting conditions, please consult the contacts.
Contacts
Email:
santeustachio@santeustachio.it - eventi@santeustachio.it
Facebook:
www.facebook.com/santeustachio

Condividi
Location
Basilica di Sant'Eustachio, Via di Sant'Eustachio, 19
Via di Sant'Eustachio, 19
41° 53' 54.4524" N, 12° 28' 33.3516" E
To find out about all accessibility services, visit the Rome accessible section.