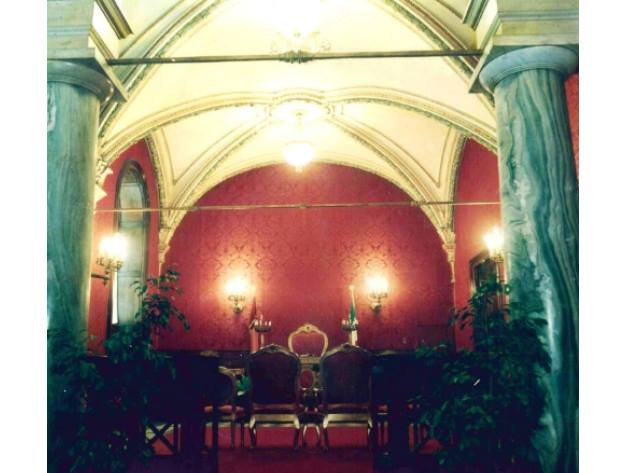 Getting married in Rome, a city full of charm and history, is the dream of many couples. The Capital offers suggestive scenarios where to celebrate your civil ceremony, officiated by the Mayor or by an Official of the Civil Register, in one of the following institutional spaces:
SALA ROSSA
This elegant, richly furnished and decorated hall, located on the ground floor of Palazzo dei Conservatori in Piazza del Campidoglio, has a breathtaking view over the Roman Forum. Ideal for a refined wedding, its name (Red Hall) derives from the color of the furnishings and fabrics. The capacity is of 20 people seated and 70 standing. Weddings can only be held on Friday (9.00 a.m. - 12.30 p.m. and 4.00 p.m. – 6.00 p.m.), Saturday (9.00 a.m.- 12.00 a.m. and 4.00 p.m. - 6.00 p.m.) and Sunday mornings (9.00 a.m.-12.30 p.m.).
COMPLESSO VIGNOLA MATTEI
The charming and welcoming deconsecrated church of the Vignola Mattei Complex (Church of Santa Maria in Tempulo), dating back to the 6th Century, is located in Via Valle delle Camene, beside the Baths of Caracalla. Immersed in the legendary atmosphere of the ancient Roman civilization, surrounded by greenery, the hall accommodates up to 25 people seated and 50 standing. Weddings can be celebrated every day except Tuesday, Wednesday and Thursday (9.00 a.m.-12.30 p.m., from 1 June to 20 September also from 4.00 p.m to 6.00 p.m.), Friday (9.00 a.m-12.30 p.m. and from 4.00 p.m. to 6.00 p.m.), Saturday (from 9.00 a.m. to 12.00 a.m. and from 4.00 p.m. to 6.00 p.m.) and Sunday (9.00 a.m. to 12.30 p.m.). The hall is closed for civil and religious holidays.
SALA AZZURRA
This beautiful hall with blue walls and curtains that recall the colors of the sea, is located in Ostia, the sea of Rome. It can host up to 40 guests and it is perfect for a private ceremony. Tastefully furnished, recently renovated, it has a lovely outdoor garden, ideal for taking pictures. Weddings can be celebrated from Monday to Friday, both in the morning and in the afternoon at times to be agreed with Municipio X Ufficio Matrimoni, on Saturdays (from 11.00 a.m. to 11.30 a.m.) and on Sundays (from 9.30 a.m. to 12 a.m., two Sundays a month).
As established by the Delibera di Giunta n. 245 of 19/12/2018 (and previous), the cost of the halls varies depending on the residence: residents in Rome (at least one of the engaged couple), in the Province of Rome, in another municipality or abroad. The sums due are in relation to a public service on individual demand and not to a specific hall.
For more information about documents and procedure, call 06 06 06, go to the Ufficio Matrimoni di Roma Capitale (Wedding Office) in via Petroselli 50 Tel. 06 67103066 or visit Roma Capitale website: www.comune.roma.it/
You may also be interested in
Rome is the perfect choice for a romantic and refined wedding, enriched by a millenary history