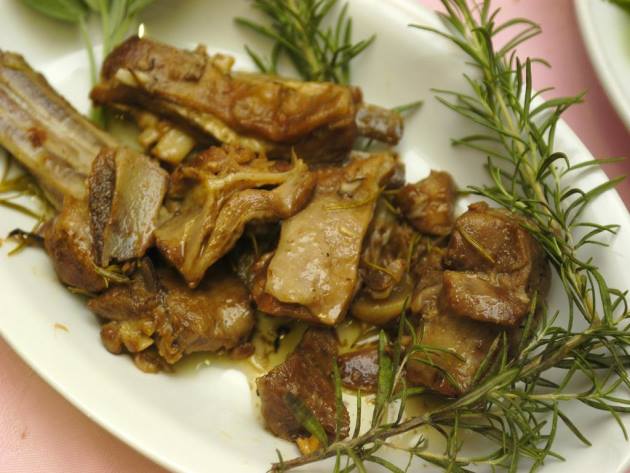 Among the tastiest and most popular recipes of Roman cuisine, abbacchio "a scottadito" (grilled lamb) is the dish par excellence of festivities and spring season, according to the Capitoline and Lazio tradition.
The term "abbacchio" refers to a suckling lamb or a lamb that has recently stopped being breastfed, as Chiappini wrote in his Dictionary of Roman dialect, in the second half of the 19th century.
Lamb is an inevitable food on the Roman tables for Easter lunch, although the Jews were the first to prepare it on the occasion of the religious festivity of Pesach, celebrated during the Christian Easter period.
The term "scottadito" means "finger-burning": you have to eat these delicious ribs with hands, burning your fingers, but you won't resist them! 
Here is the recipe to prepare them at home:
Ingredients:
12 ribs of Abbacchio Romano PGI
100 ml of Sabina DOP extra virgin olive oil
1 sprig of rosemary
2 cloves of garlic
1 lemon (the juice)
Salt and Pepper To Taste.
Preparation:
Prepare a marinade, emulsifying the oil with the juice of half a lemon, a pinch of salt, a pinch of pepper in a bowl and flavouring with the rosemary and the peeled and divided garlic in half.
Lightly flatten the lamb chops with the meat tenderizer, grease them on both sides with the emulsion and place them in a glass container with the rest of the marinade; cover with plastic wrap and leave to flavour for an hour in the refrigerator.
Cook the ribs on the grill or a cast iron plate for a few minutes. Serve them very hot with a slice of lemon.
 
Photo credits: Abbacchio a scottadito Gambero Rosso Official Website