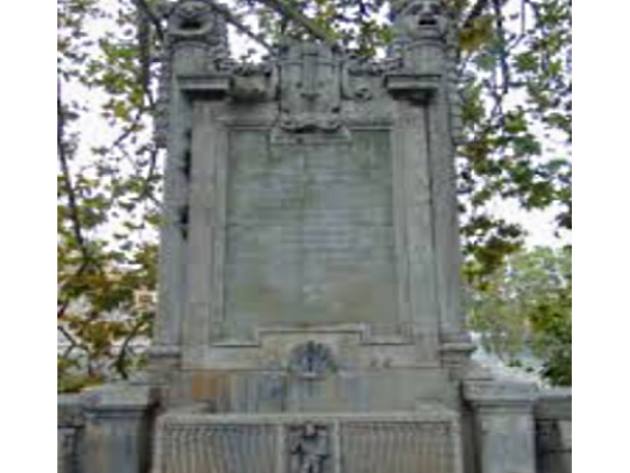 Along Lungotevere Tor di Nona, the fountain stands at the point where, in Roman times, there was a docking of the river, used for the landing of marble and, in the Middle Ages, for the supply of foodstuffs.
The name "Tor di Nona" comes in fact from a ruin of the Aurelian Walls, nearby which was called "Torre dell'Annona".
In the seventeenth century, Queen Christina of Sweden ordered to build in this area a stable wooden theater designed by Carlo Fontana, called "Tor di Nona theater" active since 1670.
After fires and demolitions, the building was rebuilt in 1795 with the name of the Apollo Theater, becoming the temple of Roman opera. However, due to the strengthening of the Tiber embankments, it was demolished in 1888.
In 1925, in its place, the Capitoline Administration had the fountain designed by the architect Cesare Bazzani built. At the base, a strigilated sarcophagus collects the water coming from the valve of a shell, and bears a figure in the center - perhaps Apollo in the act of playing the lyre. The basin is surmounted by a commemorative stele, bounded by two columns on which two theatrical masks rest and decorated with a lyre in the center. A frame frames the epigraph where the history of the theater is told and the works of Giuseppe Verdi are remembered.
Sovrintendenza photograph
Information
Address
POINT (12.469108 41.901493)
Contacts
Web site:
www.sovraintendenzaroma.it/i_luoghi/roma_medioevale_e_moderna/fontane/fontana_del_teatro_apollo_in_lungotevere_tor_di_nona

Condividi
Location
Fontana del Teatro Apollo, Lungotevere Tor di Nona
41° 54' 5.3748" N, 12° 28' 8.7888" E
To find out about all accessibility services, visit the Rome accessible section.