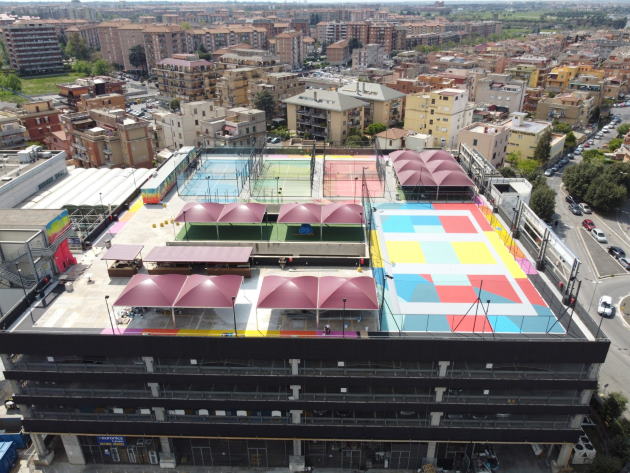 from 2 June 2022
to 31 December 2022
The top floor of a parking lot becomes a space for aggregation and inclusion that combines sports, culture and entertainment thanks to an urban regeneration project. Conceived and realized by Fusolab, with the support of IGT and in collaboration with the a.DNA association, LifeGate and IGD, from 2 June the Casilino Sky Park will open to the public in Rome's V Municipio, between the Alessandrino, Centocelle, Torre Maura and Torre Spaccata districts.
The approx. 4,000-square-meter terrace is equipped with sports fields where people can practice padel, pickleball, soccer, street basketball, skating, skateboarding and parkour, a gym and an area dedicated to free-body gymnastics. There are also spaces for recreational activities for children, areas for socializing and coworking, and a food point, the Bar-Street Food, where to drink and eat accompanied by soft background music. Throughout the summer, the arena will also host musical and theatrical performances, cinema and book presentations, with programming seven days a week.
Alongside its functionality and inclusive approach, the Casilino Sky Park also promotes street art thanks to the eco-friendly interventions of three internationally renowned artists: Alice Pasquini, on the exterior surface of the locker rooms and elevators; Giulio Vesprini, who did the painting for the sports fields; and UNO, who took care of the perimeter track and balustrade.
For more information, visit the official website.

Condividi