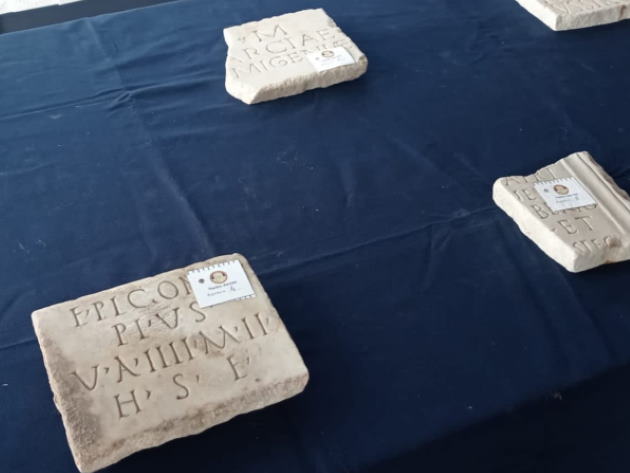 from 1 October 2022
to 31 December 2022
The precious epigraphs, stolen almost a century ago, were found in Fano in perfect condition and returned to the Archaeological Park of Ostia Antica. They are epigraphic documents of a funerary nature, originally intended for the burial areas of ancient Ostia: while they commemorate the deceased, for example, an "excellent wife", a "dearest husband," and a child named Epigonus who died at the age of four years and two months, they also can contribute to a deeper understanding of the society of the Roman colony at the mouth of the Tiber.
The inscriptions had been illicitly taken away in the 1940s, immediately after the large-scale excavations carried out for the 1942 World's Fair project in Rome, and had then found their way into a private collection. Their recovery was the result of investigations put in place by the Carabinieri's Cultural Heritage Protection Command starting with a report from the Soprintendenza Archeologia Belle Arti e Paesaggio for the Provinces of Ancona, Pesaro and Urbino, and in particular from the archeologist Maria Raffaella Ciuccarelli. In order to confirm that the epigraphs actually came from Ostia, it was necessary to carry out a thorough scientific research, which also made use of the contribution of scholars who are experts in Ostian epigraphy, including professor emeritus of Greco-Roman Archaeology and History of Art Fausto Zevi.
The epigraphs "returned home" are only a small part of the immense historic-artistic heritage of Ostiense dispersed in Italy and abroad, but they testify to the commitment of the authorities towards the protection of cultural heritage to counter the illicit trafficking of artifacts.
Photo ostiaantica.beniculturali.it

Condividi