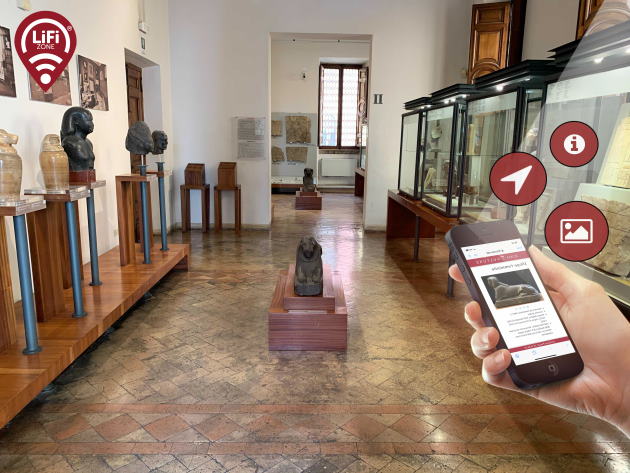 from 6 January 2022
to 20 February 2022
A small but precious museum that can be rediscovered guided by light: at the Barracco museum, from 6 January, an experimental visit modality allows visitors to deepen the knowledge of some of the ancient art works collected by Baron Giovanni Barracco and donated to the Municipality of Rome in the early 20th century. The Li-Fi project is one of the winners of the "L'impresa fa Cultura" initiative launched by the Lazio Region to promote the regional cultural heritage through new technologies.
An acronym for Light Fidelity, the Li-Fi system is one of the most modern, innovative and sustainable communication mechanisms: information and images are in fact transmitted to mobile devices equipped with cameras by means of light modulation alone, thanks to the use of special LED spotlights that function as transmitters.
To receive multimedia content, visitors have just to download the special App and place their smartphone or tablet under the LED light. Audio tracks created from textual content make the visit path accessible even to the blind or visually impaired. The experimentation will be active until 20 January (with the possibility of extensions) and involves 14 points of interest, of which 9 in the rooms on the ground floor and first floor. The other 5 points of interest are in the Roman house in the basement of the museum, which reopens to the public for the occasion after more than 20 years. For the moment, the Roman domus can be visited until the end of February on weekends, from Friday to Sunday, pending further works to make the site permanently accessible.

Condividi