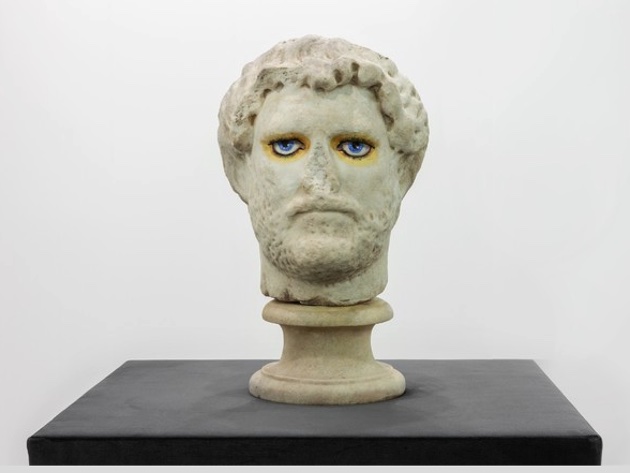 The exhibition Vita Dulcis. Fear and Desire in the Roman Empire, curated by Francesco Vezzoli and Stéphane Verger, scheduled at the Palazzo delle Esposizioni, takes its cue from the artist's most recent production to offer the public an unprecedented itinerary which combines contemporary art, Roman history through the works from the National Roman Museum, and the representation of Roman history provided through the cinema during the twentieth century.
In recent years indeed, Francesco Vezzoli has developed his artistic research by creating a bridge between contemporary and ancient art. Unraveling between different languages, in a game of references and mixes between classical and pop culture, this artist has been able to restore to the visitor the intensity and passion that archeology can arouse, plunging them in a fascinating and unexpected scenographic conceptual setting.
The exhibition presents for the first time six major works from the 24Hours Museum, with which Vezzoli has reinterpreted some famous Roman sculptures, transforming them into mysterious divinities alluding to contemporary divas.
We also find archaeological finds from the Roman era combined with clips from films set in ancient Rome, creating a parallel excursus on the history of cinema that starts from Cabiria of 1914 - the first Italian blockbuster, scripted by Gabriele D'Annunzio - to Federico Fellini's Satyricon, up to the most contemporary films, both of Italian and international production.
The exhibition is conceived by Azienda Speciale Palaexpo, Museo Nazionale Romano and Studio Vezzoli.
Photo credits: courtesy of Palazzo delle Esposizioni official site
Informations
When
from 22 April 2023
to 27 August 2023
POINT (12.490137 41.899524)
POINT (12.489504 41.8995108)
Contacts
Web site:
www.palazzoesposizioni.it/mostra/vita-dulcis-paura-e-desiderio-nell-impero-romano
Timetables
From Tuesday to Sunday from 10.00 to 20.00
Monday closed
Admission is allowed up to one hour before closing
For updates and guidelines please check the > official website

Condividi
Locations
Vita Dulcis. Paura e desiderio nell'impero romano, Via Nazionale, 194
41° 53' 58.2864" N, 12° 29' 24.4932" E
Vita Dulcis. Paura e desiderio nell'impero romano, Via Milano, 13
41° 53' 58.2396" N, 12° 29' 22.2144" E