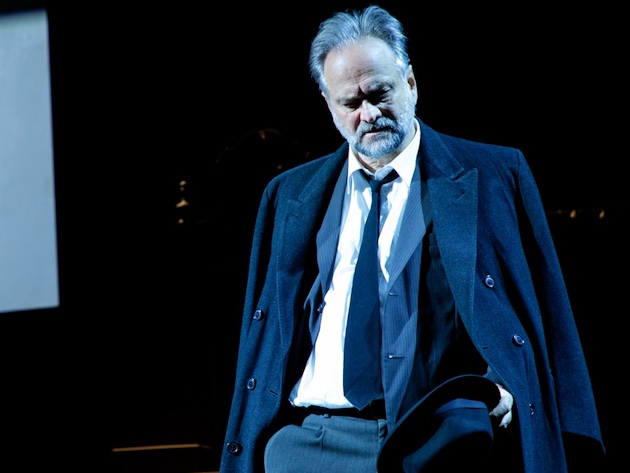 After the great theatrical successes of this last season, the actor and director Massimo Popolizio is back on stage at the Argentina Theater with A view from the bridge, Arthur Miller's masterpiece, a dramatic fresco of 1950s New York.
Set in a community of Sicilian immigrants in Brooklyn, A View from the Bridge is a drama of jealousy: the protagonist is the Italian emigrant Eddie Carbone, a New York dock worker who lives in Brooklyn with his wife Beatrice and their eighteen-year-old niece Catherine, of whom is morbidly jealous. Overwhelmed by this incestuous erotic passion for Catherine, when he hosts Marco and Rodolfo, relatives of his wife and clandestine immigrants to the United States from Sicily, he cannot bear that a mutual interest arises between his niece and Rodolfo; the rivalry between the two men has in fact a tragic outcome and it is Eddie himself who becomes the victim of his own obsession.
The always current text focuses on a series of burning issues such as the escape from poverty, the tensions of illegal immigration, the hunt for foreigners and the morbid affections that can destroy a family.
With Valentina Sperlì, Michele Nani, Raffaele Esposito, Lorenzo Grilli, Gaja Masciale, Felice Montervino, Marco Mavaracchio, Gabriele Brunelli.
Photo credits: courtesy of the Argentina Theater official site
Informations
When
from 14 March 2023
to 2 April 2023
POINT (12.476362 41.895619)
Contacts
Online purchase:
www.teatrodiroma.net/doc/7831/uno-sguardo-dal-ponte
Web site:
www.teatrodiroma.net/doc/7831/uno-sguardo-dal-ponte
Timetables
Dal 14 marzo al 2 aprile 2023
martedì, giovedì e venerdì ore 20.00
mercoledì e sabato ore 19.00
giovedì 16 e 23 marzo - domenica ore 17.00

Condividi
Location
Uno sguardo dal ponte, Largo di Torre Argentina, 52
Largo di Torre Argentina, 52
41° 53' 44.2284" N, 12° 28' 34.9032" E