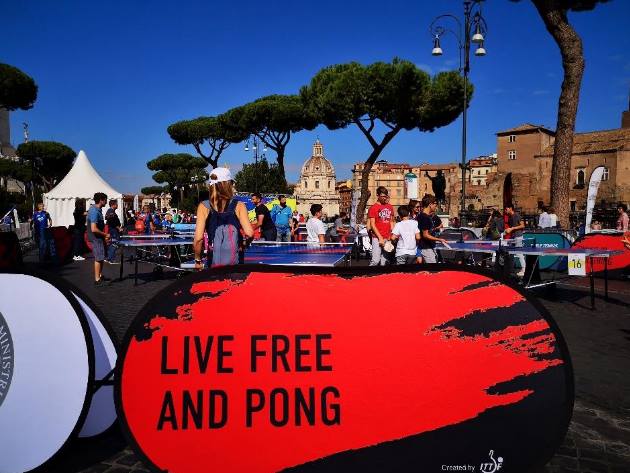 The project TTX EU Format ... more FUN more LIFE is organized by the Italian Table Tennis Federation, as part of a European call within the ERASMUS + funding line.
The protagonist of the activity is Table Tennis X, a new fun and inclusive discipline conceived by the International Table Tennis Federation, which FITeT promoted in October 2019, hosting the "Roma Ping Pong Fest ... a TTX Experience" at via dei Fori Imperiali in Rome, which counted on over 40,000 visitors, and then proposing summer tours for two consecutive years, which were attended by thousands of people. TTX uses wooden rackets, without rubber covers, and bigger and heavier balls than table tennis, and can be played by anyone, regardless of technical ability, and anywhere. 
TTX EU Format ... more FUN more LIFE" in based on the collaboration, in addition to Italy, of nine European countries, Cyprus, France, Latvia, Malta, Poland, Portugal, Slovenia, Spain and Hungary, and has the objective to create a European format which, involving young people aged 11 to 18, encourages the habit of practicing sport through the diffusion of TTX.
The Eternal City will host the final event of the project. From 6 to 8 October 2023, in the picturesque and unique Piazza di Siena will hold 3 days of meetings, sports, games and fun. Each European partner will participate with a 10-person delegation. European finals of school tournaments and Road Shows will be held; it will also be an opportunity for Tennis Table professionals to get involved.
An event open to all and for all. Citizens, tourists, the curious, and fans of table tennis will be able to participate in the many scheduled activities free of charge. Over 50 game tables available for everyone. Shows, music, meetings and much more for 3 unforgettable days.
Informations
When
from 6 October 2023
to 8 October 2023
POINT (12.4871019 41.914315746577)
Contacts
Email:
ttx.eu.project@fitet.org
Facebook:
www.facebook.com/ttxeuformat
Instagram:
www.instagram.com/ttxeuformat
Telephone:
06 89320 -113 - 115
Web site:
https://ttxeuformat.com
Timetables
Dal 6 all'8 ottobre 2023
Per tutti gli aggiornamenti consultare il sito ufficiale

Condividi
Location
TTX EU Format … more FUN more LIFE, piazza di Siena
41° 54' 51.5376" N, 12° 29' 13.5672" E