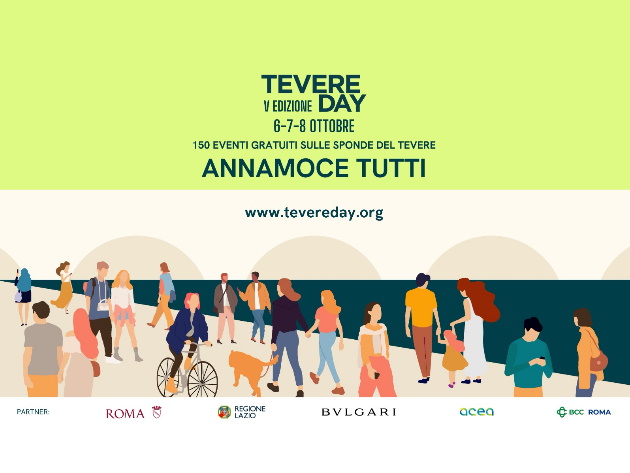 Man and river have always had a close relationship. Civilisations flourish on river courses, cities are born and grow, and trade nourishes the populations.
One of the most emblematic examples of this bond is that between Rome and its river: the Tiber.
To tell our river that we love it, we are celebrating the biggest event dedicated to the Tiber with many initiatives: cultural walks, extraordinary museum openings, social, sporting, artistic, musical and gastronomic activities.
The cultural network 'Parliamo di Tevere' (Let's talk about the Tiber), organised with the help of the Rome Libraries system and the involvement of some of the city's leading bookshops, is proposing thirty meetings to promote the river, with book presentations, studies, reports, projects, on the Tiber topic, starting on Monday 2, anticipating the weekend of 6-8 October. This has been joined by the group of writers, scholars and experts who have offered to take part, making up the cultural programme. A combination, that of environmental enhancement and culture, which is renewed to tell the city about our river.
Since 2019, the year of its establishment, Tiber Day has become increasingly relevant and inclusive, stretching as far as the municipalities in Lazio lapped by the Tiber, from Nazzano, passing through Capena, Formello, Sacrofano, as far as Ostia and Fiumicino: an 84 km route that, in addition to being a moment of celebration, is also a cue for reflection, denunciation and concrete action, thanks to the countless events, ideas and valorisation projects dedicated to one of the most important rivers in the world.
Informations
When
from 6 October 2023
to 8 October 2023
Contacts
Sito web:
https://www.tevereday.org/
Facebook:
https://www.facebook.com/TevereDay/
Timetables
Dal 6 all'8 ottobre 2023
Lungo il fiume Tevere da Roma a Fiumicino

Condividi