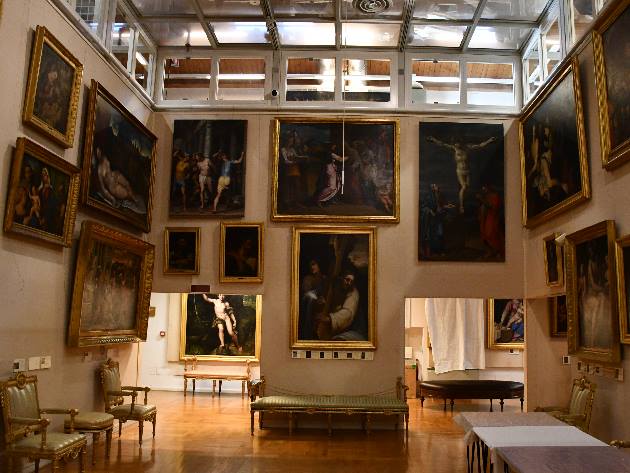 The splendid museum in the park of Villa Borghese reopens its deposits, a hidden treasure trove of extraordinary works of art unknown to the general public.
The important reopening allows visitors to admire a "second art gallery", which includes about 260 paintings kept according to painting schools and thematic areas.
The initiative is a unique opportunity to admire a collection that has no place in the exhibition areas of the Gallery following the renovation carried out in the late 18th century by Marcantonio IV Borghese, who transformed the original arrangement desired by the founder Cardinal Scipione Borghese.
The deposits, organized like a real painting collection, are spaces dedicated to the study, in-depth analysis and analysis of works of art, also on the occasion of exhibitions and loans, in which you can discover valuable finds. Among these are a copy of a painting by Sebastiano del Piombo, a Magdalene by Correggio, and the Three Ages of Man by Titian reproduced by Sassoferrato, the only surviving evidence of lost masterpieces.
Photo © Galleria Borghese
Informations
When
from 23 February 2023
to 5 May 2023
POINT (12.491986 41.914048)
Contacts
Email:
ga-bor.info@cultura.gov.it - info@tosc.it (visite guidate gruppi e scuole) - prenotazioni per gruppi info@tosc.it
Facebook:
www.facebook.com/galleriaborgheseufficiale
Instagram:
www.instagram.com/galleriaborgheseufficiale
Online purchase:
www.gebart.it/musei/galleria-borghese
Telephone:
06 32810 prenotazioni e acquisto singoli e gruppi
Twitter:
https://twitter.com/GallBorghese
Web site:
https://galleriaborghese.beniculturali.it
Timetables
Dal 23 febbraio al 5 maggio 2023
dal martedì al venerdì, per un numero limitato di persone

Condividi
Location
Tesori da svelare: riaprono i depositi della Galleria Borghese, Piazzale del Museo Borghese, 5
Piazzale del Museo Borghese, 5
41° 54' 50.5728" N, 12° 29' 31.1496" E