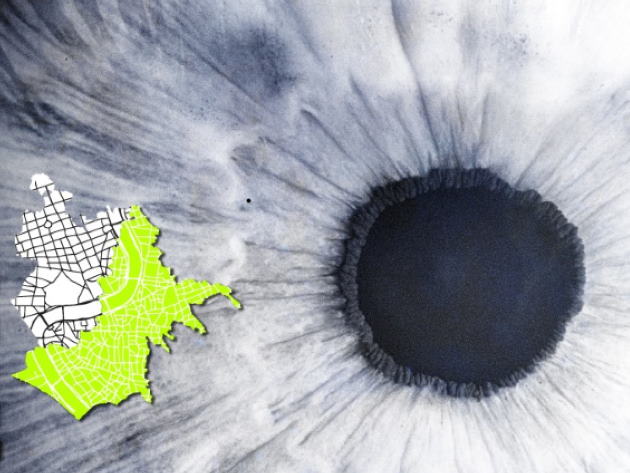 "Scegli il Contemporaneo" is an interdisciplinary cultural project born in 2017 to promote the understanding of contemporary art. The current edition, entitled "Tutte le immagini del mondo", aims to lead the public on a journey of knowledge and imagination, deepening the interactions between art and science and a number of aspects related to the states of mutation, alteration, permanence: the transformations of matter in sculpture and painting and in relation to space, the alterations of the human mind and the resulting social changes.
The program includes eleven face-to-face and online appointments: the artists Emilio Fantin, Hitnes, Nunzio, Cesare Pietroiusti, the director Roland Sejko, researchers, art historians and museum educators guide the public in original paths by building a great "narration" around museums and places of culture in Rome that enhance the role of imagination, memory and knowledge.
All activities – classrooms and digital narrations, guided and animated tours, workshops for adults, families, children, students of universities and academies – take place at Palazzo Barberini, the Laboratorio della Mente Museum, the National Gallery of Modern and Contemporary Art, MAXXI, at MIAC, the "Battista Grassi" Museum of Comparative Anatomy and the Villa Borghese Park.
A special section of the project sees the collaboration, as a scientific partner, of the DIBAF - Department for Innovation in Biological, Agri-food and Forestry Systems of the University of Tuscia for the realization of scientific activities aimed at the knowledge of the disciplines and of the scientific heritage in the field of research on the restoration and conservation of works of art.
Informations
When
from 22 April 2021
to 25 May 2021
Contacts
Email:
eduroma@senzatitolo.net
Web site:
www.senzatitolo.net
Web site:
www.senzatitolo.net/in-corso/350/scegli_il_contemporaneo_10:_a_roma_arte_e_scienza_in_dialogo_con_la_nuova_edizione_di_tutte_le_immagini_del_mondo/
Timetables
Da giovedì 22 aprile a martedì 25 maggio 2021
IL PROGRAMMA

Giovedì 22 aprile
Ore 15.00 online sulle pagine Instagram Facebook YouTube di Senza titolo - Progetti aperti alla cultura
Video-racconto: Nunzio della sede di Palazzo Barberini delle Gallerie Nazionali di Arte Antica
Per studenti universitari, adulti
Giovedì 22 aprile
Ore 17.30 classroom online in diretta su meet su prenotazione alla mail eduroma@senzatitolo.net
Luogo di riferimento: Galleria Nazionale d'Arte Moderna e Contemporanea
Narratore: Sabrina Sottile dell'Università degli Studi della Tuscia (Dibaf), con "Senza titolo"
Per studenti universitari e adulti
Venerdì 23 aprile
Ore 17.30  classroom online in diretta su meet su prenotazione alla mail eduroma@senzatitolo.net
Luogo di riferimento: Galleria Nazionale d'Arte Moderna e Contemporanea
Narratore: Paola Pogliani dell'Università della Tuscia, con "Senza titolo"
Per bambini (6-11 anni)
Giovedì 29 aprile 
Ore 17.30 classroom online in diretta in diretta su meet su prenotazione alla mail eduroma@senzatitolo.net
Luogo di riferimento: MAXXI - Museo delle Arti del XXI secolo
Narratori: Sabrina Sottile dell'Università degli Studi della Tuscia, con "Senza titolo"
Per studenti universitari e adulti
Giovedì 6 maggio
17.30 in presenza Punto di ritrovo: Piazzale Scipione Borghese n.5
Luogo: Parco di Villa Borghese
Narratori: Daniela Isola, biologa con Michele Benucci, storico dell'arte, e "Senza titolo"
Per bambini e famiglie
Venerdì 7 maggio
Ore 17.30 Classroom online in diretta su meet su prenotazione alla mail eduroma@senzatitolo.net
Luogo di riferimento: Museo di Anatomia comparata "Giovanni Battista Grassi", Sapienza Università di Roma
Artista narratore: Hitnes con "Senza titolo"
Per bambini (6-11 anni)

Martedì 11 maggio
Ore 15.00 online sulle pagine Instagram Facebook YouTube di Senza titolo - Progetti aperti alla cultura
Video-racconto: Cesare Pietroiusti e Emilio Fantin al Museo Laboratorio della Mente
Per studenti universitari, adulti 

Domenica 16 maggio
Ore 11.00 in presenza Punto di ritrovo: Via Tuscolana n. 1055
Luogo: MIAC - Museo Italiano dell'Audiovisivo e del Cinema, a Cinecittà
Narratore: Roland Sejko
Domenica 16 maggio
Ore 16.30 in presenza Punto di ritrovo: Via Tuscolana n. 1055
Luogo: MIAC - Museo Italiano dell'Audiovisivo e del Cinema, a Cinecittà
Narratore: Gaetano Alfano dell'Università degli Studi della Tuscia, con "Senza titolo"
Per bambini
Martedì 18 maggio
Ore 15.00 online sulle pagine Instagram Facebook YouTube di Senza titolo - Progetti aperti alla cultura
Video-racconto: Hitnes al Museo di Anatomia comparata "Giovanni Battista Grassi", Sapienza Università di Roma, con "Senza titolo"
Per famiglie

Martedì 25 maggio
Ore 15.00 online sulle pagine Instagram Facebook YouTube di Senza titolo - Progetti aperti alla cultura
Video-racconto: Il regista Roland Sejko al MIAC - Museo Italiano dell'Audiovisivo e del Cinema, a Cinecittà
Per adulti 

Condividi