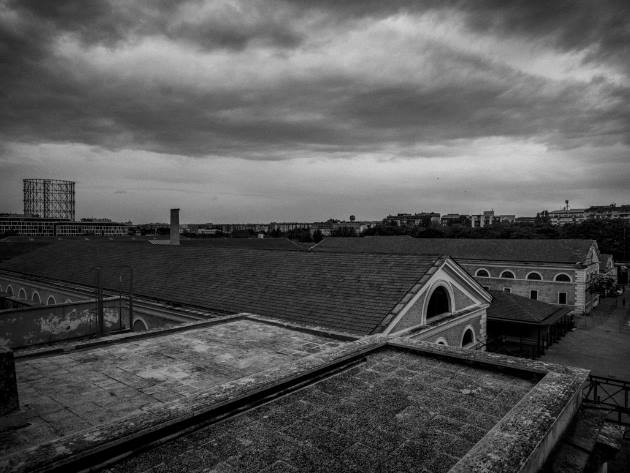 Palazzo delle Esposizioni hosts the first Italian solo exhibition of the German photographer Ruediger Glatz, dedicated to the great intellectual of the 20th century.
The exhibition, curated by Alessio de' Navasques, unfolds in over sixty black and white photographs: the sense of absence, memories and fate, the nostalgia of people who have inhabited landscapes, suburbs and places, typical of Pasolini's narrative, relive in the details of the images, which reveal Glatz's unique and personal vision about the artist.
Glatz documents the strength of absence in the performance Embodying Pasolini, presented in June 2021 at the Mattatoio of Rome. In a multi-stage action, the actress and performer Tilda Swinton and the curator and fashion historian Olivier Saillard investigate the essence of cinematography and the memory of Pasolini's characters through the monumental and creative costumes of Danilo Donati, the director's historical collaborator.
A series of images evokes the experience as a temporal room, where Glatz's lens immortalizes the magnetism of the performance, creating doubling and reflections. The moment of action and Swinton's enigmatic face become a reflective device, a punctum that enriches the photographer's creativity, giving life to the process of getting to know Pasolini's work. Hence, the exhibition title Reflecting Pasolini and the idea of the project, completed with the cycle of photographs On PPP. It includes images of the places Glatz met while crossing Italy in search of the poet's imagination in an emotional journey between past and present, ended in the Bolognese house where the poet was born and in Chia Tower, his last refuge where he wrote Petrolio.
The photographer's shots offer a new interpretation of objects and architecture: the references to paintings by Piero Della Francesca and Giotto in The Gospel According to St. Matthew, the shadows of Villa Feltrinelli on Lake Como - Mussolini's last residence, which inspired Salò, testifying to the close bond between Pasolini and Rome, the leading set of the director's films. Glatz's evocative chiaroscuro shows the city's changes and the unchanged magic of its streets, solitary views, the Tiber, the dunes of Ostia and the lights of Quadraro and Centocelle architecture of Mamma Roma and Accattone.
The exhibition is promoted by Roma Culture and organized by the Palaexpo Special Company and is part of the PPP100 activities, the program of the Department of Culture for Pasolini's centenary.
Photo: Ruediger Glatz, ON PPP - View of the roofs of Mattatoio towards the Gasometer, Roma 2022
Informations
When
from 8 July 2022
to 4 September 2022
POINT (12.490471 41.898935)
POINT (12.489286 41.899826)
POINT (12.489504 41.8995108)
POINT (12.489504 41.8995108)
Contacts
Facebook:
www.facebook.com/PalazzoEsposizioni
Online purchase:
www.palazzoesposizioni.it/mostra/ruediger-glatz-reflecting-pasolini
Twitter:
https://twitter.com/Esposizioni
Web site:
www.palazzoesposizioni.it/mostra/ruediger-glatz-reflecting-pasolini
Timetables
Dal 8 luglio al 4 settembre 2022
Dal martedi alla domenica dalle ore 10.00 alle 20.00
(ultimo ingresso ore 19.00)
Chiuso il lunedì

Condividi
Locations
Ruediger Glatz. Reflecting Pasolini, Via Nazionale, 194
41° 53' 56.166" N, 12° 29' 25.6956" E
Ruediger Glatz. Reflecting Pasolini, Via Piacenza, snc
41° 53' 59.3736" N, 12° 29' 21.4296" E
Ruediger Glatz. Reflecting Pasolini, Via Milano, 13
41° 53' 58.2396" N, 12° 29' 22.2144" E
Ruediger Glatz. Reflecting Pasolini, Via Milano, 9A
41° 53' 58.2396" N, 12° 29' 22.2144" E