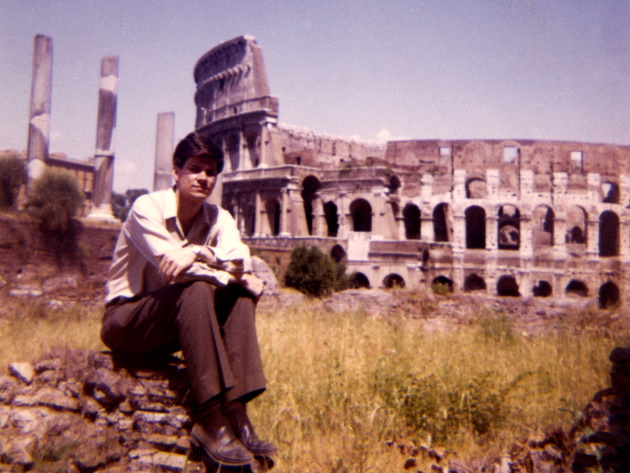 Rome is still falling brings together twenty-two early works by Robert Smithson made between 1960 and 1964, the majority presented to the public for the first time.
The selection of works showcases a development from religious and spiritual concerns Smithson had prior to his trip to Rome in July 1961 to an experimentation with popular culture imagery and mixed media.
Robert Smithson (1938-1973) was a self-taught artist whose interests in science fiction, philosophy, travel, geology, architectural ruins and popular culture informed his entire body of work. His oeuvre includes paintings, drawings, sculptures, films, photographs, writings and earthworks.
In 1961, at twenty-three, Robert Smithson travelled to Rome for his solo show of religious-themed paintings at George Lester Gallery. During his stay in Rome, Smithson was able to further explore his interest in Western history–in what he described as Byzantine art, ideas of archetype, myth, and anthropomorphism, and what he named the "façade of Catholicism".
As here flected in 1972: "I guess I was always interested in origins and primordial beginnings, you know, the archetypal nature of things. This was always haunting me all the way through until about 1959 and 1960 when I got interested in Catholicism, through T. S. Eliot and through that range of thinking. T. E. Hulme led me to an interest in Byzantine and his notions of abstraction as a counterpoint to the Humanism of the late Renaissance".
This period is also marked by what Smithson described as an artistic andspiritual"inner crisis".Rome is still fallingtakes the George Lester Galleryexhibition as its starting point to present a lesser-known earlier body of work that both draws upon and departs from Smithson's spiritual and religious concerns during his time in Rome. Its title originates from a letterby Smithson to his wife the artist Nancy Holt, written in the Eternal City inJuly 1961, where, floating in the bottom-left corner of the paper, are the four words: "Rome is still falling".The time preceding 1964-65Smithson described as a "period of research, of investigation, "and it also represents a moment of transition and development.
Smithson's stated that he "began to function as a consciousartist around 1964-5". The exhibition therefore presents works that occurred before his full 'awareness' as an artist: from representations of Christ's feet, face and fallen Christ to advertisements and magazine cut-outs interspersed with painted religious themes, to black inkand pencil winged figures and architectural structures surrounded by language and letters beyond their meaning.
The later works on paper in Rome is still falling introduce the viewer to another period in Smithson's oeuvre: a specific set of drawings he began in 1963, at the age of twenty-five in New York, where religious imagery is fully replaced with figures from comic books, erotic magazines and popular culture. Selected extracts from Smithson's writings and poems will convey the artist's voice in the exhibition space to contextualise and frame his relationship with Rome, and his preoccupation with religious and spiritual themes. Four exhibition copies of Instamatic photographs of the artist in Rome will also be on display.
Informations
When
from 24 November 2022
to 21 May 2023
POINT (12.5031051 41.9136996)
Contacts
Web site:
www.museomacro.it/it/palestra/robert-smithson/
Timetables
Dal 24 novembre 2022 al 21 maggio 2023
martedì, mercoledì, giovedì e venerdì dalle ore 12.00 – 19.00
sabato e domenica dalle ore 10.00 - 19.00
Ultimo ingresso 30 minuti prima della chiusura
Lunedì chiuso
Per aggiornamenti e le modalità di visita  consultare il > sito ufficiale

Condividi
Location
Rome is still falling, Via Nizza, 138
41° 54' 49.32" N, 12° 30' 11.178" E