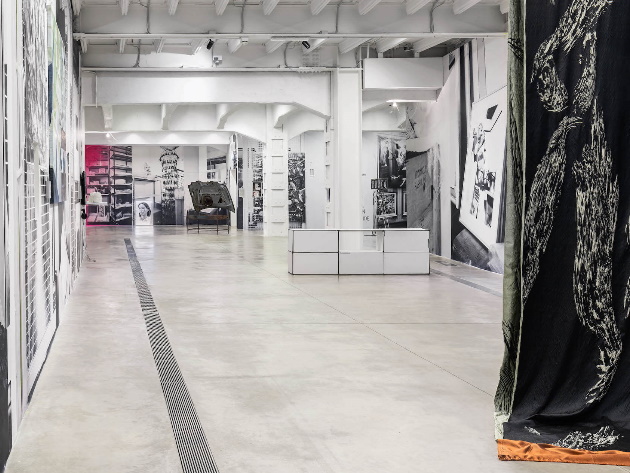 With works by Federico Antonini, Monia Ben Hamouda, Riccardo Benassi, Ruth Beraha, Carola Bonfili, Costanza Candeloro, Ludovica Carbotta, Beatrice Celli, Giulia Cenci, Alessandro Cicoria, Gianluca Concialdi, Giulia Crispiani, Giorgio Di Noto, Roberto Fassone, Irene Fenara, Giorgia Garzilli, Diego Gualandris, Lorenza Longhi, Eleonora Luccarini, Beatrice Marchi, Diego Marcon, Jim C. Nedd, Francis Offman, Real Madrid, SAGG NAPOLI, Parasite 2.0, Francesco Pedraglio, Margherita Raso, Davide Stucchi, Ilaria Vinci and others to come.
RETROFUTURO is an exhibition dedicated to rethinking the museum's collection in the perspective of an ongoing path aimed at the new generations, where different temporalities overlap with each other to reflect on the role of a public contemporary art collection in the 21st century.
Retrofuturo. Appunti per una collezione. Exhibition view. On background; Carola Bonfigli, Polia, 2019; Parasite 2.0, Fuzzy Architecture #3, 2021; Eleonora Luccarini, Portrait of Léonard Santé, 2022; Gianluca Concialdi, Santissima Pizzeria, 2020. In the centre: Lorenza Longhi, Untitled, 2019. Right: Margherita Raso. Untitled, 2016. On the walls: Giovanna Silva, Catabasi, 2020. Stampa su PVC. Courtesy the artist. MACRO 2022. Ph. Agnese Bedini, DSL studio.
Informations
When
from 3 February 2021
to 31 December 2023
POINT (12.5031051 41.9136996)
Contacts
Web site:
www.museomacro.it/it/retrofuturo/retrofuturo/
Timetables
Sunday, Tuesday, Wednesday, Thursday: 12.00-20.00
Friday, Saturday: 12.00-22.00
Closed on Mondays
Last admission 30 minutes before closing

Condividi
Location
Retrofuturo, Via Nizza, 138
41° 54' 49.32" N, 12° 30' 11.178" E