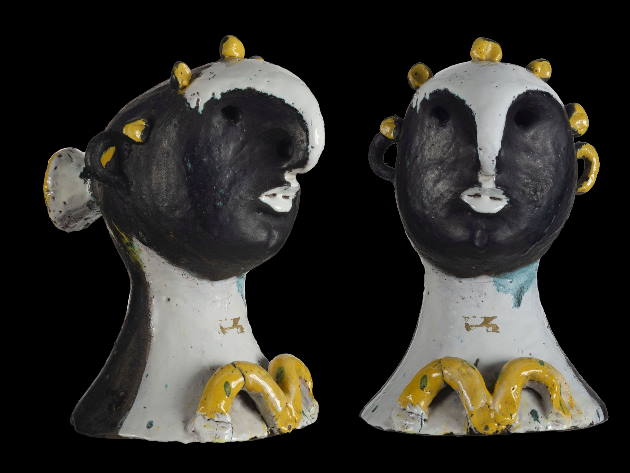 The refined 16th-century Casino dei Principi of Villa Torlonia hosts the exhibition dedicated to the great Italian artist of the 20th century for the first time in Rome.
The protagonist is an unseen Pietro Cascella, told through more than one hundred artworks, many of which are unpublished or little known, dated to his first twenty years of activity, before the "real sculpture" in stone, passing from drawing to painting.
The exhibition path winds from the late 1930s to the early 1960s, revealing an eclectic and constantly evolving artistic history with immediate public recognition.
The first decade is characterized by a painting style with a non-constant sign but clearly sensitive to the moods of the time. You can admire the first drawings of rural subjects, which underline Cascella's bond with his land, and canvases of different styles. Among them are the expressionist Crocifissione (Crucifixion - 1942) and the post-cubist Donna d'Abruzzo (Woman of Abruzzo - 1948).
Since 1949, the sculptor approached modelled sculpture working ceramics with his brother Andrea, his wife Anna Maria Cesarini Sforza and Fabio Rieti in the evocative furnace of Valle dell'Inferno in Rome. Innovation and tradition created works such as Mazzamurello (1953). Cascella continued his experience with mosaic projects and metalworking, iron, aluminium, and bronze. Then, it was time for the concrete, a material used for the first competition he won for the Auschwitz Monument with his brother and the architect Julio Garcia Lafuente.
Energy and experimentation characterize the series of works defined as "sands" from the 1950s and early 1960s: large canvases on which the artist, with an innovative technique, used trowelled brick or marble dust, giving life to anthropomorphic motifs.
Le opere degli esordi a Roma (1938-1961) is curated by the National Committee for the celebrations of the centenary of the birth (1921-2021) - Tommaso Cascella (president), Lorenzo Fiorucci (secretary), Francesco Cellini, Claudia Terenzi, Francesca Triozzi - established by the Ministry of Culture. It is promoted by Roma Culture, the Capitoline Superintendency for Cultural Heritage, in collaboration with the Culture Department of the Municipality of Pescara.
Photo: Andrea e Pietro Cascella, Testa, Ceramic, circa 1950, 43x62,5x42,5 cm
Informations
When
from 1 December 2022
to 19 March 2023
POINT (12.511451 41.916074)
Contacts
Web site:
www.museivillatorlonia.it/mostra-evento/pietro-cascella-inedito-le-opere-degli-esordi-roma-1938-1961
Timetables
From 1 December 2022 to 19 March 2023
Tuesday to Sunday 09.00 - 19.00 hrs.
24th and 31st December 9.00 - 14.00
last entry one hour before closing
Closed on: Monday and 25 December
ALWAYS CONSULT THE ADVISORY PAGE before planning your visit to the museum

Condividi
Location
Pietro Cascella Inedito. Le opere degli esordi a Roma (1938 – 1961), Via Nomentana, 70
41° 54' 57.8664" N, 12° 30' 41.2236" E