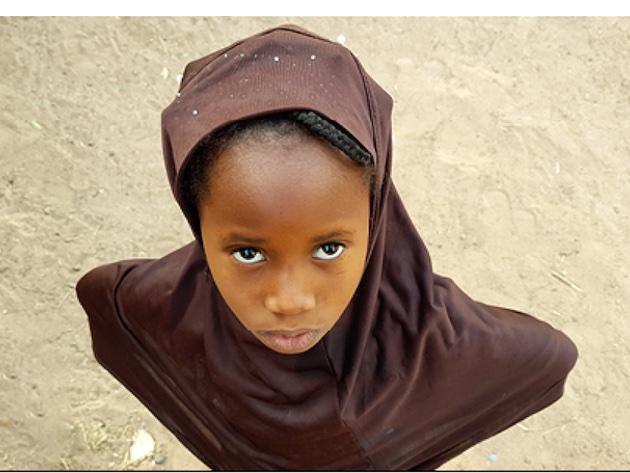 The exhibition "Racconti d'Africa" ("Tales of Africa") ​​by Piero Cannizzaro, curated by Glauco Dattini presents over 40 photographs, taken during the filming of the documentary "Stories of Africa" ​​- shot by Cannizzaro himself - produced by the International Cooperation and the Italian Agency for Development Cooperation in collaboration with the IOM, in West Africa, between Senegal, the Ivory Coast and Guinea.
Cannizzaro's photographs, to use the words of the writer Dacia Maraini, are "The road of the gaze that becomes color and movement": the author tried to capture, in the images of women and men he portrayed in their daily life, the tenacity expressed by the looks, the elegance of the movements, the beauty and the colors of their traditional clothes, trying to return vivid and intense emotions thanks to the use of light and technology.
The photos represent many different aspects of Africa, which the artist, driven by the desire for knowledge of different cultures and places, was able to show with great ability; the documentary instead focuses on the theme of emigration: it tells stories of people who had tried in vain to reach Europe through sea voyages and others who had returned home. People who had borne terrible sufferings and trials of all kinds and, despite this, always full of hope and desire to start again.
The exhibition offers an opportunity to discover a land with many faces, with a thousand stories to tell.
Photo: Courtesy of Palazzo Merulana
You may also be interested in
The Basilica of Santa Maria Maggiore

Condividi
The Basilica of Saint Praxedes

Condividi
Basilica Santa Pudenziana at the Viminale

Condividi
Informations
When
from 10 March 2021
to 23 May 2021
POINT (12.5033064 41.8898717)
Contacts
Web site:
www.palazzomerulana.it/events/piero-cannizzaro-racconti-dafrica-mostra-fotografica-a-cura-di-glauco-dattini/
Timetables
From 10 March to 9 April 2021 - extended to 23 May 2021
Museums and Cultural Sites are subject at the COVID containment policy.
For visiting schedules and procedures, please contact the official websites.

Condividi
Location
Piero Cannizzaro. Racconti d'Africa, Via Merulana, 121
41° 53' 23.5392" N, 12° 30' 11.9016" E