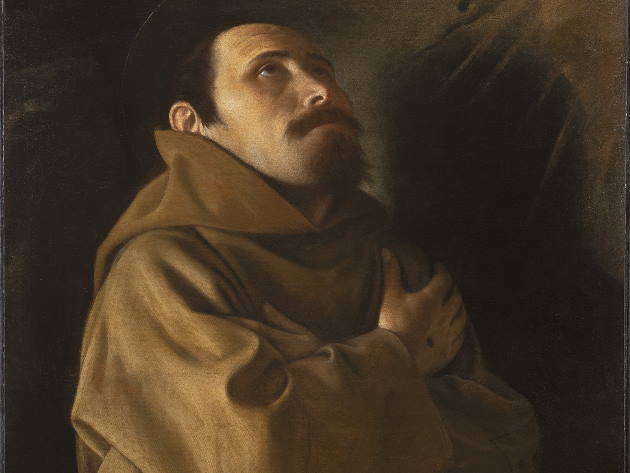 For the first time, the National Galleries of Ancient Art in Palazzo Barberini present an evocative work by the Tuscan painter in an exhibition that explores the artistic influence of Caravaggio in Rome and on Gentileschi himself.
The unpublished St. Francis in Ecstasy, executed from life with a model posing, represents a rare and valuable testimony of Orazio Gentileschi's approach to the Caravaggesque style. The work probably dates back to the same years of the trial with which Giovanni Baglione sued Caravaggio, Onorio Longhi, Filippo Trisegni and Gentileschi, accusing them of having written offensive verses against him. On that occasion, Gentileschi declared that he had lent Merisi a "pair of wings" and a Capuchin's garment, presumably the same habit he portrayed in the painting displayed.
The exhibition, curated by Giuseppe Porzio and Yuri Primarosa, winds around the precious painting, declared by the Italian State a work of exceptional historical-artistic importance, compared with three important artworks: St. Francis in Meditation attributed to Caravaggio, St. Francis Supported by an Angel by Gentileschi himself, St. Francis at Prayer by Cigoli and St. Francis Supported by an Angel of Madrid, Gentileschi's youthful masterpiece from the Prado Museum.
Also on display are some highly evocative objects, including the 1603 trial records, opened on the page of Caravaggio's deposition, a Capuchin habit of the time, and a photograph of the crypt of the Capuchin friars in Via Veneto, taken by Massimo Listri for the occasion.
The exhibition was made possible thanks to the support of Galleria Benappi Fine Art, which also provided for the restoration of the painting, carried out by Stefano Scarpelli under the supervision of the National Galleries.
Photo: Orazio Gentileschi, St. Francis in Ecstasy, 1602-1605 circa (and details), Oil on canvas, 98 × 73 cm, Inscriptions: on the back of the canvas: «S.e P.S. n.o 10». Private Collection, Courtesy Benappi Fine Art, detail
Informations
When
from 27 January 2023
to 10 April 2023
POINT (12.4900477 41.9031496)
Contacts
Web site:
www.barberinicorsini.org/evento/orazio-gentileschi-e-limmagine-di-san-francesco-la-nascita-del-caravaggismo-a-roma
Timetables
27 gennaio 2023 - 10 aprile 2023
martedì - domenica 10.00-19.00 (ultimo ingresso ore 18.00)

Condividi
Location
Orazio Gentileschi e l'immagine di san Francesco. La nascita del caravaggismo a Roma, Via delle Quattro Fontane, 13
Via delle Quattro Fontane, 13
41° 54' 11.34" N, 12° 29' 24.1728" E