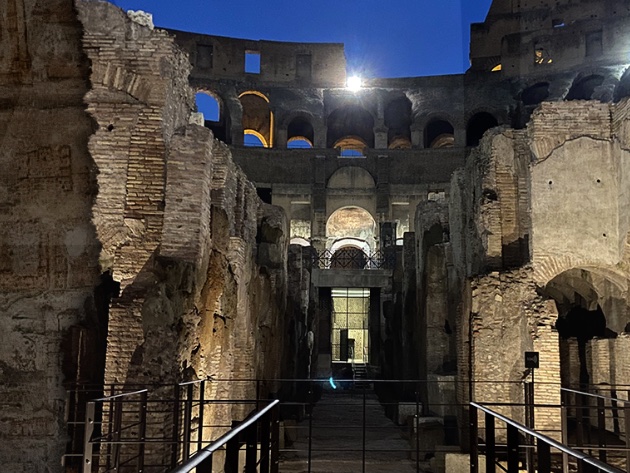 This year the night tours of the Flavian Amphitheater, created by Karmachina in collaboration with Electa and Coopculture, are back to relive all the charm of this wonderful monument symbol of Rome, under the moonlight.
The guided tours concern both the best-known history of the monument, that of the Amphitheater in ancient Rome told through the arena floor and the basements, and the Christian one starting from the 17th century wall painting depicting an ideal view of the city of Jerusalem, the great novelty of this year's route.
The evocative itinerary leads through the galleries and passages where the preparations for the shows took place, where the scenic materials were stored and where the animals, closed in cages, were then loaded onto the freight elevators to reach the floor of the arena for the venationes, the famous hunting scenes. The arena, as is known, was also the scene of the famous gladiator fights. Crossing a walkway of more than 160 meters, it is possible to visit even those less known spaces, breathing in the nocturnal atmosphere. The visit itinerary also includes the multimedia reading of the painting which depicts an ideal view – from a bird's eye view – of the city of Jerusalem, placed on the back arch of the western arch, the so-called Triumphal Gate: the same one from which the gladiators and wild beasts facing each other in the arena. The night visit is dedicated to the itinerary of the underground, specially illuminated to make the journey into the heart of the gladiatorial show machine even more exciting.
The itinerary includes the following stages:
- entrance from the Valadier gate on the square and welcome/departure from the North arch, formerly the main entrance of the emperors
- stop at the entrance to the Porta Libitinaria to tell the story of the topography of the Colosseum valley
-descent into the basement, story of the construction and functioning
- stop at the Fosso Labicano to learn more about the structure of the corridors and the so-called docks of the eastern maneuvering room, the freight elevators and lifts
- moonlight walk along the new walkway through the perimeter and straight corridors to the western control room
- ascent from the stairs under the Triumphal Gate and multimedia installation "The painting of Jerusalem"
-walk along the so-called "service gallery" and pass in front of the Edicule of the Via Crucis and the Cross to learn about the post-ancient history and the rediscovery of the underground area from the 19th century onwards
- plan of the arena and account of the shows that took place here during the games offered by the emperors
Photo credits: courtesy of the Colosseum Archaeological Park official site
Informations
When
from 4 March 2023
to 31 December 2023
POINT (12.492438 41.889373)
Contacts
Online purchase:
https://ecm.coopculture.it/index.php?option=com_snapp&view=event&id=CC6A9365-954F-41C5-9DE5-A71176DA7EB2&catalogid=6C165EEE-344F-DBCA-29C4-017A9F29BCD0&lang=it
Web site:
https://parcocolosseo.it/evento/la-luna-sul-colosseo-2023/
Timetables
Nel mese di marzo 2023, ogni sabato a partire dalle 18.00 e fino alle 22.00
nel mese di aprile 2023, ogni venerdì e sabato a partire dalle 20.00 e fino alle 24.00
Le visite sono sospese nei seguenti giorni di aprile: 1°, 6, 7, 8, 21

Condividi
Location
La Luna sul Colosseo, Piazza del Colosseo
41° 53' 21.7428" N, 12° 29' 32.7768" E