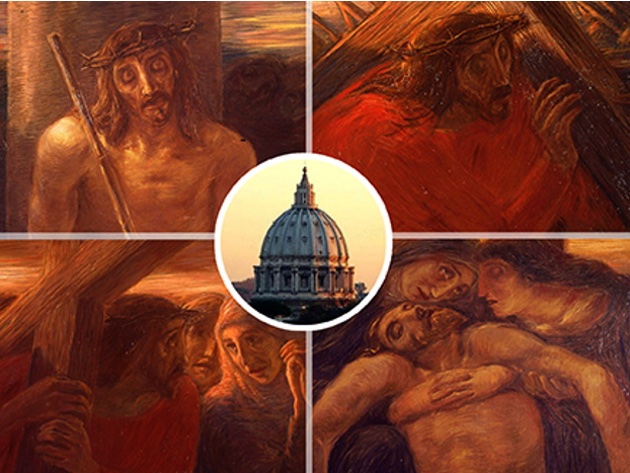 For the second consecutive year, throughout the Lenten and Easter period, the fourteen oil canvases of the Via Crucis by Gaetano Previati (1852-1920) once again leave the exhibition spaces of the Vatican Museums Contemporary Art Collection to be placed in the Basilica of St. Peter and offerings to popular devotion.
The extraordinary work, created between 1901 and 1902 by the Italian painter, is therefore confirmed as a privileged choice for the expressive power, the considerable dimensions and the intense colours of the fourteen stations which seem to fit with deep harmony into the sacred space of the Vatican Basilica.
The recently restored oils on canvas were created in a few months by the Ferrarese artist without a specific client. Of considerable size, 150x120 cm, the paintings, out of scale both for a liturgical environment and for the walls of a house, were in fact not designed for a church or for a private collection. In the paintings, designed to be placed next to each other, in a composition between the polyptych and the film sequence, the central figure is always that of the suffering Christ.
The canvases, exhibited for the first time at the Turin Quadrennial in 1902 and subsequently in Paris in 1907 and in Milan in 1910, belong to the artistic current of divisionism which seems to anticipate Van Gogh, Munch, Ensor and the great German expressionism. The fourteen stations, characterized by the warm tones and purplish red of Christ's robe, were donated in the early 1970s to the nascent Modern Religious Art Collection of the Vatican Museums commissioned by Paul VI.
Photo: turismoroma official site
Informations
When
from 22 February 2023
to 11 April 2023
POINT (12.453915240233 41.902374297348)
Contacts
Web site:
www.museivaticani.va/content/museivaticani/it/eventi-e-novita/notizie/2023/via-crucis-previati-basilica.html
Timetables
Dal 22 febbraio al 11 aprile 2023

Condividi
Location
La Via Crucis a San Pietro con le tele di Previati. Arte e fede per il tempo di Quaresima, Piazza San Pietro
41° 54' 8.5464" N, 12° 27' 14.094" E