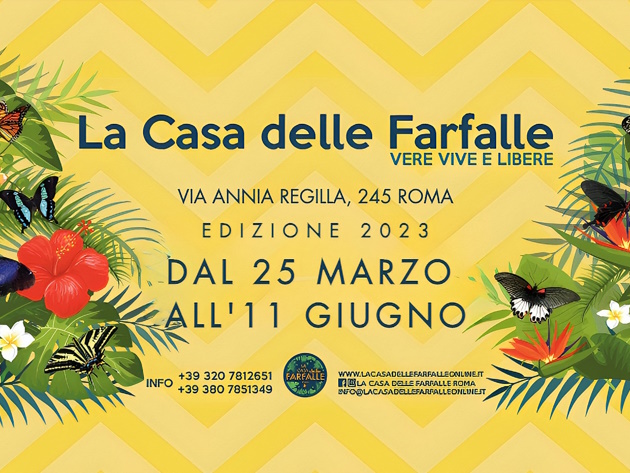 A magical place in the greenery, an enchanted space where you can have a unique experience, La Casa delle Farfalle is original and exciting, in direct contact with some of the most beautiful exotic butterflies in the world (over thirty species).
The fulcrum of the activity is the large greenhouse, an authentic tropical environment in which butterflies can flutter, lay their eggs, feed, and court each other in a magical dance.
Here, you can observe all of this in a truly immersive experience, not to be admired through a display case but walking through this reality, with butterflies fluttering around the visitors.
Made up of qualified biologists and entomologists, the staff provides all the information and offers free guided tours to discover the butterflies' entire life cycle.
The lucky ones can witness the hatching of the chrysalis and the birth of a new creature that spreads its wings.
The experience is suitable for both adults and children.
La Casa delle Farfalle also offers food stands, fresh drinks, donuts and pies, organic wines, and a craft market.
Informations
When
from 25 March 2023
to 11 June 2023
POINT (12.549645 41.847589)
Contacts
Email:
info@lacasadellefarfalleonline.it
Facebook:
www.facebook.com/lacasadellefarfalleroma
Instagram:
www.instagram.com/lacasadellefarfalleroma
Online purchase:
www.i-ticket.it/groups/la-casa-delle-farfalle-roma-biglietti
Web site:
www.lacasadellefarfalleonline.it
Timetables
Dall 25 marzo all'11 giugno 2023
tutti i giorni compresi i festivi dalle 10.00 alle 19.00

Condividi
Location
La Casa delle Farfalle, Via Annia Regilla, 245
41° 50' 51.3204" N, 12° 32' 58.722" E