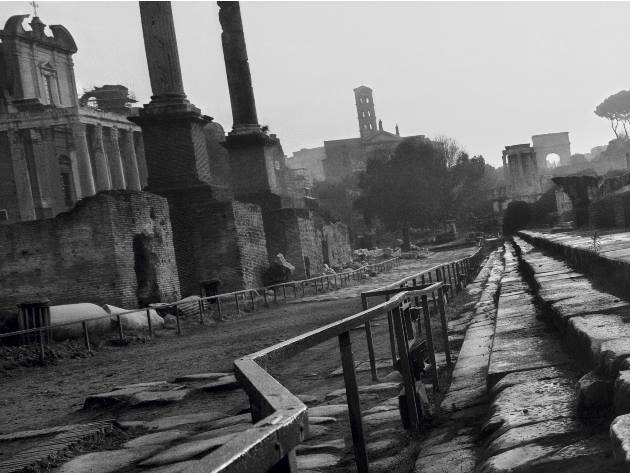 "Ruins do not represent the past, they are the future which invites us
to pay attention and to enjoy the present"
Josef Koudelka
More than one hundred spectacular images to tell the extraordinary journey of the Czech photographer, exploring and portraying, in search of the roots of our history in the most important archaeological sites in the Mediterranean.
Hosted at the Ara Pacis Museum, "Josef Koudelka. Roots. The evidence of history, the enigma of beauty" was born from a unique project lasted thirty years, an exploration made of great constancy and perseverance.
The intense black and white shots on display, many of them in large size, were taken in Syria, Greece, Turkey, Lebanon, Cyprus (North and South), Israel, Jordan, Egypt, Libya, Tunisia, Algeria, Morocco, Portugal, Spain, France, Albania, Croatia and Italy. The images accompany the visitors in an original and intimate reflection on the ancient, the landscape and the beauty that "arouses and nourishes thought". The timeless panoramas, full of soul and charm, perfectly represent the style and vision of Koudelka. He does not just document the ruins but captures what is visible and what remains hidden, the enigma and the obviousness.
The exhibition is a full immersion in the work of one of the last great masters of modern photography, who has always been in constant search for the chaotic beauty of the ruins and ancient landscape, transformed by time, by nature, by man. 
The photographer has exhibited his works in the most important international museums, such as the Museum of Modern Art in New York, the Center Pompidou in Paris, the Stedelijk Museum of Modern Art in Amsterdam and the Palais de Tokyo. On this occasion, Koudelka's photographs dialogue with one of the most relevant monuments of the early Imperial age, acquiring the unique and strong value of memorable images, in the city where memory is more "present" than ever.
The exhibition is promoted by Roma Culture, Sovrintendenza Capitolina ai Beni Culturali, Contrasto and Magnum Photos, organized by Contrasto and Zètema Progetto Cultura, with the collaboration of Villa Medici - Académie de France in Rome and the Czech Center.
Photo: Roma, Italia, 2000 © Josef Koudelka Magnum Photos
Informations
When
from 1 February 2021
to 26 September 2021
POINT (12.475483 41.906099)
Contacts
Web site:
www.arapacis.it/mostra-evento/josef-koudelka-radici
Timetables
Reopening from April 26, 2021
to August 29, 2021
Every day 9.30 - 19.30
Last admission one hour before closing time
Closed:
1 May
Before planning the visit, CONSULT THE NOTICES

Condividi
Location
Josef Koudelka. Radici. Evidenza della storia, enigma della bellezza, Lungotevere in Augusta
41° 54' 21.9564" N, 12° 28' 31.7388" E