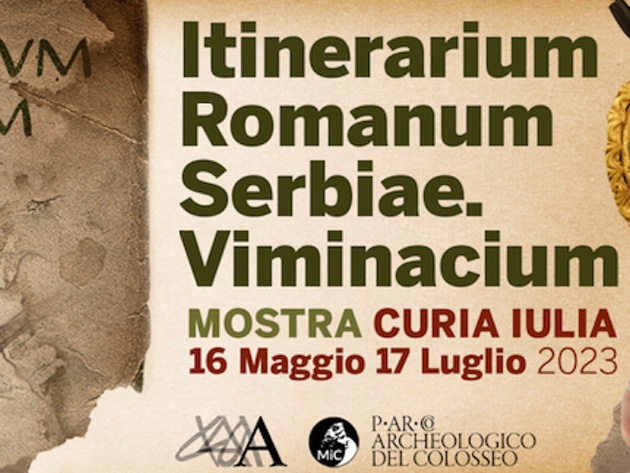 The Colosseum Archaeological Park hosts the exhibition Itinerarium Romanum Serbiae. Viminacium. The result of a memorandum of understanding between the Park and the Belgrade Institute of Archeology – organizer of the event together with the Ministry of Foreign Affairs and the Ministry of Culture of the Republic of Serbia – the exhibition is hosted in the Curia Iulia at the Roman Forum, and it can be visited on the opening days of the monument at no extra cost on the ticket price.
The exhibition's central theme is the relationship between Rome and its provinces, in particular the province of Moesia Superior - which today largely corresponds to the area of ​​the current republic of Serbia and which gave birth to as many as 18 emperors - and on the its capital Viminacium. Located along the Danube river, in recent years the city has been the subject of a series of excavation campaigns, directed by the Belgrade Institute of Archaeology, which have brought to light the amphitheater (which according to some hypotheses would represent also in the Archaeological Park, in a scene from Trajan's Column), and a part of the vast necropolis areas. From these last excavations it was possible to understand the great importance of the settlement in the middle and late imperial era, a period in which it was frequented by populations of different origins and ethnic groups, acting as a real "bridge" between the Roman Empire and the East.
Alongside the reproductions of the portraits of the emperors born in Moesia, in the Curia there are also reproductions of finds from the excavations of Viminacium - paintings, jewels, pottery and votive objects from the necropolis - as well as the large reconstructive model of the Danubian city.
Photo credits: courtesy of the Ministry of Culture official site (Mic)
Informations
When
from 16 May 2023
to 17 July 2023
Contacts
Email:
pa-colosseo@beniculturali.it
Facebook:
www.facebook.com/parcocolosseo
Instagram:
www.instagram.com/parcocolosseo/
Telephone:
06 39967700 (tutti i giorni 9-17)
Twitter:
https://twitter.com/parcocolosseo
Web site:
https://parcocolosseo.it
Timetables
Dal 16 maggio al 17 luglio 2023
durante gli orari di apertura del Parco del Colosseo

Condividi