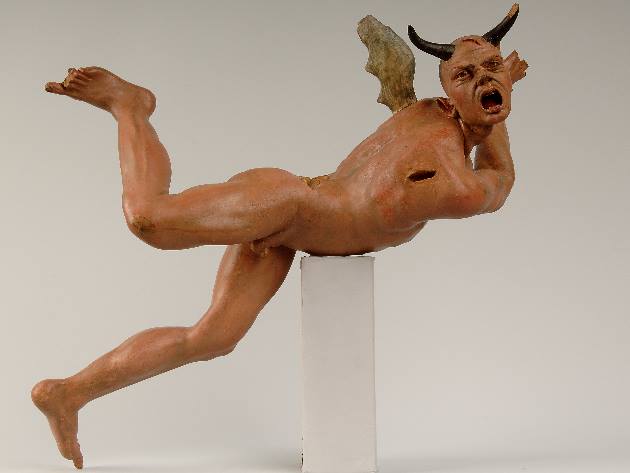 Dante's infernal universe is the theme of the powerful, ambitious and spectacular exhibition hosted at the Scuderie del Quirinale for the seven hundred years since the death of the Great Poet.
Curated by the art historian Jean Clair, the exhibition is the first major artistic event dedicated to this theme. It represents a journey into terrifying places and agonizing visions of Hell, in the interpretation of great artists of all times, accompanied by Alighieri's creative and visionary words.
The exhibition narration explores unexpected territories through the power of imagery and the depth of ideas, recounting the persistence of Hell-related iconography over the centuries, from the Middle Ages to the present. The path unwinds from the schematic medieval scenes to the sublime Renaissance and Baroque inventions, as well as those tormented romantic visions and the ruthless psychoanalytic interpretations of the 20th century.
On display over two hundred works of art, masterpieces by Beato Angelico, Botticelli, Bosch, Bruegel, Goya, Manet, Delacroix, Rodin, Cezanne, von Stuck, Balla, Dix, Taslitzky, Richter, Kiefer, on loan from over eighty Italian and international major museums, public collections and prestigious private collections.
Scenes of fallen rebel angels, the Last Judgment, Charon and the underworld residents, the poet and Virgil follow one another. From temptations to sin, not only imaginary but also a representation of the various transpositions of Evil experience: madness, alienation, war and slaughter, in an entire section dedicated to Hell on earth. Then, it's time for a look towards the sky: the exhibition path ends, finding the evocation of the idea of salvation, as in the last canto of the Inferno: "...And so we went out to see the stars again".
Thanks to the extraordinary support of the Vatican Apostolic Library, the most famous and emblematic masterpiece of this iconography is on loan, the Abyss of Hell by Sandro Botticelli.
Opening the extraordinary exhibition is the 1:1 scale plaster cast model of the monumental Gates of Hell by Auguste Rodin, 7 meters high, directly from the Musée Rodin in Paris, always considered an unsurpassed climax of the artistic reflections on Dante's poem.
Image: Anonymous, Demonio, 1701-1800, polychrome wood 72 x 25 x 35 cm, Valladolid, Museo Nacional de Escultura, Inv. CE0178, © Museo Nacional de Escultura. Valladolid; Photography by Javier Munoz y Paz Pastor
Informations
When
from 15 October 2021
to 23 January 2022
POINT (12.4867468 41.8986567)
Contacts
Online purchase:
https://scuderiequirinale.vivaticket.it/
Web site:
www.scuderiequirinale.it/mostra/inferno
Timetables
from Thursday 15 October 2021 to Sunday 9 January 2022
Every day from 9.00 to 20.00
(last admission at 19.00)
24 and 31 December 2021 10.00 - 15.00
(last admission 14.00)
25 December and 1 January 16.00 - 20.00
(last admission at 19.00)
Reservations required on weekends and holidays
Reservation recommended for single visitors
Reservations required for groups

Condividi
Location
Inferno, Via 24 Maggio, 16
41° 53' 55.1652" N, 12° 29' 12.2892" E