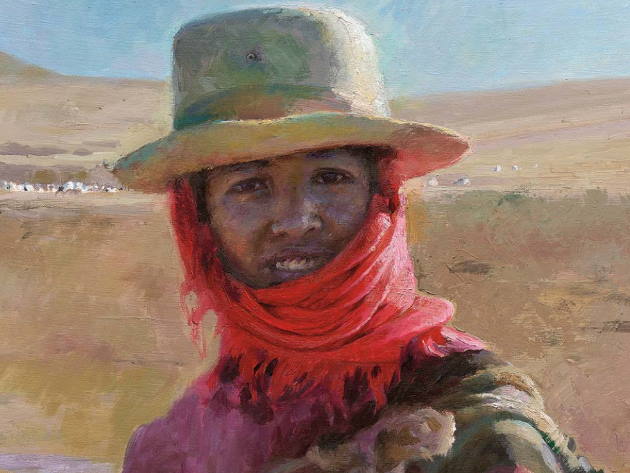 Palazzo Bonaparte hosts the first Capitoline retrospective dedicated to the great master of oil painting in contemporary China.
The exhibition is an extraordinary artistic testimony of natural beauty, spirituality and people of Tibet, a country with which Han Yuchen has an authentic and profound bond. The artist fulfilled his dream of visiting the immense plateau in 2006. Since then, he has been travelling to the famous autonomous region of China at least once a year.
The lights, colours, and traditions of the "Roof of the world" come to life through a path of about 40 works, many of which are of large dimension, displayed in three sections: Landscapes, Portraits and Spirituality.
Han Yuchen evokes on canvas an original and suggestive image of far-away Tibet. He mixes an excellent painting technique, attention to detail - clothes, ornaments, ceremonies and everyday objects - and a 19th-century-inspired realism, giving life to a limpid, luminous and poetic style.
Painter, calligrapher, entrepreneur, poet and photographer, the eclectic artist is animated by a strong passion for 19th-century European art, so much to create, in 2007, the Han Yuchen Art Museum in the city of Handan, with his private collection of Impressionist paintings and his works of art.
Tibet, splendore e purezza is realised with the patronage of the Municipality of Rome - Assessorato alla Cultura, and produced and organized by Arthemisia, in collaboration with Segni d'arte. It is curated by Nicolina Bianchi and Gabriele Simongini, and is accompanied by the Skira catalogue.
Photo: Han Yuchen - Nyima, 2011, Oil on canvas, 100X80 cm - Arthemisia Official Website
Informations
When
from 14 July 2022
to 4 September 2022
POINT (12.48187 41.89697)
Contacts
Facebook:
www.facebook.com/mostrepalazzobonaparte
Online purchase:
www.ticket.it/mostre-e-musei/evento/han-yuchen---tibetsplendore-e-purezza.aspx
Web site:
www.mostrepalazzobonaparte.it/mostra-han-yuchen.php
Web site:
www.arthemisia.it/it/han-yuchen-tibet-splendore-e-purezza
Timetables
From 14 July to 4 September 2022
every day 11.00 - 21.00
Extraordinary opening on Monday 15 August 11.00-21.00
The ticket office and the entrance close one hour earlier

Condividi
Location
Han Yuchen - Tibet, splendore e purezza, Piazza Venezia, 5
41° 53' 49.092" N, 12° 28' 54.732" E